These are my favorite places to dine, travel, and stay in Tahoe South – just in time for a romantic weekend getaway this winter!
I would be lying if I tell you that I don't travel a lot. A couple of weeks ago, Frederick and I had a chance to have a mini getaway, where we liked one restaurant so much that we went there twice. If you live in the Bay Area, you have probably visited Lake Tahoe at least once for the snow experience. In my humble opinion, Lake Tahoe is an awesome place to visit anytime of the year. Whether it is warm weather in summer where you can hire a boathouse or have an exciting parasailing experience, or cold weather in winter for fun snow activities.
So there we were, in early November, where the snow has yet to come, but the weather is cold enough that you want a hot cocoa while strolling around the heavenly downtown area in the early evening. We stayed at The Ridge Tahoe Resort where we could explore their unique and newly renovated areas. Check out the room.

The Ridge Tahoe staff really made sure we felt really comfortable and welcome. Each room comes with its own living room, kitchen, dining table, washer and dryer! They really had thought of every luxury. The view is simply stunning and I couldn't stop admiring the gorgeous sunrise vistas from our room.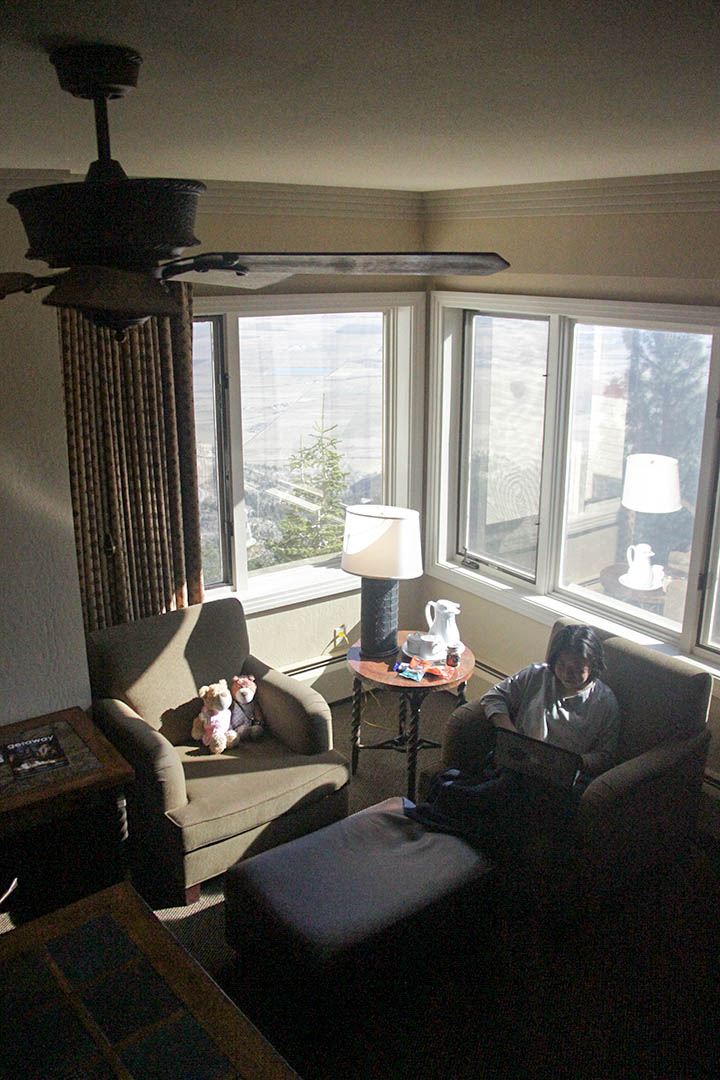 What's even more fun about staying here is that the property provides awesome facilities that the whole family can enjoy. They have everything you need from an indoor/outdoor swimming pool, spa and fitness center, movie theater, kid's corner, to a games room, arcades, miniature golf, hiking, and a sky lift.
I'm going to go through some of the highlights and try not to write 800 paragraphs about each of these experiences – because I easily can… and it may end up happening anyway. #wordlover
OUR ITINERARY:
Day 1: We had dinner at the Hungry Bear Restaurant which is a restaurant at the Ridge Tahoe. It features wonderful menu options cooked by their inventive chef for a stylish experience in a relaxed atmosphere.
On the menu you will find seafood, steak, pasta and other favorites which the whole family can enjoy. We ordered the salmon salad, which was fresh and mouthwatering, and absolutely delicious. It was so good that we ended up ordering more to take home.
Day 2: We started the day with a hike and got the opportunity to enjoy the sunrise. The weather was so fantastic – a bit crispy yet light and refreshing – the perfect morning weather.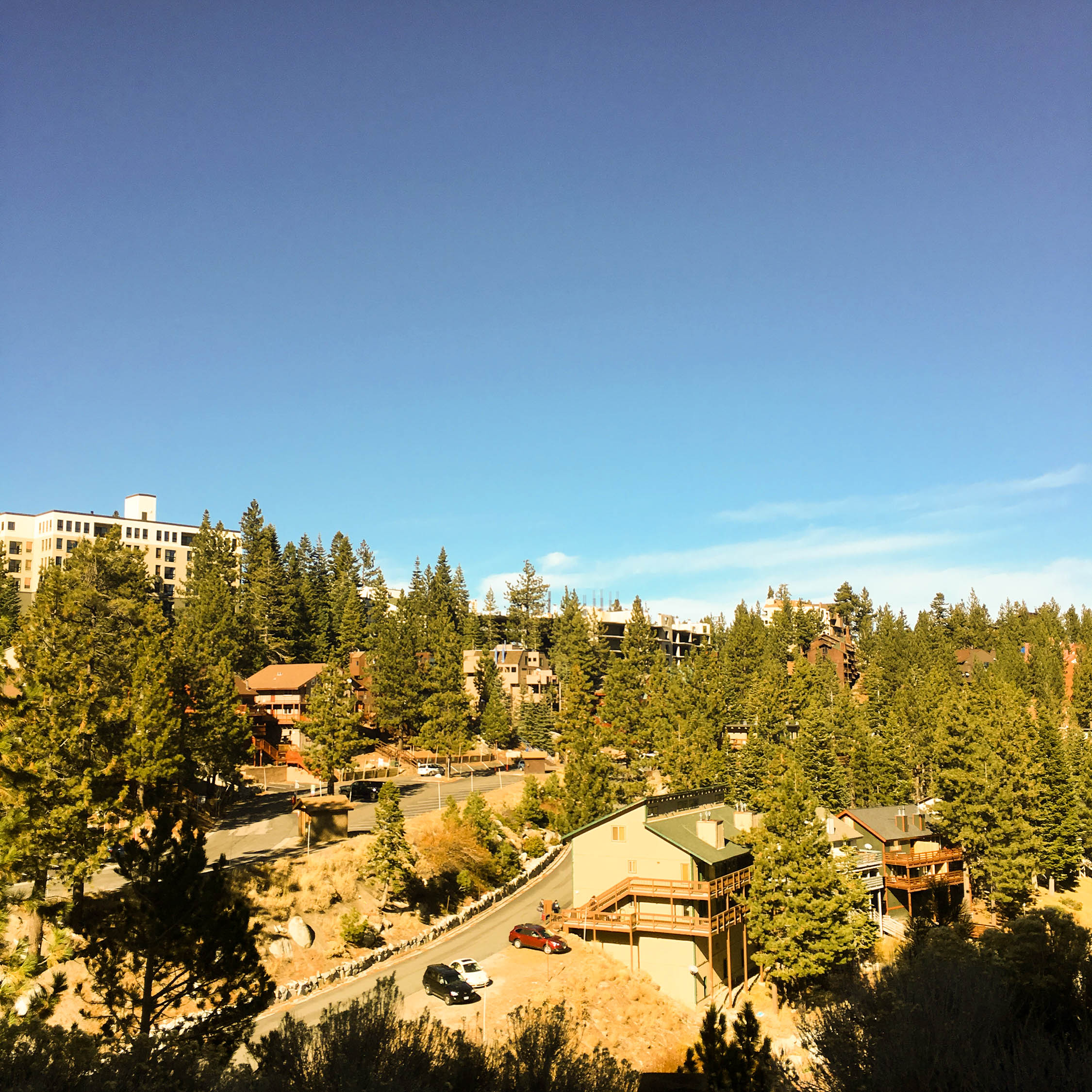 Just before noon, we had a chance to experience the largest cruising vessel in South Lake Tahoe, the MS. Dixie II – a local favorite. The boat can fit 500 passengers and has great dining options available. The 2-hour tour was totally worth every penny. It's the best of both worlds: the beauty of a pristine mountain lake setting combined with the thrill of a new adventure.
Right after our boat tour, we decided to explore the area further and went to Tallac Historic Site. This beautiful area is made up of a series of buildings that encompass the history of the area is remarkable detail. The Pope Estate, Baldwin Estate, and Valhalla give you a glimpse into the lavish way of life of the rich and famous that spent their summers at Lake Tahoe. Sadly, we did not get a chance to explore the inside since they were closed for the season and only open in the summer. However, you can still bike and stroll along the gardens, and take some pictures.
Since we did not get a chance to explore Tallac, we decided to stop by Heavenly Village. Anyone who has visited Lake Tahoe will know Heavenly Village, which has made quite a name for itself. This fun area is not just for tourists who enjoy shopping and eating out, but also for locals who enjoy outdoor ice skating or watching a movie.
For dinner, we went to Jimmy's Restaurant based on some recommendations… and I fell in love with everything they put on the table, especially their grilled octopus. It really blew my mind! It was served with roast potatoes, taramasalata, and haricot verts – absolute heaven on a plate!
Day 3: After spending 2 days with the spectacular view, I was not ready to go home, so we decided to go for another hike in the morning, for fresh air and some fun activities.
I had enjoyed Jimmy's so much the night before that I wanted to go back there for lunch before we headed home. Thankfully, the hubs agreed and off to Jimmy's we went for another dose of delicious. The restaurant, located at rear of the Landing Resort & Spa, faces gorgeous Lake Tahoe and lures you in with a friendly and casual vibe. We ordered the same grilled octopus because it was so damn good! And I'm still dreaming about it now as I write this post. It is a definite must try.
Well, who says visiting Tahoe for a short holiday is not fun. And I must say the best time to visit really is any time – it is the perfect year-round vacation spot.