I think I'm in a food comma from all the celebrations we had since last Wednesday. The dinner, the gatherings, the delicious meals, the BYB Conference, meeting new friends, learning new stuffs – they all came together in one package and now I'm ready for a good long massage. But before then, let's pop a champagne.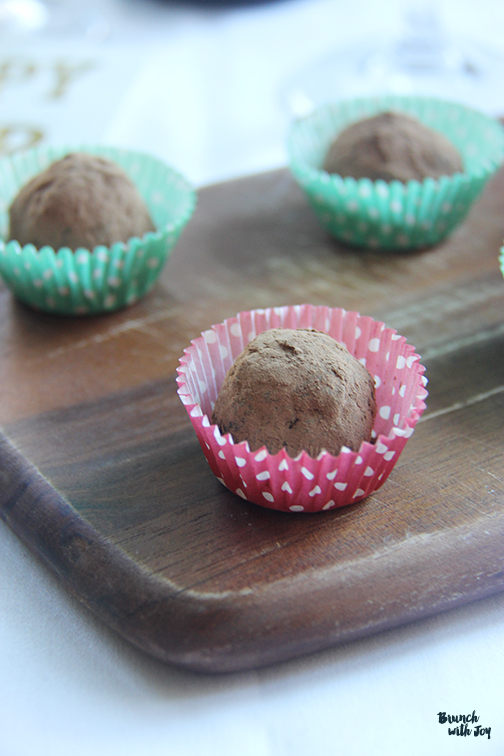 I opened my bottle of champagne a bit too early this year. It all started back in December when I baked a Champagne Cake during our family Christmas celebration. Next was Champagne cupcakes with delicious buttercream on top because I wanted to hone my piping skills. And these came third. With a Red Carpet Party coming, I figured I need to pop another bottle and turn it into… truffles.

I love these little nibblets because I can share them with everyone in the room or pack them in a cute box as a gift. I was having hard time during the making of it because I couldn't stop eating them. They are too dangerous to be placed near me, so now I'll share the recipe with you.
Print
Champagne Truffles #SundaySupper
---
6 oz

. semisweet chocolate, chopped

1/2 cup

heavy whipping cream

3 tbsp

unsalted butter, softened

5

tbs sweet champagne
Dutch processed cocoa powder
---
Instructions
Heat the cream in a saucepan over medium low until simmering.
Pour the cream over the chocolate and butter until they're all incorporated.
Mix in the champagne. Set in the freezer for 1-2 hours until the mixture is firm.
Line a baking sheet with parchment paper.
Use a spoon or cookie scooper to portion the truffles into ball-sized portions.
Roll each ball in cocoa powder and serve immediately or place in an airtight container and keep in freezer until ready to serve. They might need to be re-rolled in cocoa powder when served.

Thanks to Katie of Ruffles & Truffles for hosting this event. There are tons of amazing recipes so be sure don't skip them.
Nominees for Best Supporting Appetizers:
Nominees for Best Course in a Leading Role:
Nominees for Best Supporting Sips:
Nominees for Best Delectable Desserts:
Nominees for Best Dressed Table: