If you're hosting a Thanksgiving for two or four, this Chicken Meatloaf is your perfect go-to meal.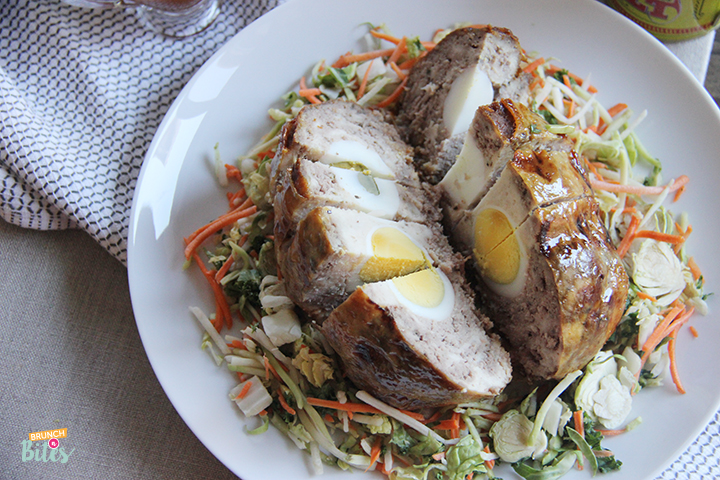 Thanksgiving is just around the corner and I hope you are ready to gobble. Like most years, we celebrate Thanksgiving as a small group… the four people in our household. To roast a turkey for only four people is such a waste, and I think all the small families out there would think twice before buying a turkey for Thanksgiving. So, if you're in a similar situation to mine or just not a fan of turkey, I have a perfect solution for you. You don't need to join the long queue in search for your turkey or set aside a special time for prepping your turkey weeks before Thanksgiving. Presenting… the Chicken Meatloaf. Compared to the turkey, this is so much faster to prep.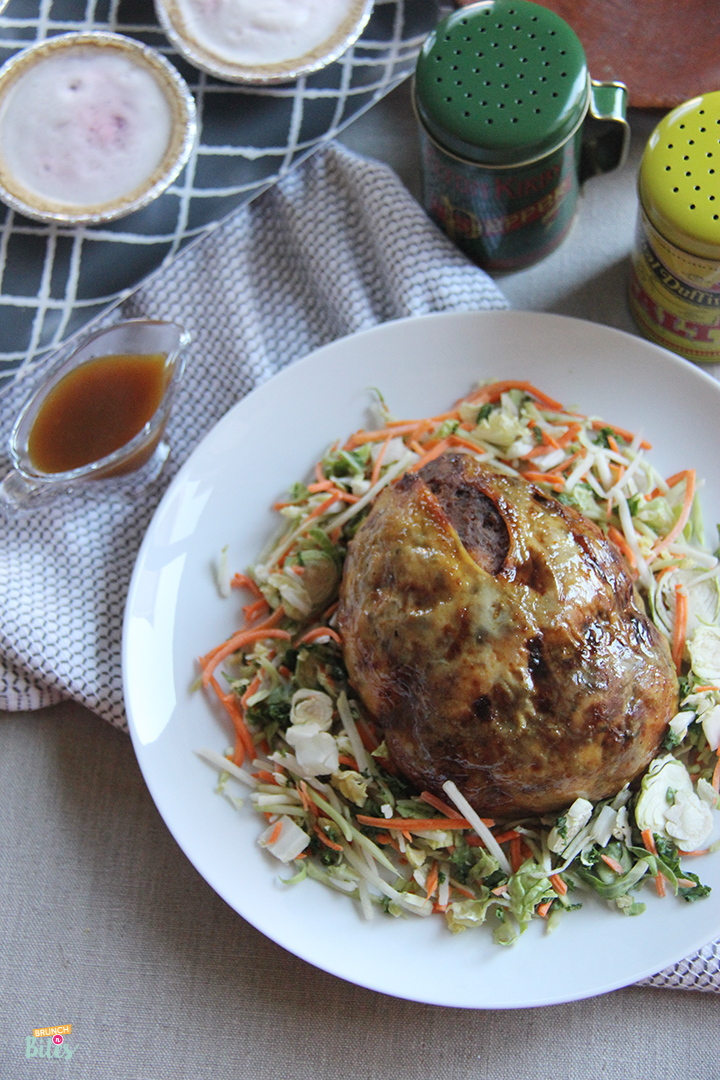 If you've never debone a chicken, here's a quick tutorial I found on YouTube. I purposely removed the wings, so be careful of those sides when you removed them as well. I also used bamboo skewers to close the open space on the neck and bottom. That way, the filing stays well inside the chicken.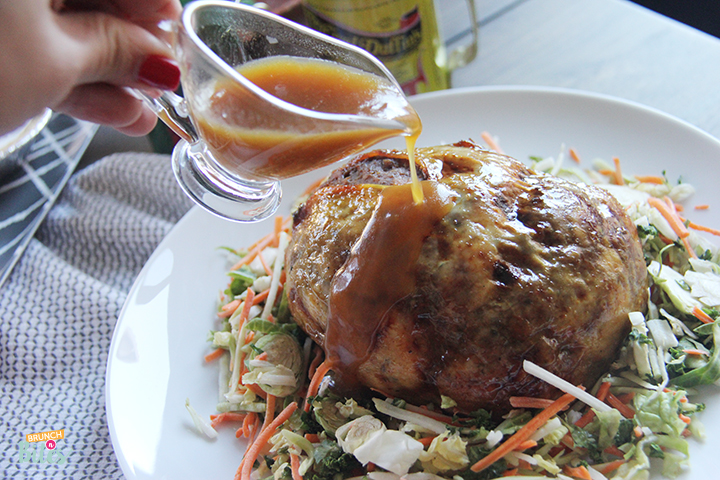 Thanksgiving is all about family, friends, and delicious food. Luckily, the food blogging community is all about these things as well. To celebrate the holiday, Meghan from Cake 'n Knife and Susannah from Feast + West are hosting Blogsgiving Dinner. There are more than 60 blogs sharing recipes this week!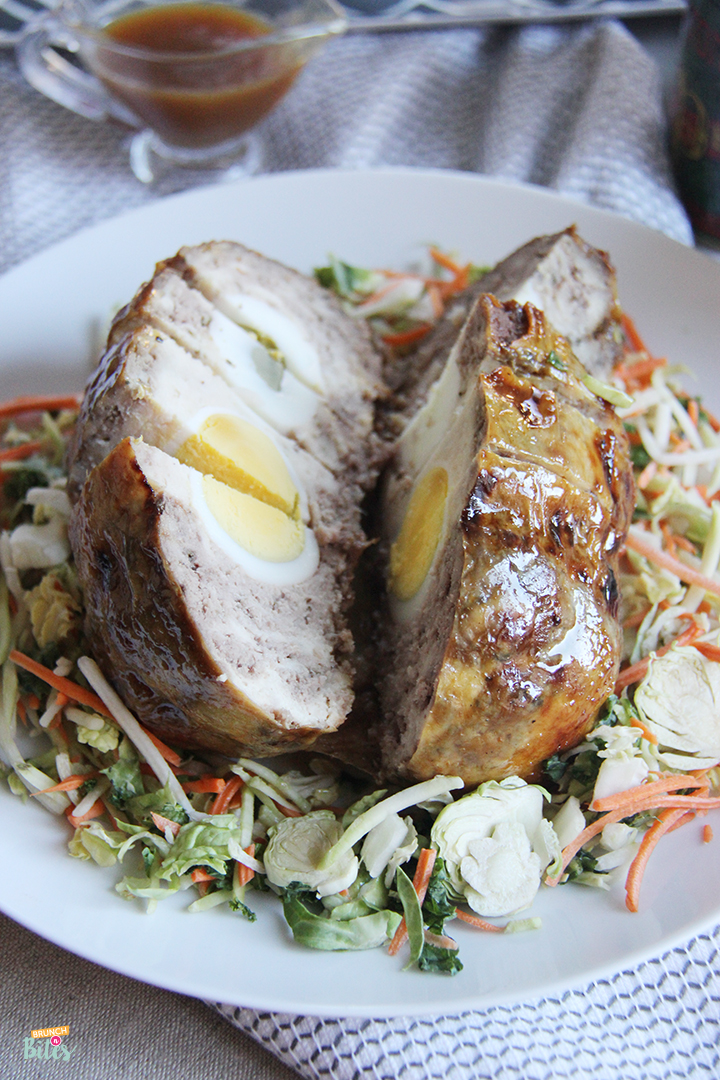 The idea is based on an old-fashioned potluck dinner party. Each blogger is bringing one or more dishes to the party, so be sure to stop by each one and get some ideas for your own Thanksgiving meal. We'll be posting to social media with the hashtag #blogsgivingdinner, but you can see the whole menu in Part 1 and Part 2 of the recipe round-up.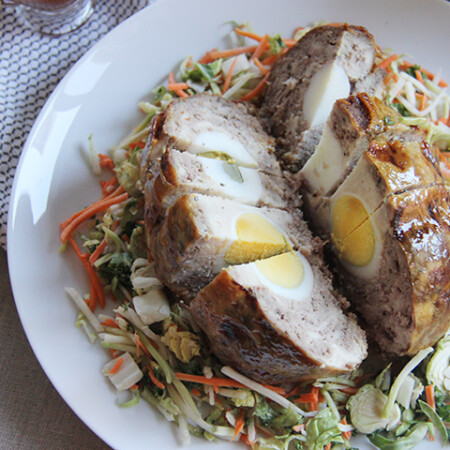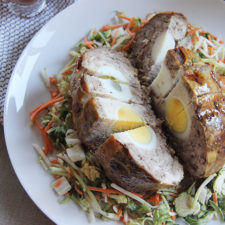 Thanksgiving for Two: Chicken Meatloaf
Chicken Meatloaf, a perfect size to celebrate Thanksgiving for two...or four
Print
Pin
Rate
Ingredients
2

lb

cornish hen

1

lb

ground chicken

1

lb

ground beef

1/2

cup

panko breadcrumbs

2

tsp

salt

1/2

tsp

white pepper

1

cube chicken bouillon
Glaze:
1

tbs

butter

melted

2

tbs

sweet soy sauce

2

tbs

honey

1/2

tsp

black pepper

2

eggs

hard-boiled
Sauce:
1

tbs

olive oil

1/2

tbs

minced garlic

2

cups

water

1

cube chicken bouillon

2

tbs

sweet soy sauce

1

tbs

worcestershire sauce

1/2

tsp

salt

adjust to taste

2

tbs

cornstarch

dissolve in 1/2 cup water
Instructions
In a bowl, mix the ground chicken, beef, breadcrumbs, salt, white pepper, and chicken bouillon. Combine well.

Debone the chicken (see note). Trim all the fats from chicken skin.

Stitch up the rump & lower part of the chicken.

Add 1/3 of the ground chicken mixture to stuff the chicken skin. Add 1 egg.

Stuff another 1/3 of the chicken and add 1 egg. Add the rest of the ingredients until the sac is full (reform the chicken as it is before).

Stitch up the cervical section & other part which the skin is broken; make sure the stuffing mixture will not leak out.

Steam the chicken for 30 min.

Preheat the oven to 350F.

Glaze: combine all the ingredients. Smear the chicken with the margarine mixture and roast for 20 minutes. Apply a second coating and roast for another 20 minutes.

Turn the oven to 400F and broil the chicken for 15 minutes. Let it cool and open up all of the stitches.

Sauce: Add oil and garlic to a hot pan. Add the rest of the ingredients, except cornstarch.

Bring it to a simmer; pour in cornstarch mixture; whisk constantly until the sauce slightly thickened.
Notes
YouTube link to debone chicken: https://www.youtube.com/watch?v=vT1rYQcTW28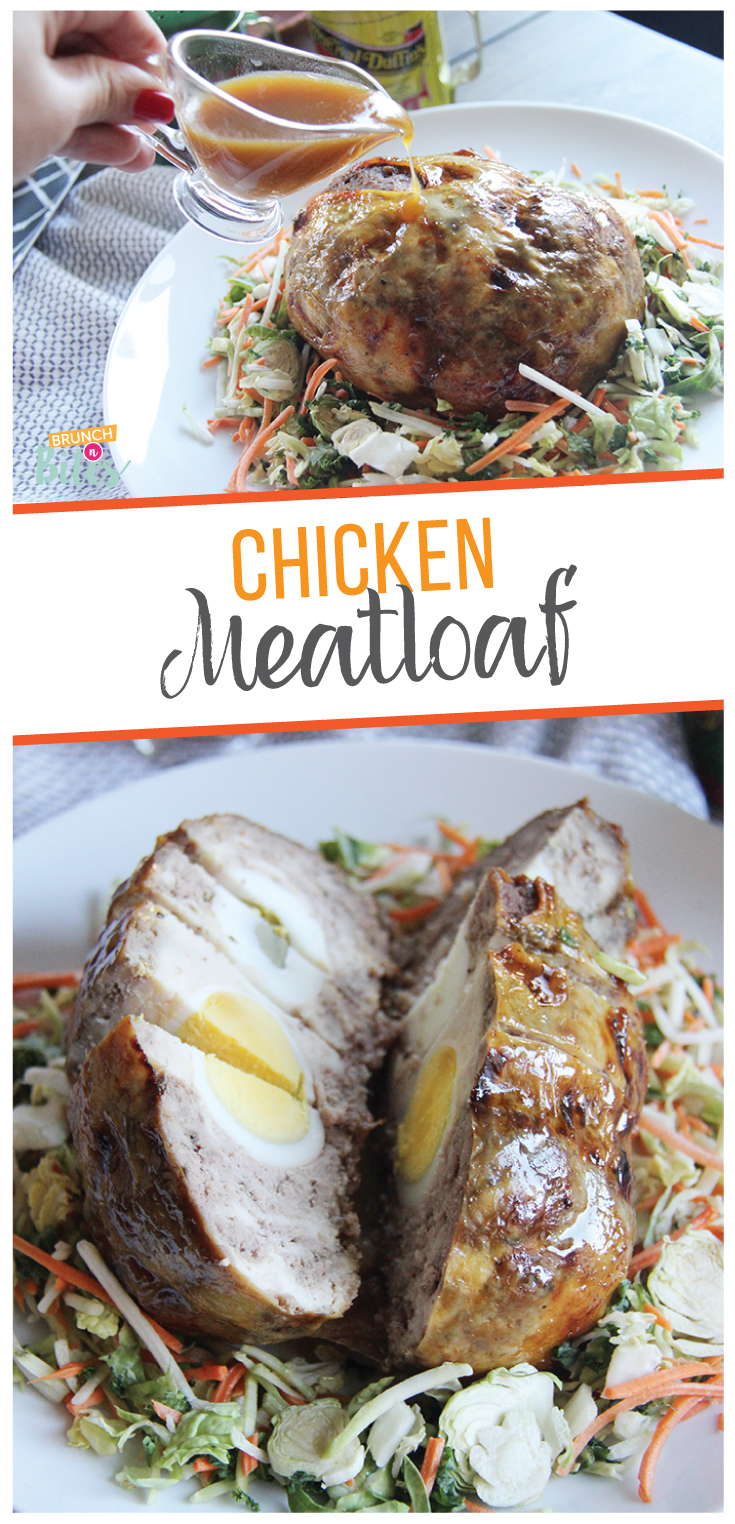 Save