If you are looking for an easy yet delicious dish that you can prep ahead of time, you are going to love this Chicken Shawarma Lavash. This is wonderful for lunch or dinner any night of the week.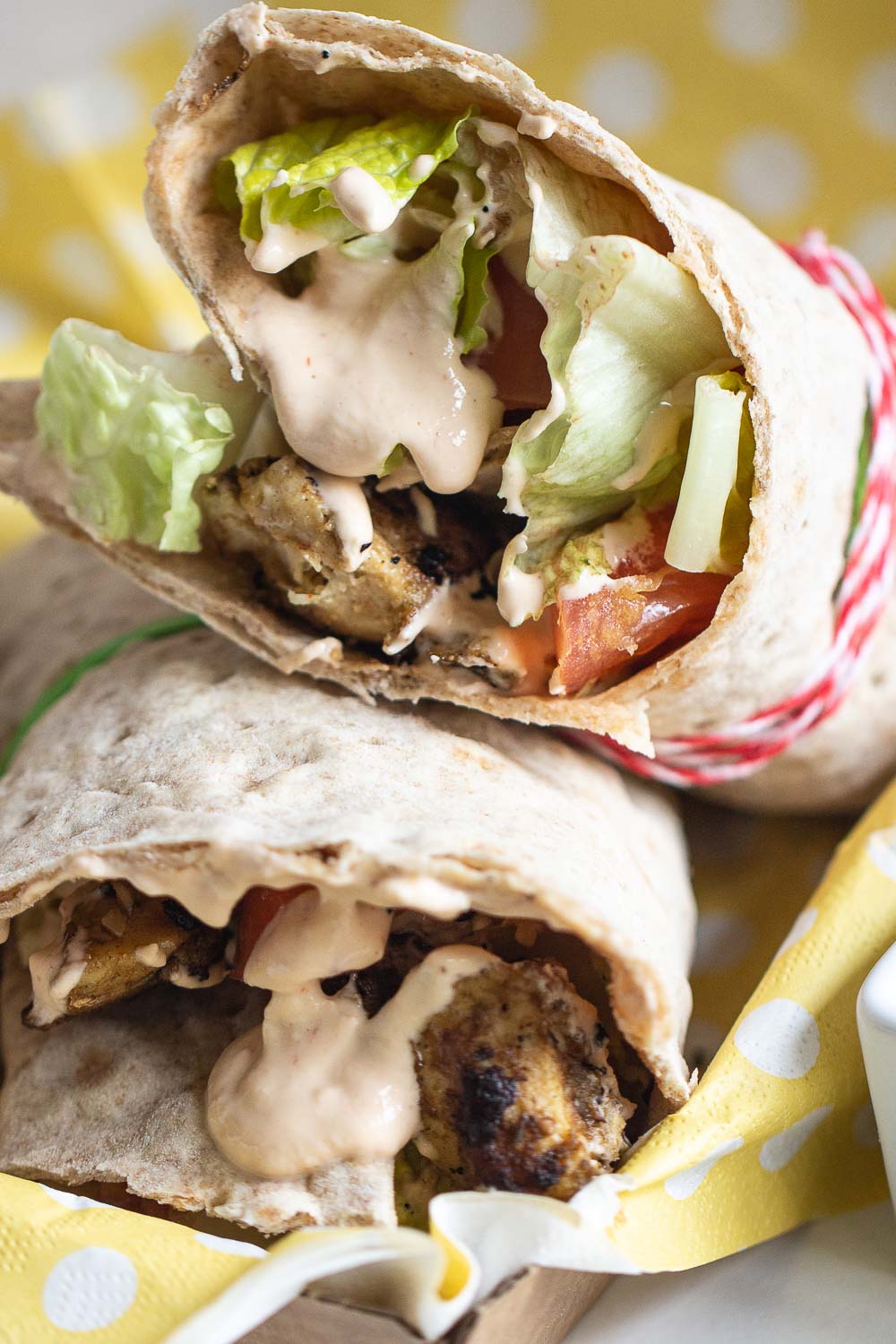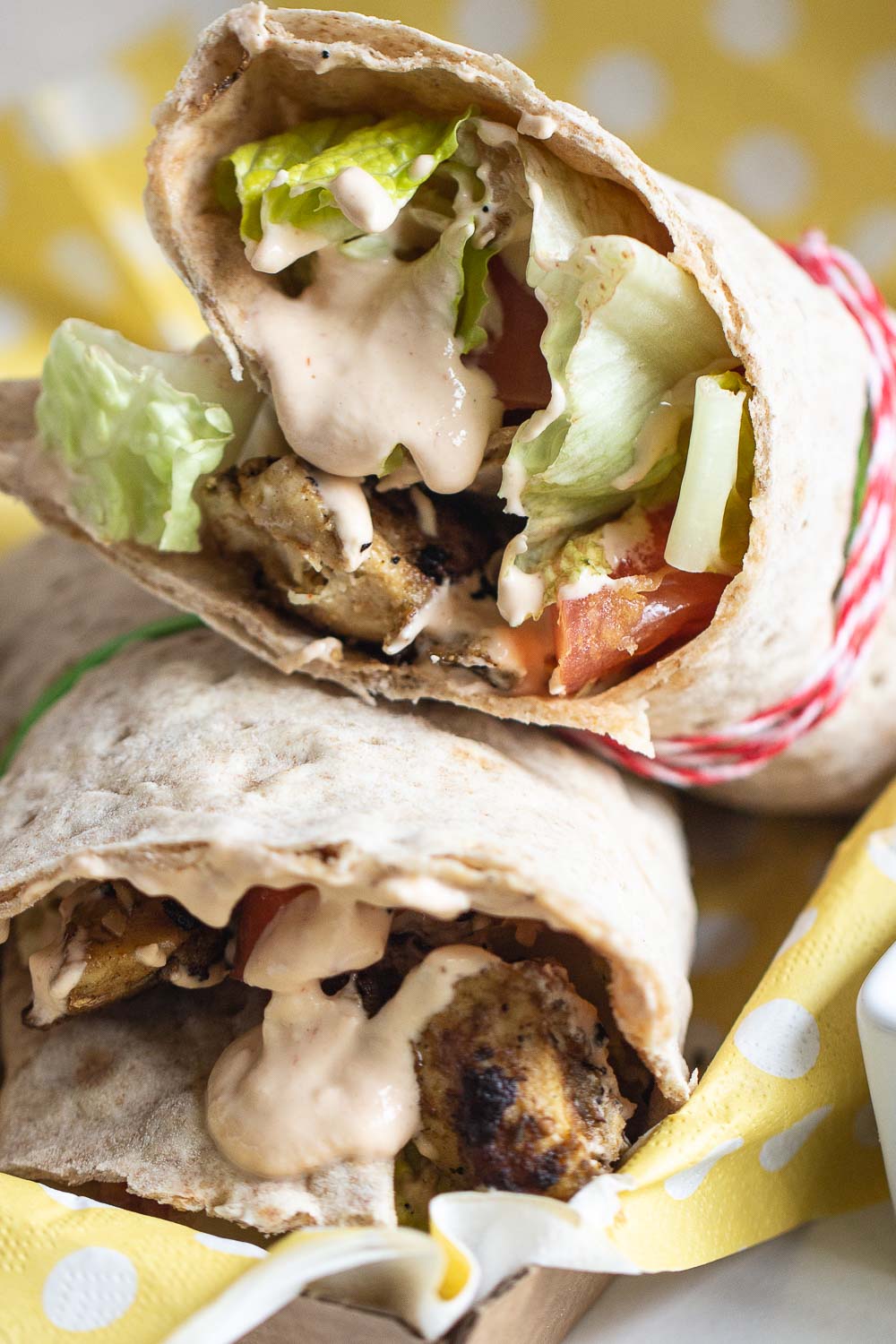 Oh. My. This just in: guess what I've made six times in the last two weeks? You're looking at it, sister.
Chicken Shawarma Lavash. This satisfying chicken shawarma lavash embodies everything that this week has been asking of me:
Easy. As easy as 1-2-3
Freezer-friendly. Perfect for your busy weeknight dinners
Delicious. 

There is about to be a party in your mouth

Make it hawt. When it comes to spicy, there is no pressure to use sriracha. And admittedly, it IS very delicious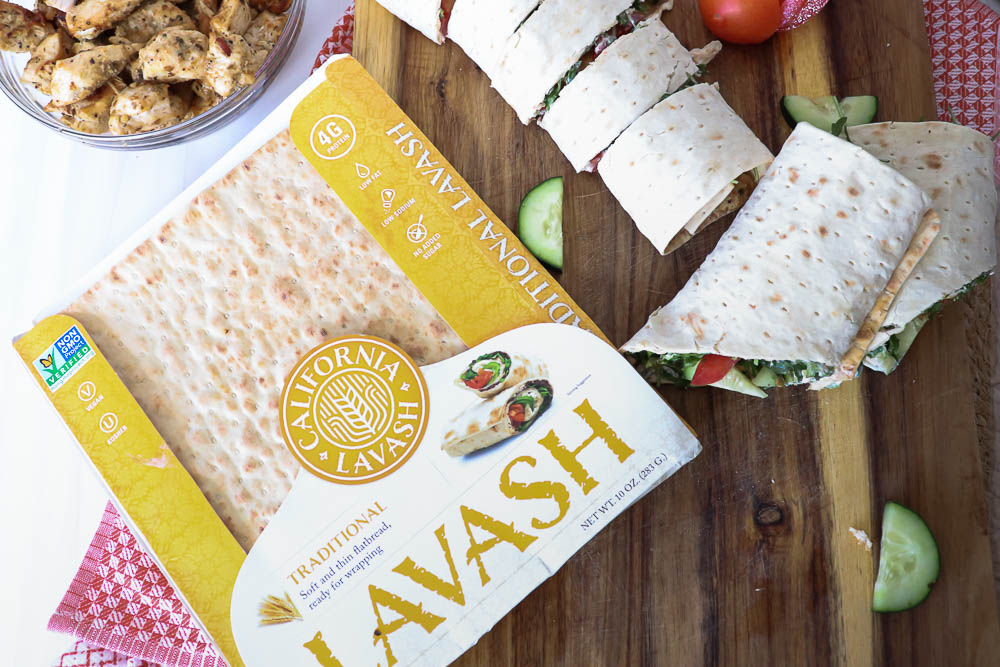 Today I am partnering with California Lavash to share this fun recipe and if you're a carboholic like me, you will lavash. Especially California Lavash flatbreads. Here is why:
Simple, clean-label, and non-GMO ingredients with real ingredients
Nutritious and full of fiber
Tasty and perfect for any recipes
Versatile – quick and easy to make a healthy meal. Check my Instastory or click here for some fun and easy recipes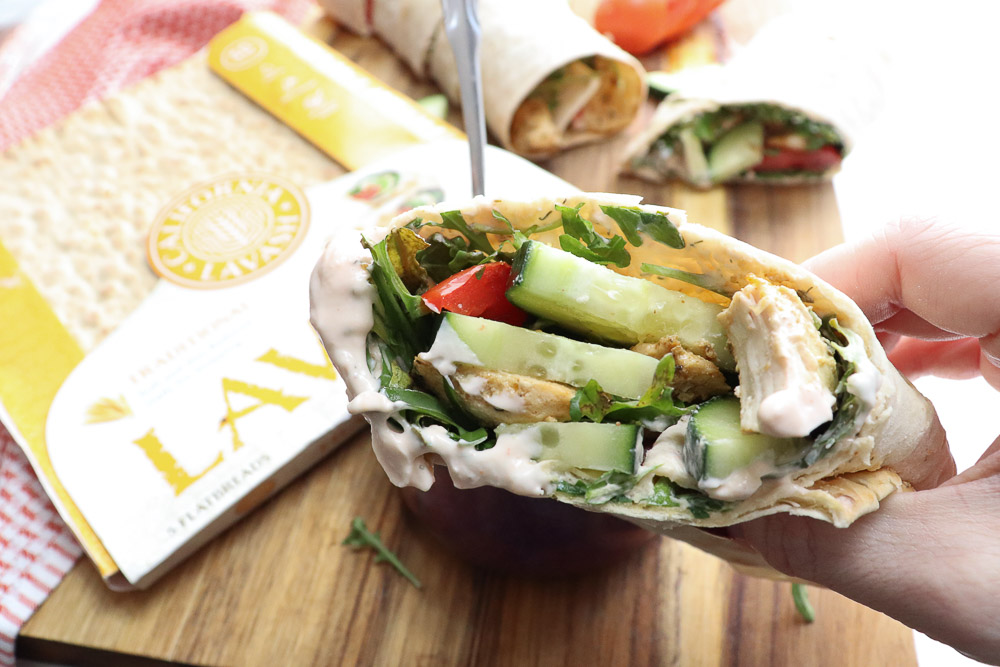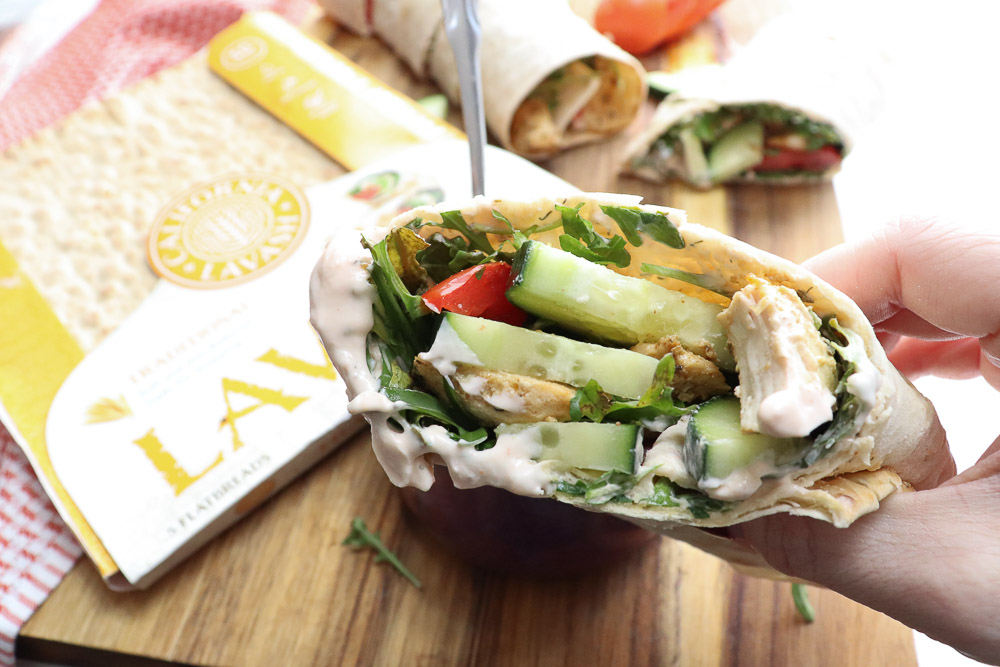 You might be curious about how shawarma is different from a gyro. They have a lot of similar flavors and they look alike. But, there is one crucial difference; the meat. A gyro is made with a combination of meats, generally lamb and beef, which is then roasted and sliced. Shawarma can be made with any number of meats including chicken, veal or lamb.
Another thing that makes this Chicken Shawarma Lavash different from a gyro is the wonderful spices! The coriander, turmeric, and cumin give the dish a tangy and warm flavor that has so much depth. It is really delectable.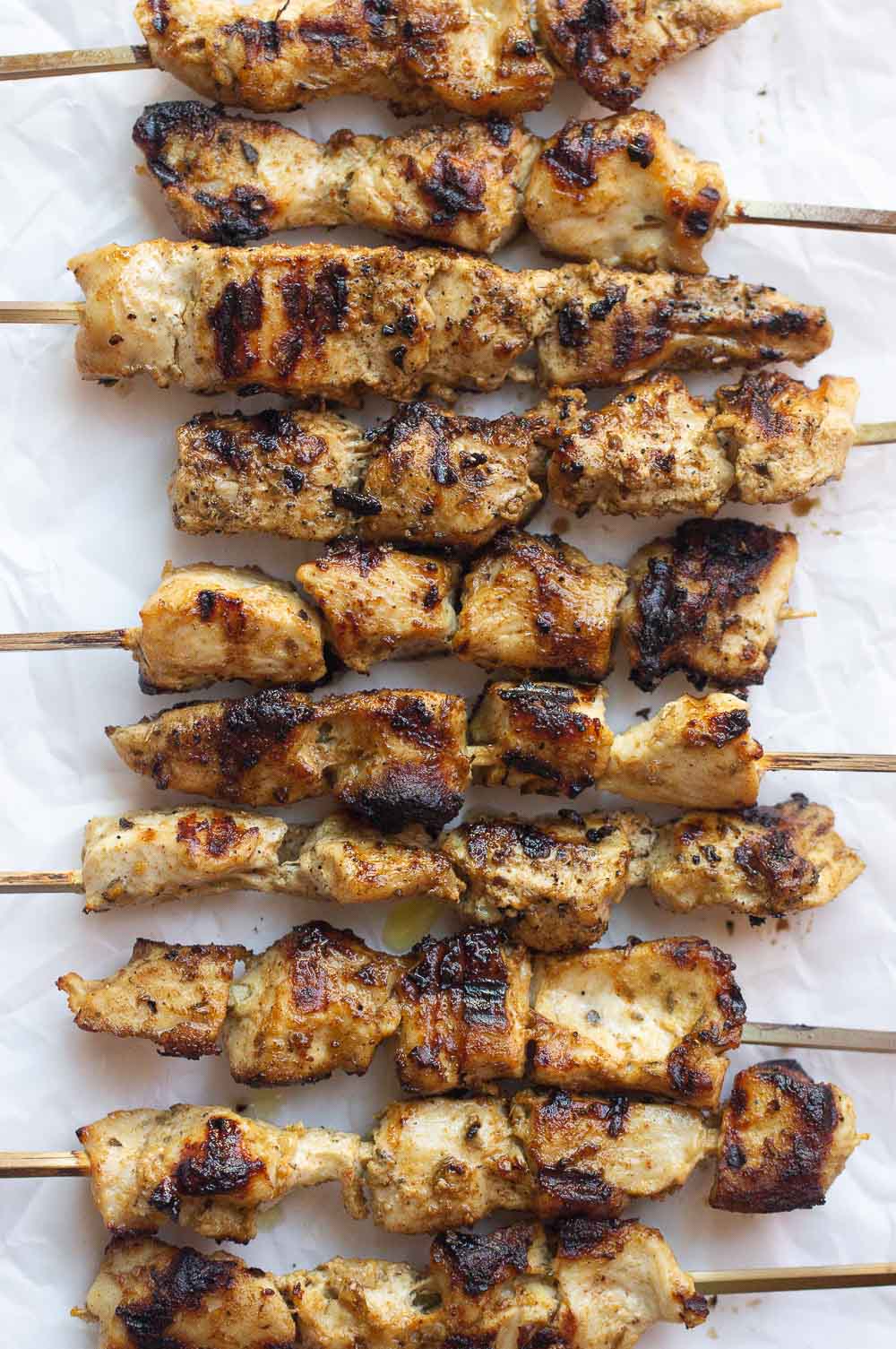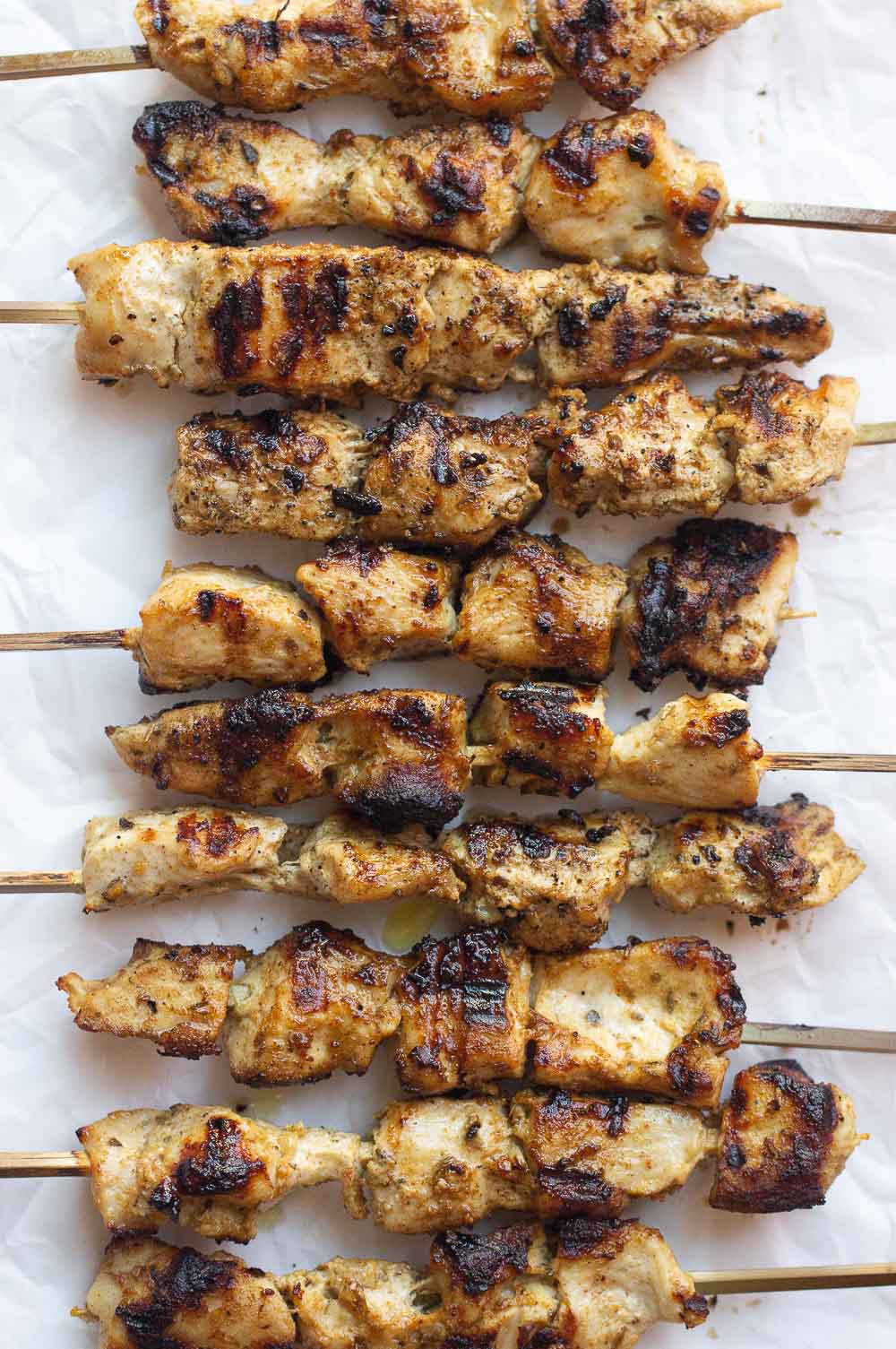 This Chicken Shawarma Lavash takes the flavors you crave when you want shawarma, but rolls it into a lavash. The crispy lettuce (or arugula) and tomato blend perfectly with the chicken shawarma and garlic dill sauce. This is envy inducing lunch, but it also a great after-school snack. It will hold even hungry teens over til dinner.
Speaking of dinner, you can also pair this chicken shawarma with hummus and veggies for a filling meal that satisfies. I love that you can make this ahead of time for really busy evenings.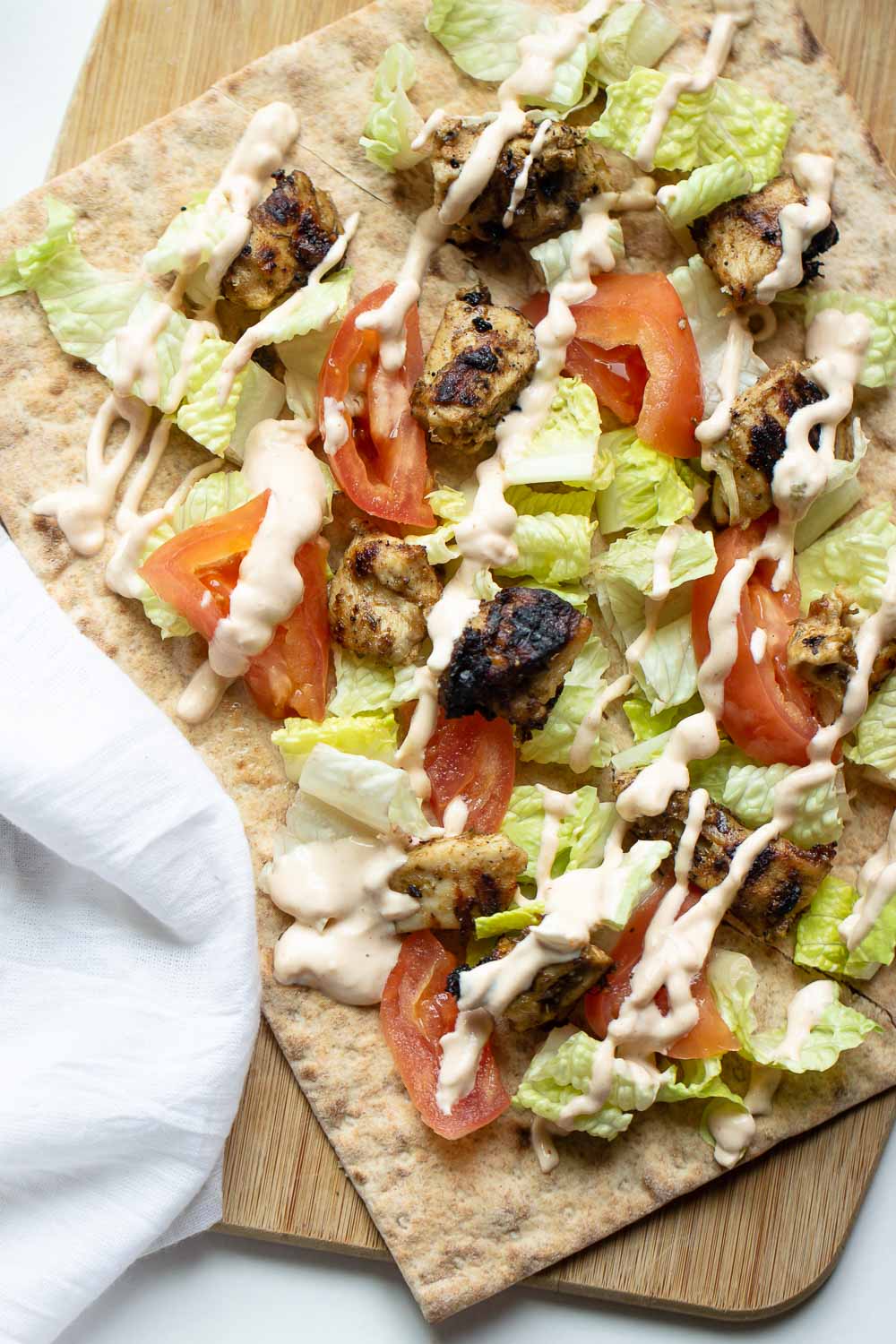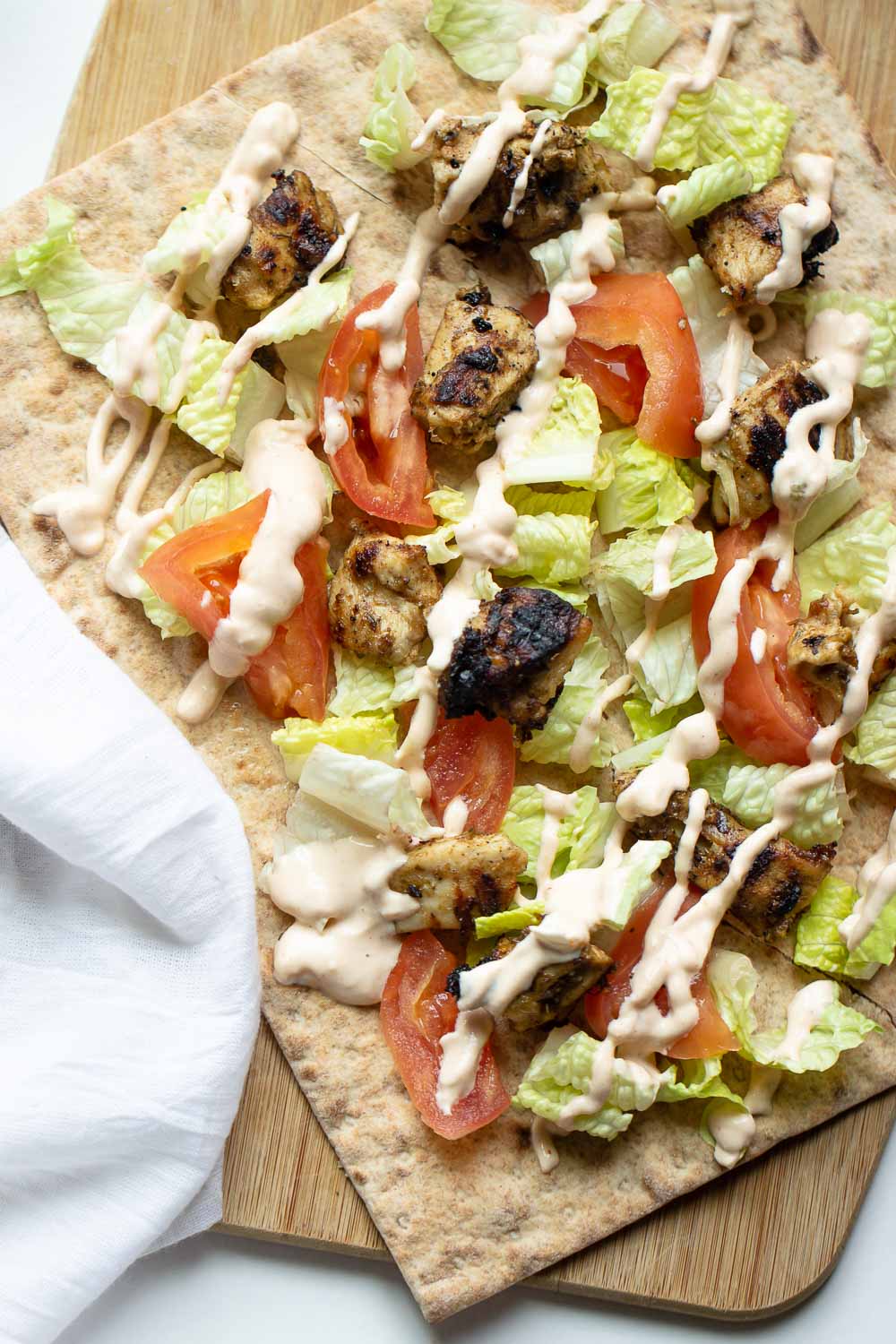 Really there is no wrong time to enjoy such a protein and flavorful dish. You can slice Chicken Shawarma Lavash into smaller slices to create bite-sized appetizers for a party, and watch them disappear. Be prepared to share the recipe!
Want to know more about California Lavash?
Visit californialavash.com to find out more and click here to find out where you can get lavash near you. Don't forget to check my Instastory for some fun and easy recipes using lavash or click here for more recipes like Rainbow Lavash Roll, Parfait Lavash Wrap to start your day or Hawaiian Lavash Pizza for dinner.
Click here to pin the recipe.

Print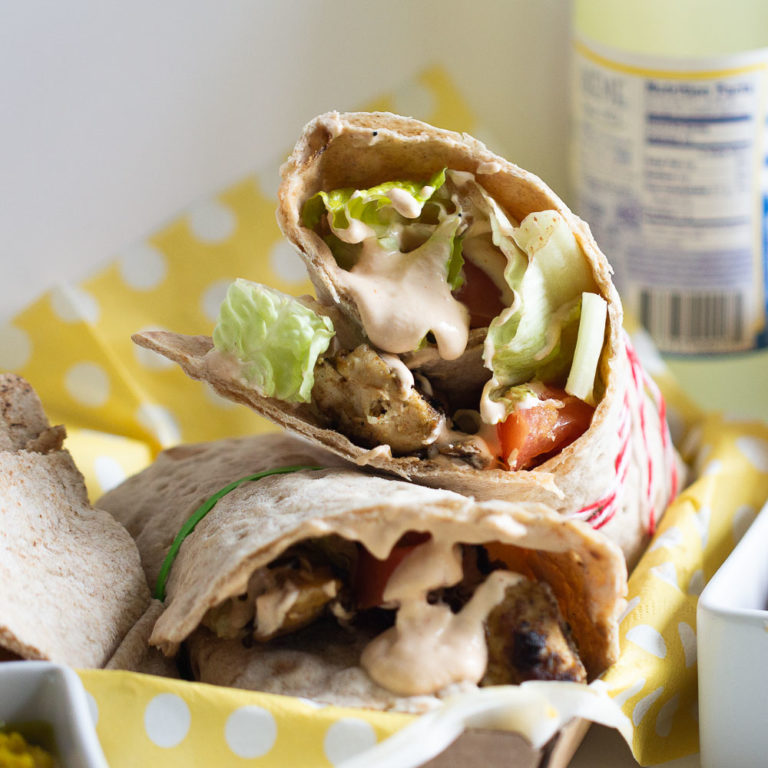 Chicken Shawarma Lavash
---
Chicken Shawarma Marinade
2

lb (1kg) skinless, boneless chicken breasts, cubed

2 teaspoon

ground cumin

2 teaspoon

ground coriander

2 teaspoon

dried oregano

¼ teaspoon

ground turmeric

½ teaspoon

ground red pepper cayenne

½ cup

plain yogurt

1 tablespoon

garlic, minced

Salt

Black pepper

2 tablespoons

olive oil
Garlic Dill Sauce
½ cup

plain yogurt

¼ teaspoon

garlic, minced

¼ teaspoon

dried dill

1 tablespoon

tahini

1 tablespoon

lemon juice

2 tablespoons

water, or more if the sauce is too thick

Salt

Sriracha, if you prefer spicy
Lavash Roll
½

head romaine lettuce or arugula

1

medium cucumber, halved and sliced

2

medium Roma tomatoes, sliced

1 tablespoon

olive oil
---
Instructions
Chicken Shawarma: mix all the ingredients except the oil in a bowl. Place the chicken in the bowl and coat it well, cover it, and place it in the refrigerator for at least 4 hours up to 24 hours.
Preheat your oven to 350°F.
In a large baking dish, spread 1 tablespoon of oil, add the chicken and mix well. Arrange the chicken in one single layer, if possible. Bake uncovered for 1 hour until cooked (no pink in the center).
Add the remaining oil in a large skillet over medium-high heat. Add the chicken slices. Sauté until they are golden brown and crispy. If necessary, add 1 tablespoon of oil if the chicken is too dry.
Garlic Dill Sauce: place all the ingredients in a medium bowl. Whisk them all together until creamy and smooth.
To assemble: spread the garlic dill sauce in the middle of each lavash. Add arugula, romaine lettuce, tomatoes, cucumber, and chicken. Roll up the lavash. Toast the lavash roll in a sandwich press or dry griddle until golden brown and crispy. Serve as a roll or cut it into smaller rounds. Use the remaining garlic dill sauce as a dip.
Notes
If you plan to freeze this dish, follow step 1-3; then let the chicken cool. Add the chicken in a ziplock or air-tight container and freeze it for up to 1 week.