If there's one nice thing I learned lately, it's Mylk Guys Market. I don't even have to drive since they deliver my order right on my front door. So when Mylk Guys came in with a big box of all my favorite goodies, I was really. really. really. excited. This meant dinner will be superb.
And you should be friends with these folks because Mylk Guys Market is…
One-stop shop. No more spending hours doing groceries.
Online plant-based groceries. I know!
Same as in-store prices. No hidden surprises, yo!
Delivered to your door around San Francisco, Oakland, and Berkeley. How exciting!
When Frederick and I decided to eat healthy-ish at least once a day, I was having hard times considering healthy. Is Meatless Monday enough for us? What about pescatarian? What about diet? Luckily, I found my awesome friends from Mylk Guys and their mission really changes our lives.
Speaking of awesome. Check out this big pile of chili lime carnitas topped with your favorite toppings. Yes, I'm talking cilantro, onion, salsa, avocado. Any kinds you like. But first, this carnitas is not actually meat. It is jackfruit. You might scratch your head now, thinking what the heck is that.
WHAT IS JACKFRUIT?
Native to Asia, Jackfruit is known for its spiky exterior and notable for its stages of maturity, each of which yields a different texture and flavor. however, jackfruit has a consistency similar to shredded meat. It's a popular fruit in Asia. When I grew up, we often had this for dessert or in a savory dish.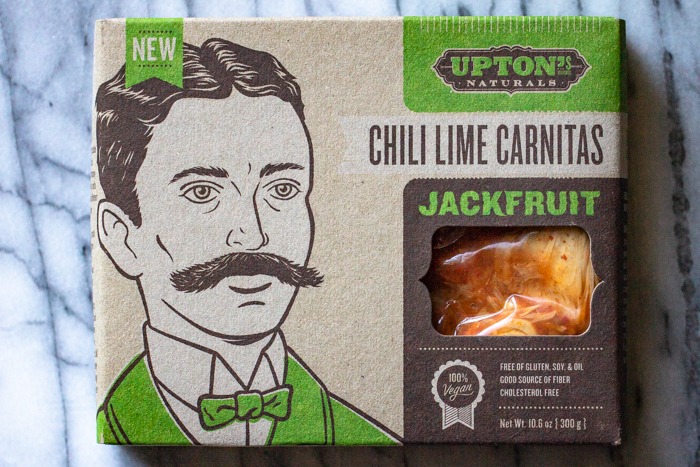 To start, see all this goodness? I used Upton's Naturals Chili Lime Carnitas Jackfruit. It's a good source of fiber and completely vegan. Then I like adding a combination of roasted corn, jalapeno, cilantro, and avocado. But you can adjust that and add shredded red cabbage, carrots, and so much more. The possibilities are endless. Really.
You are set. #TacoTuesday as its finest.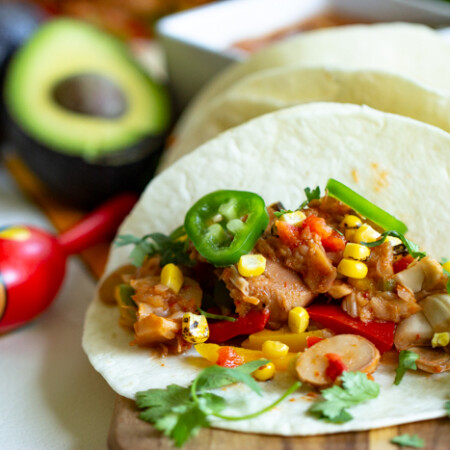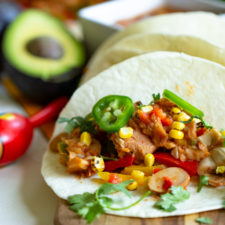 Ingredients
10.6

ounce

Chili Lime Carnitas Jackfruit

4-6 to

rtillas

2

cups

roasted corn

2

cups

sliced bell peppers

any colors

1

avocado

pitted, thinly sliced

2

jalapenos

thinly sliced

Fresh cilantro

1

tablespoon

olive oil

Lime

cut into wedges

Salt

to taste
Instructions
To warm tortillas: wrap in barely damp paper towels and microwave on high for 30 seconds.

In a small pan, add jackfruit over medium heat and cook for 5-7 minutes or until thoroughly heated, stirring occasionally. For liner shred, break up in a pan. Set aside.

Add the olive oil to the same pan. Add bell peppers and cook for 3-5 minutes. Sprinkle with salt. Set aside.

To assemble tacos: Fill each tortilla with a generous amount of jackfruit meat, roasted corn, bell peppers, then top with avocado, jalapeno, and cilantro. Sprinkle with lime juice.