The sous vide chicken recipe makes these chicken super moist and juicy. And it takes less than 5 ingredients to make this dish that would surely awaken your taste buds!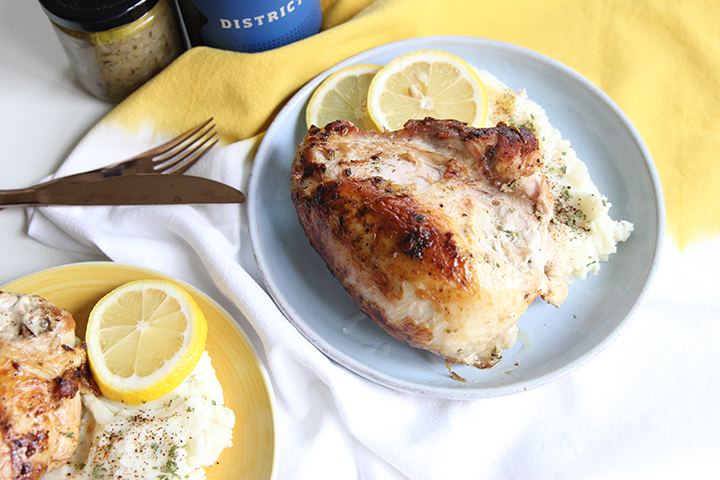 Seems everyone is rushing for the holidays and I'm not an exception. Remember when I shared my first-time post. Today I'm sharing another first- my first time making a sous vide recipe!
I've been wanting to try cooking a sous vide chicken recipe for a very long time. I've recently been experimenting with different recipes ever since I got this Hamilton Beach sous vide slow cooker. I'll admit I wasn't very successful at all. Finding the right temperature is one thing, timing how long I should cook it for is another thing.
In case you are wondering what sous vide is… It's a simple process of cooking vacuum or bag-sealed food in a precise temperature-controlled water bath. The result is evenly cooked food at the temperature you decide. There's no over or under cooking because sous vide only cooks to the precise temperature of the water bath.
One of the requirements in sous vide cooking is actually a vacuum. In french, sous vide literally means 'under vacuum' but you don't necessarily need to create a vacuum to have great results as long as you double the ziploc bags.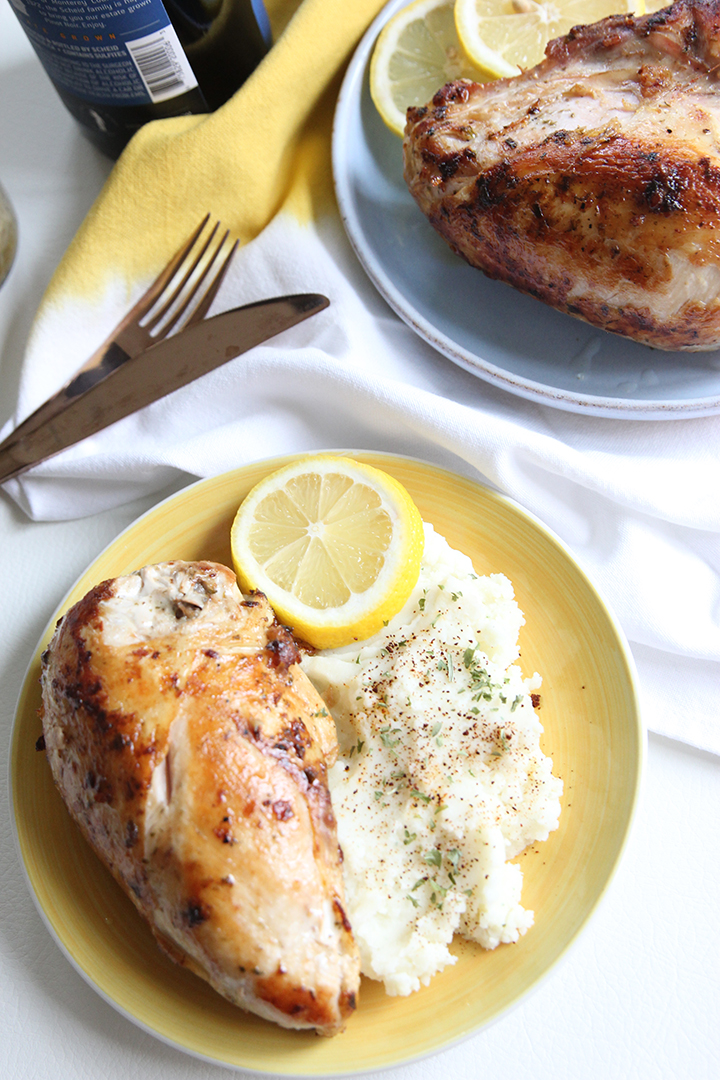 When experimenting, I placed my chicken in double ziploc bags and it came out perfectly fine. What I love about this machine is that it has another cool feature that is super helpful- a programmable slow cooker! Program the cooking time and temperature, go about your day, and come back to a hot meal. When the program ends, the slow cooker will automatically switch to warm.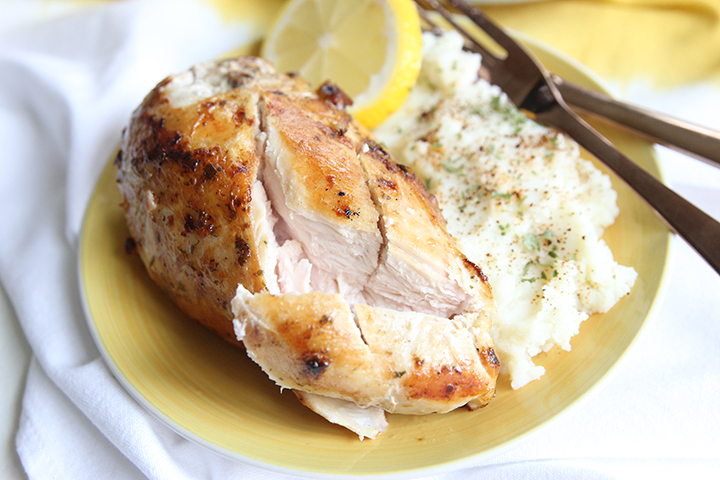 Thanksgiving is just around the corner and we always have a mini Thanksgiving. Last year I made this chicken meatloaf and this year I am making this Crispy Juicy Sous Vide Chicken. I love the texture of this chicken. It's crispy on the outside and juicy on the inside, which is a tasty way to enjoy Thanksgiving chicken. Check out the recipe here:
Print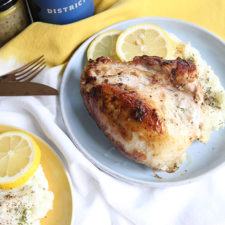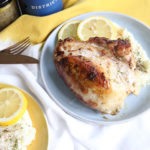 CRISPY SOUS-VIDE CHICKEN RECIPE
---
Scale
Ingredients
2

boneless, skin-on chicken breasts
Salt and freshly ground pepper, to taste

4

tbs garlic & herb butter, cubed

2

tbs vegetable oil, plus more as needed

1

lemon, sliced
---
Instructions
Prepare a sous vide immersion circulator for use according to the manufacturer's instructions. Preheat the water to 150°F.
Season the chicken with salt and pepper. Place the chicken in a vacuum-sealable bag. Add butter to the bag. Seal the bag tight and double it. Carefully place the bag into the water and cook for 2 hours.
War the oil in a large fry pan over medium heat. Remove the chicken from the bag and pat dry with paper towels. Place the chicken, skin side down, in the pan and cook until golden brown, about 10 minutes. The turn the chicken over and cook for another 2 minutes. Add juice from 1/2 lemon and serve with mashed potatoes or vegetables.
---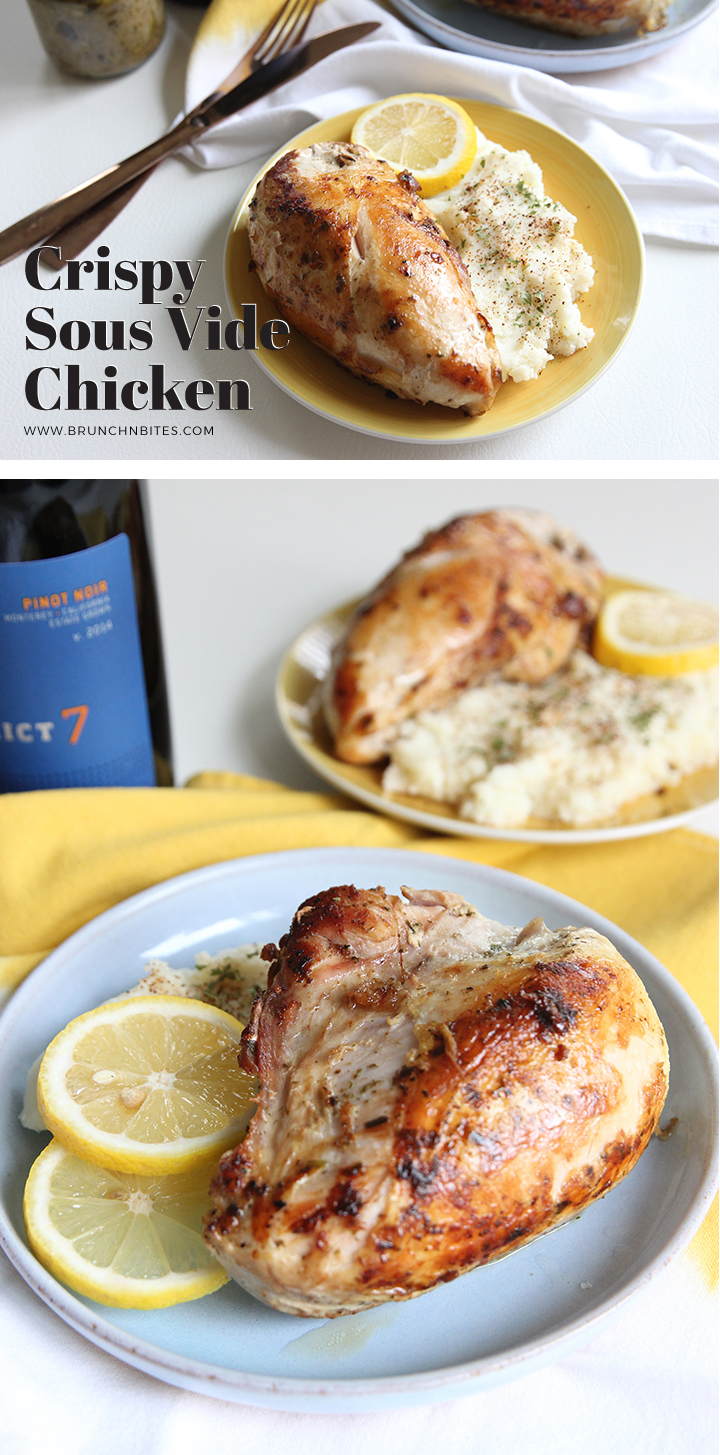 Since I really want you to try this recipe, let's do a giveaway! You can win this Hamilton Beach sous vide slow cooker + make this tasty Crispy Juice Sous Vide Chicken recipe yourself.