This hearty Chicken Biryani is flavorful and soul satisfyingly good in every bite but half the effort! A one-pot meal that brings an explosion of flavors.
Guys…I have something to share with you. It's been a couple weeks since I came back to the U.S. after a long fun trip. It seemed like it was a really long trip because we were moving from one place to another, but in reality – it was only two weeks. We visited Seoul and its surroundings, as well as Indonesia where I did 5 cooking sessions for a cooking channel there. I had a really hard time in the beginning with converting all the measurement I normally use over here into their measurement system, but everything turned out great and I am glad I did not burn their kitchen down! My only regret was probably not planning it better, but there's always a first time for everything…just like this chicken biryani!
I love Indian food (side note: I also envy how colorful their attire is). The hubs and I used to go to an Indian restaurant at least once every 2 week. Indian foods share quite similar tastes and flavor to Indonesian food.
Both cuisines use a lot of curry, which I love! I knew if I could cook Indonesian food at home, I could cook Indian food at home. It should not be that hard, right? Right!
Once you know the ingredients to use and list your step-by-step directions, this rice cooker easy chicken biryani is beyond easy to make.. And a total lifesaver when you don't have much time to make dinner!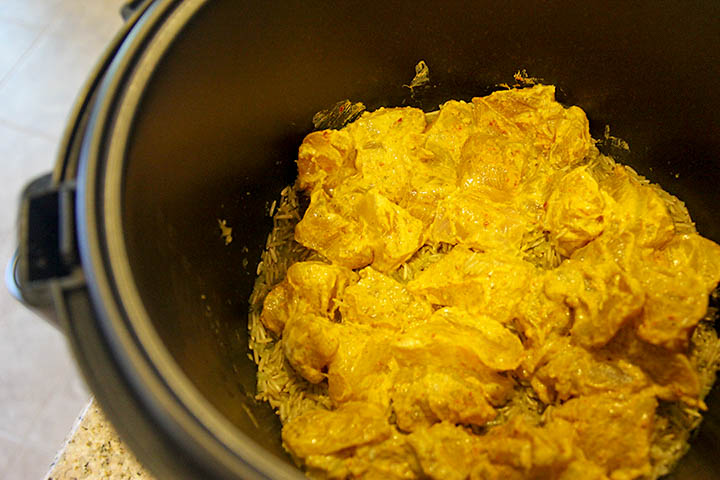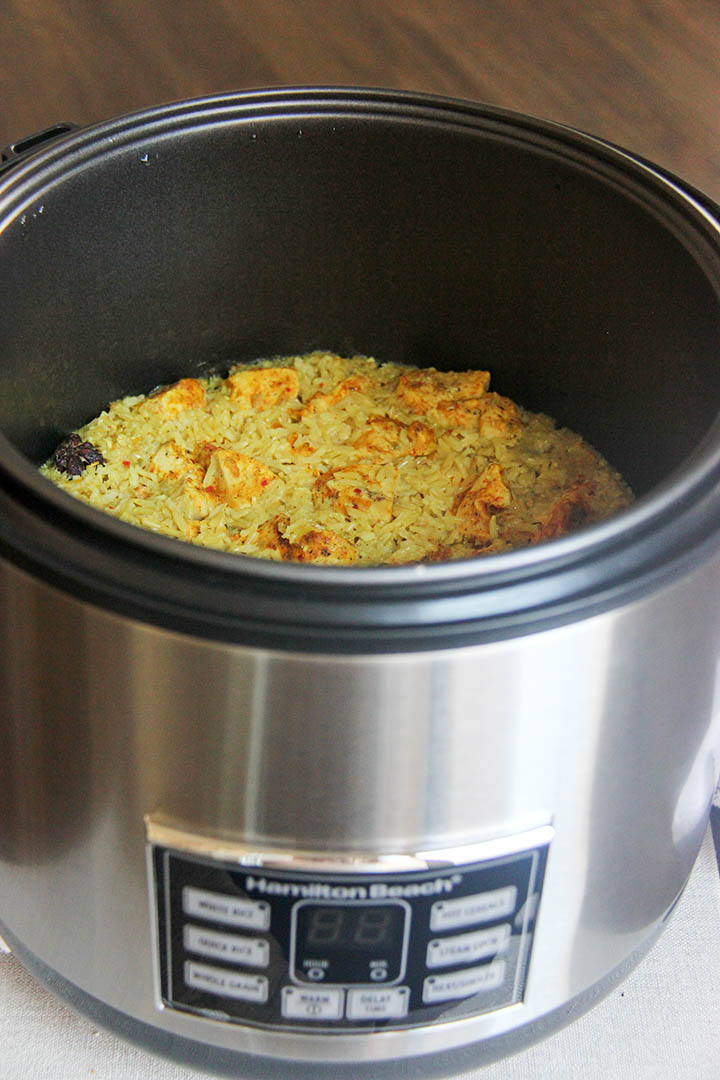 If you happen to stop by any Asian grocery (or home), you might notice a rice cooker placed neatly in their kitchen. In my case, I place it in the cabinet because I don't like things on the counter. However, a rice cooker is an essential in my house since we are accustomed to eat rice daily. I recommend this Hamilton Beach rice cooker and hot cereal cooker. This rice cooker works great for oatmeal, grits, and cream of wheat. And not just that, you can also program this rice cooker ahead of time so breakfast is ready by the time you wake up and dinner is served by the time you get home. How cool is that?! This is also perfect if you like to steam things. It's a one-pot cooking method and perfect for this chicken biryani.
When your Chicken Biryani is done cooking, add a touch of mint and cilantro on top to give a cool freshness to this dish. This fall, it's worth dusting off the rice cooker for this recipe, and that's exactly what I will be doing this weekend!
Print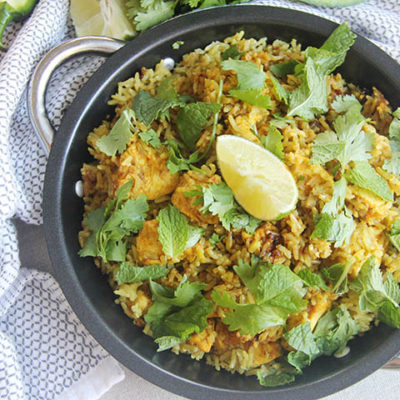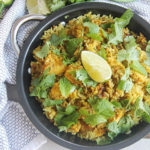 Eager to know, how to make biryani rice with rice cooker?
---
1

lb bonesless, skinless chicken breast

3

tbs whole milk plain yogurt

1 tsp

ginger garlic paste

1/4 tsp

salt

1/2 tsp

turmeric

1/2 tsp

red chili powder

1/2 tsp

garam masala

1

white onion

1

2-inch fresh ginger, peeled

3

medium-size garlic

1

fresh jalapeno

2

tbs oil

5

cloves

5

cardamom pods

1

" cinnamon stick

1

star anise

2

bay leaves

2 cups

basmati rice

3 cups

chicken stock +

1/2 tsp

garam masala

1

lime
Cilantro, for garnish
Mint leaves, for garnish
Raisin, for garnish
---
Instructions
Coat the chicken with salt and cut into bite-size chunks.
In a bowl, combine yogurt, ginger garlic paste, turmeric, red chili powder, and garam masala. Add chicken, mix well and set aside.
Combine onion, ginger, garlic, and jalapeno in a food processor and puree. Set aside.
In a rice cooker turn to steam, add oil and onion paste. Cook for 10-15 minutes uncovered until pastes becomes aromatic and starts to brown.
Add basmati rice, cloves, cardamom pods, cinnamon stick, star anise, and bay leaves. Stir well.
Arrange chicken on top to cover the rice. Then add the chicken stock, cover and cook according to rice cooker instruction.
When done, sprinkle with chopped cilantro, mint, and raisin. Squeeze lime over chicken biryani just before serving and mix well.

Disclaimer: I am sharing this recipe in partnership with Hamilton Beach, for whom I am proud to be a brand ambassador. As always, all opinions are 100% mine.