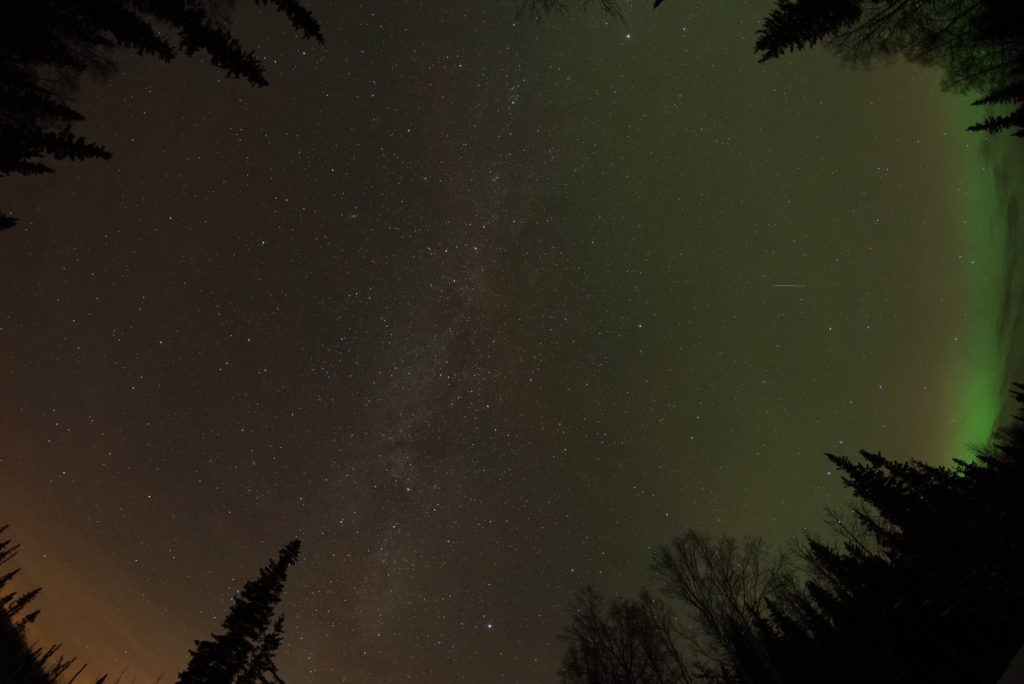 This view…
Who would have thought I was able to spend the new year with this view in the background? The idea of visiting Alaska, Fairbanks to be exact, in December was kind of wild and crazy. Seeing the Aurelia Borealis was on our bucket list for sometime and we thought it would be fun to have a short trip there. Indeed, it was a too short of a trip. We were welcomed by a snow storm when we got there. Turned out, the storm lasted for another 1.5 days. So there was no tour to see the Northern Lights (Aurelia Borealis) on Friday night. The fact it was snowing and windy did not stop us for having a lot of fun. So here are my favorite places to visit and eat:
The Crepery
535 2nd Ave #101, Fairbanks, AK 99701
https://www.yelp.com/biz/the-crepery-fairbanks
It is no secret my first mission in the morning is to find a good breakfast, so the first thing I did when I got there was…brunch at The Crepery. Located in Downtown Fairbanks, The Crepery is a unique place and all they have are crepes – sweet and savory. One of their favorites is this creme brulee crepes. Sounds yum, right? Surprisingly, it was not overly sweet, and they made sure the right portion of sweetness between the filling and the crepe itself was done right. Every single bite tasted so good! Who could make a crepe this neat?
We also tried their smoked gouda and ham, added with prosciutto, savory crepe. I really like this one. Not too salty and every bite screamed perfection. We also tried their cuban coffee and hot chocolate. When the temperature went to 24F, there's nothing more comforting than sipping these two.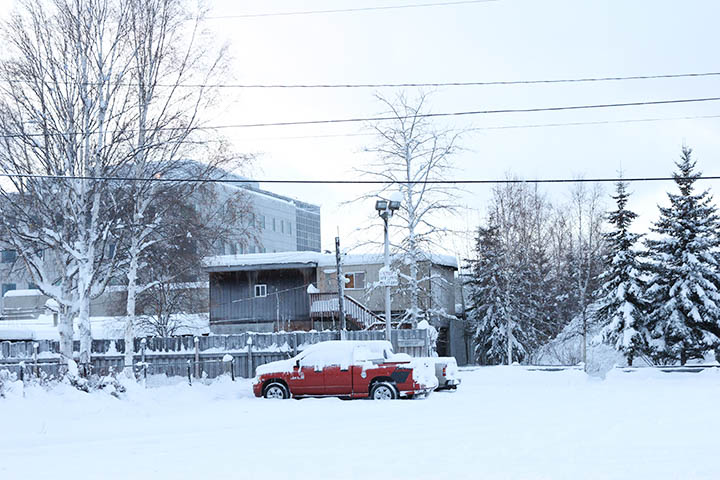 Morris Thompson Cultural Center
101 Dunkel St, Fairbanks, AK 99701
http://www.morristhompsoncenter.org/

Fairbanks is fairly a small city and people there are super friendly and helpful. Almost everyone I met suggested me to come here to get the information I needed to visit Fairbanks.  Morris Thompson Cultural Center is not just a place to ask questions about places to visit in Fairbanks, but they also share the culture behind it. There's a movie theater inside, a mini museum, and a gift shop. So be sure to visit this place and say hello to people there.

North Pole – Santa Claus House
http://www.northpolealaska.com/
Have you sent a card to Santa when you were a kid? Or does your kid do that? If so, then this is the place where all cards to Santa got collected. This is a cute place to visit and experience Christmas all year long. I was lucky enough to meet Mr. & Mrs. Santa Claus that day; however, since it was snowing, they had to keep their reindeer inside. Otherwise we would have been able to play with them.
This place sells so many fun Christmas items, from ornaments to t-shirt. Loved everything about it! They also had fudge! And oh, don't forget to check out their reindeers.
Chena Hot Springs Resort
6450 Airport Way, Fairbanks, AK 99709
http://www.chenahotsprings.com/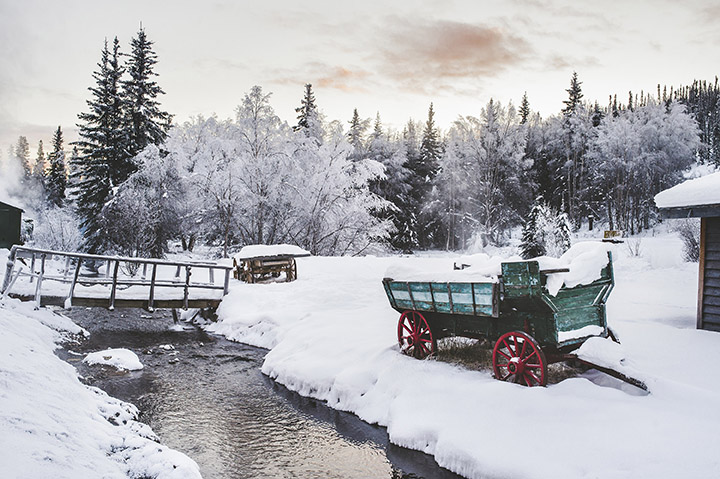 If you do your search for a trip to Fairbanks, almost every tour recommends going to Chena Hot Springs. Located just 60 miles outside Fairbanks, Chena Hot Springs is a fun famous spot for hot springs and spotting the Northern Lights (Aurelia Borealis). I was surprised to find out there's no electricity here; however they do have geothermal renewable energy to produce lights and keep the temperature warm for guests. The hot springs itself is something that you have to try for yourself. It's outdoors and if you're lucky, you can enjoy the warm water while viewing the Northern Lights. How cool is that!
One other cool fact that I learned – since there's no electricity here, is that they build their own green house to grow their plants. So yeah, the restaurant inside offers more than just salmon or lobster, but also fresh vegetables. And their portions…generous! Have you seen a plate with this many scallops in one order?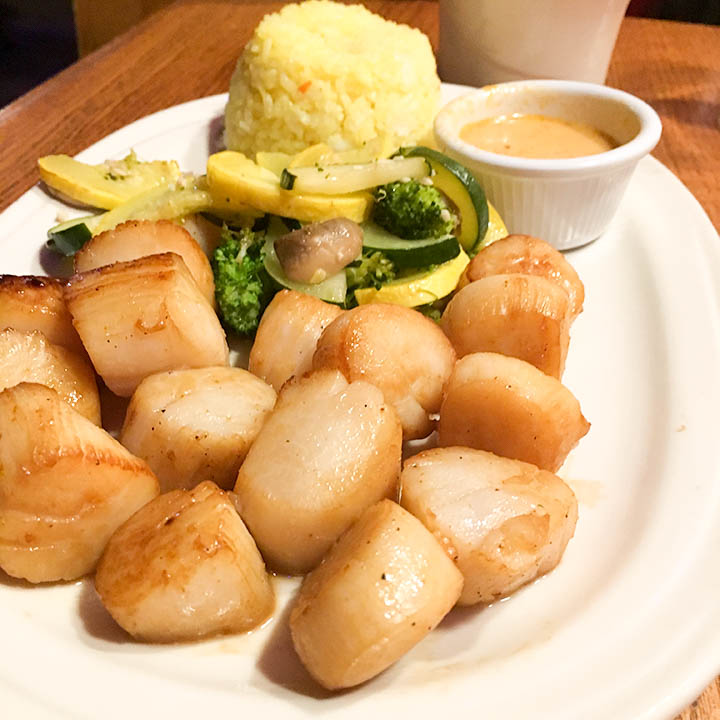 Ice Museum
500 2nd Ave Fairbanks, AK 99701
https://www.icemuseum.com/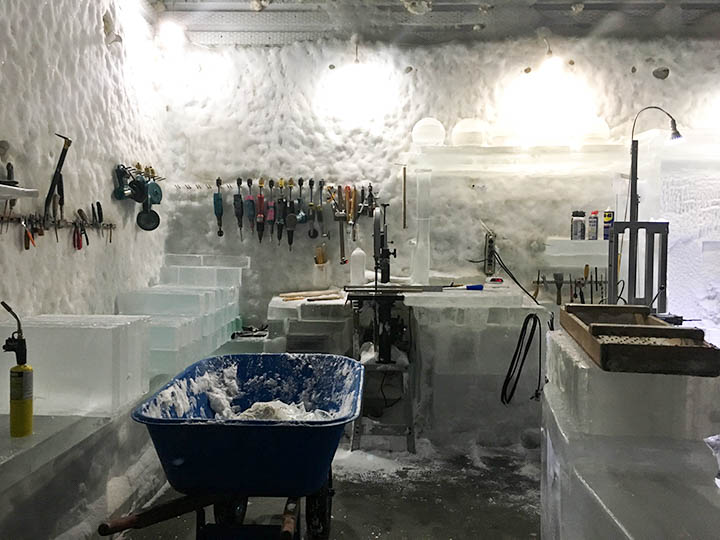 This is located inside Chena Hot Springs property and the world's largest year-round ice environment in the world. This Ice Museum was built, as a way to boost tourism at Chena Hot Springs Resort, by Steve Brice, 15-time world ice carving champion and Heather Brice (wife), 6-time world ice carving champion. Inside you can see all beautiful ice carvings and the highlight of this tour was their apple martini, served in an ice glass.
Aurelia Borealis
http://www.alaskaborealis.com/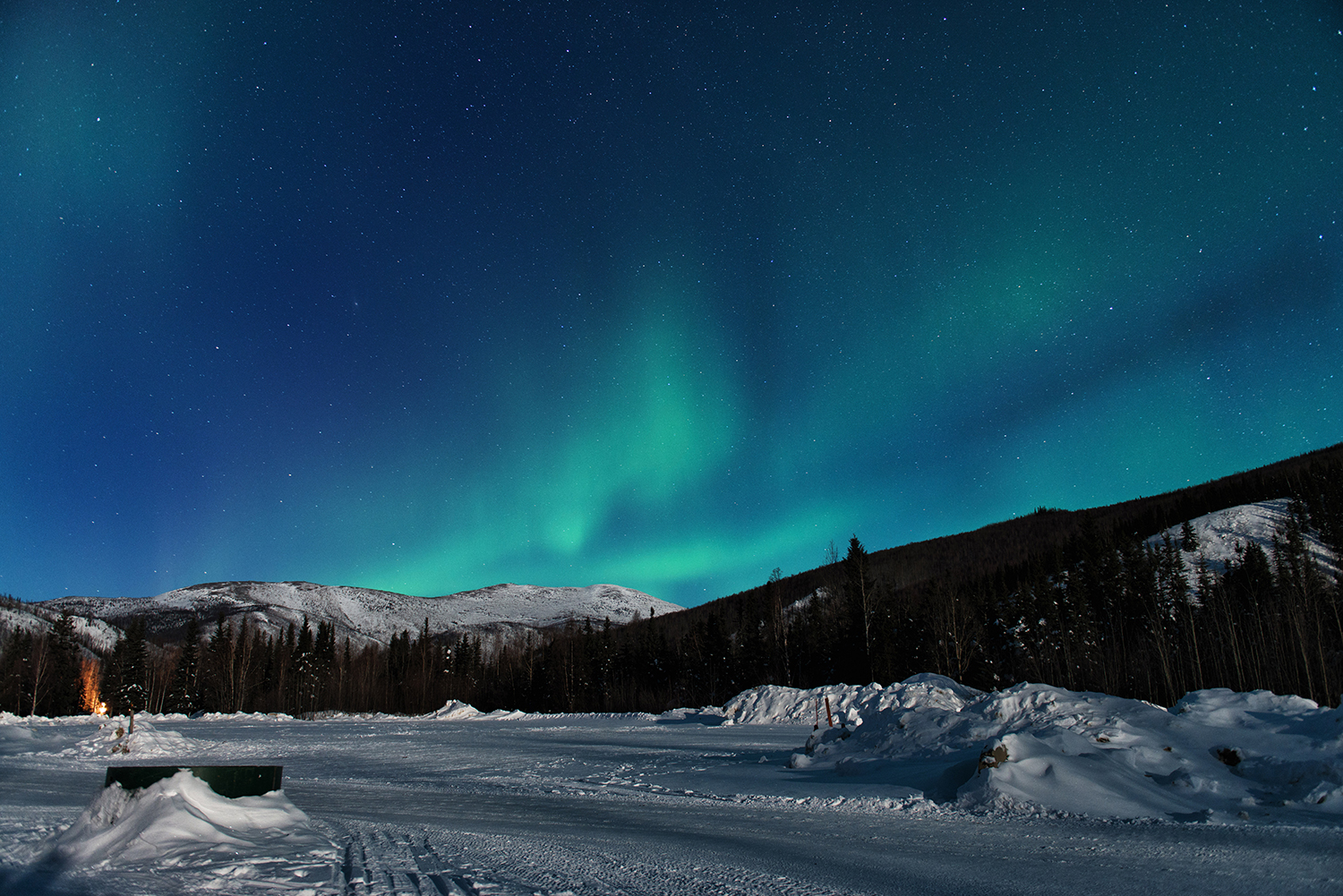 Obviously this was the main reason why we went to Alaska and like everyone said, it was not easy to spot one since they show up randomly. Our first tour was canceled due to severe snow weather. Fortunately, there was a tour going on the day after, which happened to be on New Year's eve. This was spotted at 8pm while we were on our way to Chena Hot Springs.
Yep, I guess the best place to spot this was in Chena because that's where everyone headed to that night. We had to go to a darkest place to spot one and you had to keep your eyes open because they do show up instantly. Though the night was not as clear as predicted, we were lucky enough to capture these memories to bring home. Our guide was so helpful and we're so glad we joined his group. Travis, our guide, was very helpful and he showed us around Fairbanks before we headed to Chena Hot Springs Resort. He was also kind enough to drive us to few different spots so we could get a better view of Northern Lights.
Dog Sledding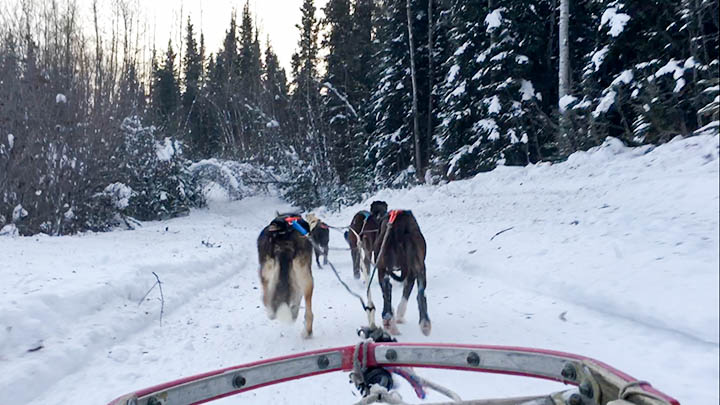 Oh my! I am super excited for this one! This has been in my mind for sometime and each time I watch movies with snow in the background, I always dream of this one. And again, due to bad weather, our first tour was canceled. Luckily after hours of browsing and speaking on the phone asking almost every dog sledding place in town, there were some spots available. They all said the same thing…"it's so popular that we are sell out quickly". So yeah, we were lucky! I'm glad we did it and it was a bumpy, fun ride! Let me tell you one thing though…I did not expect riding would be as cold as it was, so I left my gloves and scarf in the hotel. The  2-3 minute ride left my face freezing. Even my phone could not handle how cold it was and I was lucky to be able to capture some fun moments with beautiful view in the background. Phew….
Lemongrass Thai Restaurant
388 Old Chena Pump Rd, Fairbanks, AK 99709
https://www.lemongrassalaska.com/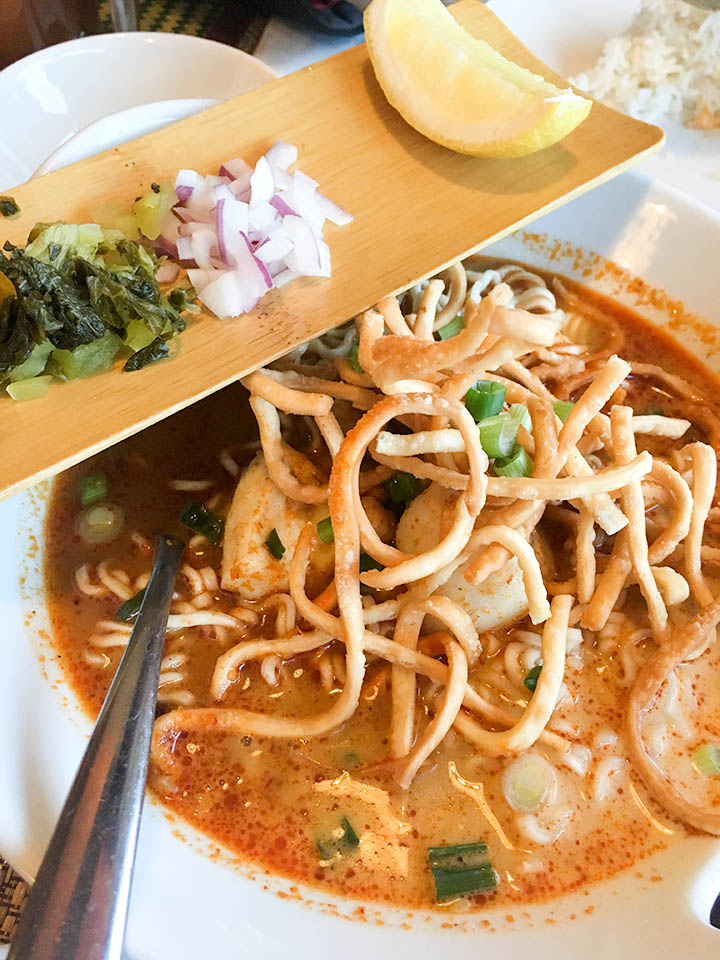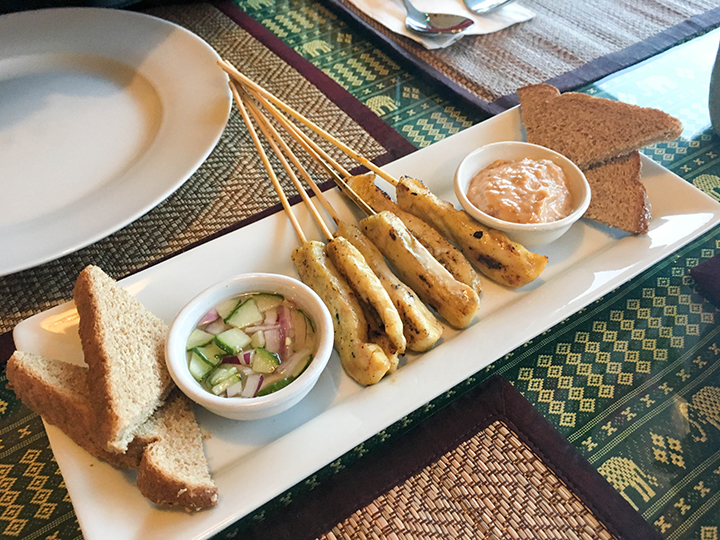 They say Thai restaurants are very popular here in Alaska and Lemongrass happens to be one of them. When we stepped into this place, I knew for sure this had to be one of the best. One of the things I love about the restaurants in Alaska…they add seafood almost in every of their menu. Who can say no to this fish and scallop noodle soup? I was hoping for their Salmon special of the day; but they were out when we visited.
Alaska is covered with snow in the winter and the weather was cold and dry. So if you're visiting Alaska or anywhere below zero, don't forget stay warm.
[show-map id='2′]