Christmas is finally here! The holiday season is finally upon us. And you know what I am doing about it? I am shoveling slices of this Lemon Almond Loaf Cake into my mouth while baking another Hot Chocolate Habanero Bundt Cake and these yummy Nutella-Filled Chocolate Baileys cookies. Speaking of which, my oven has been working overtime this month. From baking Bourbon cake (which I shared on Instagram couple weeks ago) to these scrumptious cookies. My kitchen has turned into a cake-warzone where I constantly bake right after work. Do you think late-night baking is therapeutic or am I the only one who feels that way?
Christmas morning is one of my favorite times of the year. It is a lovely time spent with family over great food, lots of laughter, and joyfulness. Add to that the excitement of tearing into present after present – it is a real treat! The day after Christmas is always the hardest because we get back to work, nostalgic of all the fun we just had on Christmas Day. But they are laid back, relaxing days at work.
So, since I only have 1 day to spend time with the family, this french toast will stay on top of my brunch list. It's an easy breakfast idea that involves little preparation but gives the best flavors. And since it is Christmas time, I thought it's the perfect time to have Peach Pie French Toast Casserole.
I am using this Cinnamon & Raisin Loaf from Little Northern Bakehouse. What I like the most about this brand is their dedication to making healthier, gluten-free bread without sacrificing the taste or texture with a line-up of plant-based, non-GMO products. In case you do not know, many of their products are 100% plant-based and vegan, appealing to a wide variety of diets and food preferences.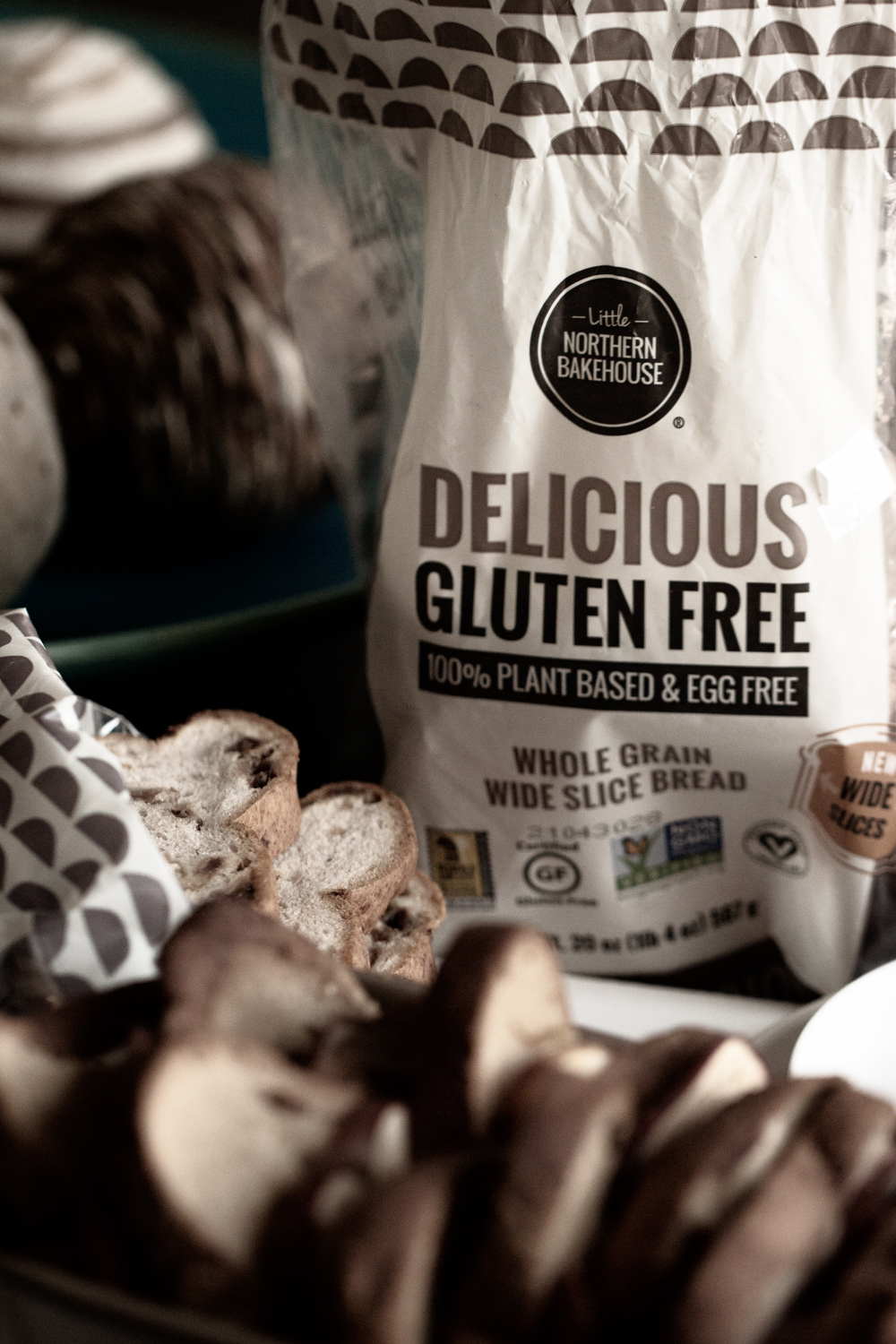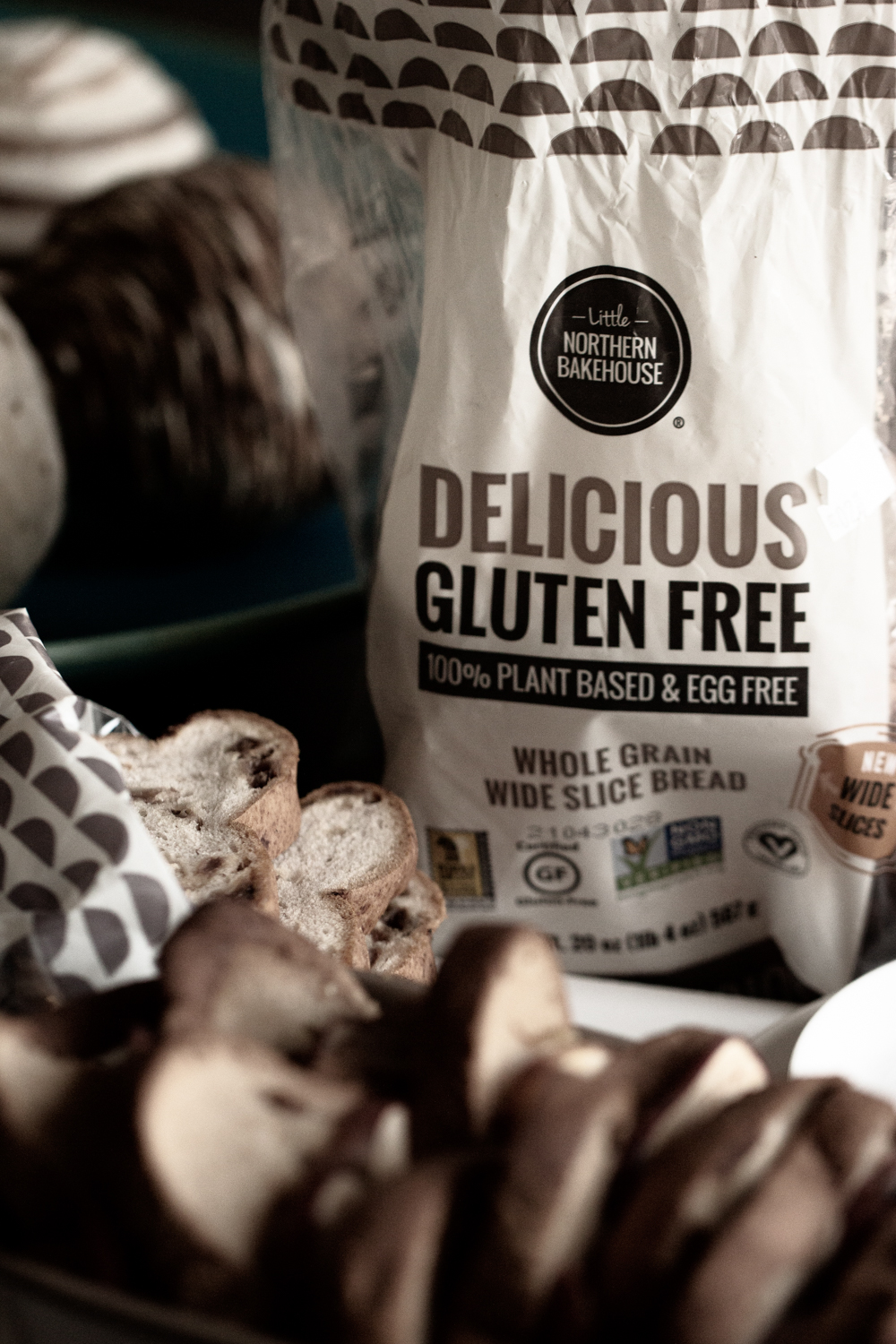 You can easily find Little Northern Bakehouse products in the freezer section of most natural food retailers. And be sure to check out their new products: Sprouted Honey Oat Bread and Sprouted 7 Grain Bread that includes sunflower seeds, sprouted red and white quinoa, sprouted amaranth, gluten-free sprouted quick oats, sprouted millet, and sprouted brown rice flour.
If you are struggling to find delicious and creative ways to enjoy gluten-free bread, then French toast is the perfect option for you! Gluten-free bread is normally denser than traditional wheat bread, meaning the egg and milksop will be nicely absorbed. Just remember to allow the bread to soak for long enough that the bread is completely moistened.
Many wheat breads end up sloppy, saggy, and soggy because they are airy and light, but gluten-free bread will not let you down. You may find that you, your friends, and your family actually prefer gluten-free bread when making French toast, even if you don't normally eat it. Thanks to Little Northern Bakehouse, you can choose from multigrain, white, or cinnamon raisin gluten-free bread when making your French toast.
So, before 2018 comes to an end, let me wish you a Merry Christmas and Happy New Year! 2018 has been a crazy ride – I learned so many things this year, experience both joy and grief, and I can't wait to bring in the new year in a big way!
Print
Peach Pie French Toast Casserole
---
Scale
Ingredients
2

cans Peach pie filling

1 tablespoon

cinnamon

12

slices bread

5

eggs

1½ cup

almond milk

2 tsp

vanilla extract
Dash of nutmeg
---
Instructions
Preheat the oven to 350 degrees.
Place the two cans of peach pie filling into a mixing bowl, and add in 1 tablespoon of cinnamon. Stir to combine.
Layer the peach pie filling mixture into the bottom of a greased 9×13 baking dish.
Make a single layer of six pieces of white bread on top of the peach filling.
In a mixing bowl, combine the eggs, milk, vanilla, and dash of nutmeg. Whisk to combine all of the ingredients well.
Pour half of the mixture over the slices of bread in the baking dish.
Place another layer of white bread onto the top of the casserole in the baking dish.
Pour the other half of the egg mixture over the new layer of bread slices.
Bake the casserole for 15-20 minutes until cooked through and browned on top.
Let the casserole cool for a few minutes, and then invert onto a serving plate or cutting board. Serve immediately.
---
Bonus: you can make this recipe using slices of apples to replace the peach filling for Apple Cinnamon French Toast.