Remember the overload persimmons in my house? It was too much for us that I finally decided to make creme brulee out of them. I remember that few years ago, my sister made creme brulee and the results were fantastic. It took her two or three times experimenting with a recipe she found online before finally came up with perfect creme brulee. I, on the other hand, was the one who ate most of them. Gee, that's definitely something I don't need to brag about.
Anyhow, I've never used a kitchen torch before and at first, I thought of using an oven because that's what my sister used; however it didn't turn out well. After few times trying, I gave up and went to a store to buy a kitchen torch. I prefer to stay as far away from fire as I could, so I waited for Frederick to come back from work and asked him to help me with the butane. By then, the creme brulee was mostly done, waiting for the crusty top. Later that night, he helped me with the butane and I immediately tried it on one of the cake. It worked! So, happy me went to sleep with a big smile.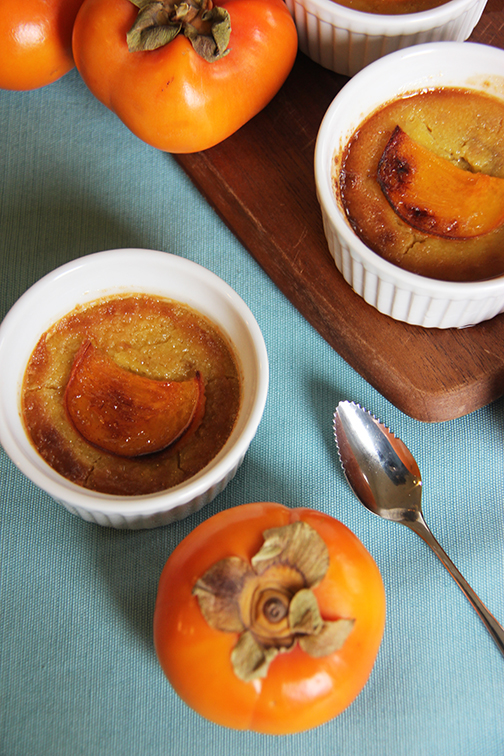 The next morning, I was ready with my kitchen torch. The creme brulee were all set, but the torch did not work. I got panic attack, as Frederick was about to go to work. He was already late that morning, but he was kind enough to help me fixed it. It still didn't work but I did not want to hold him for too long. Feeling hopeless, I turned the oven to 450F and put the creme brulee on top rack. After 25 minutes, the creme brulee was finally done. I wasn't joking. At first, I was expecting between 3-5 minutes to get the crusty part, but anyway, I was happy with the result.
I reduce the sugar and used the juice of persimmon for extra sweetness. That way, it tastes better and not overly sweet. Dear readers, please tell me, do you own a kitchen torch and do you think it's a must-have item at home?
Print
Persimmon Creme Brulee
---
Scale
Ingredients
1 cup

heavy cream

1/2 tsp

vanilla

1/2 cup

persimmon juice + pulp

4

egg yolks

3

tbs sugar
---
Instructions
Heat the oven to 300 degrees F. Place four 6-ounce crème brûlée dishes in a roasting pan; set aside.
In a medium saucepan, heat the cream and vanilla over medium heat just to a simmer and remove from the heat. Add the persimmon and cool to room temperature.
Whisk the egg yolks with sugar in a large bowl. Gently whisk the cream mixture into the yolk mixture. Pour the custard into the dishes and transfer to the oven's middle rack. Pour hot water into the roasting pan until it reaches halfway up the side of the dishes. Bake until set but still jiggly in the center — about 45-50 minutes. Cool completely. Cover and chill up to 2 days.
Brûlée the tops: Heat the broiler or prepare a kitchen torch. Place a persimmon slice on each crème brûlée and sprinkle 1 tablespoon sugar over the top of each. Place dishes on a baking sheet and broil, watching carefully, or use a torch to melt the sugar until bubbling and golden brown. Let rest until the sugar hardens to a crisp shell.
---