These Honey Sriracha Brussels Sprouts make an excellent side dish — sweet and fiery at the same time!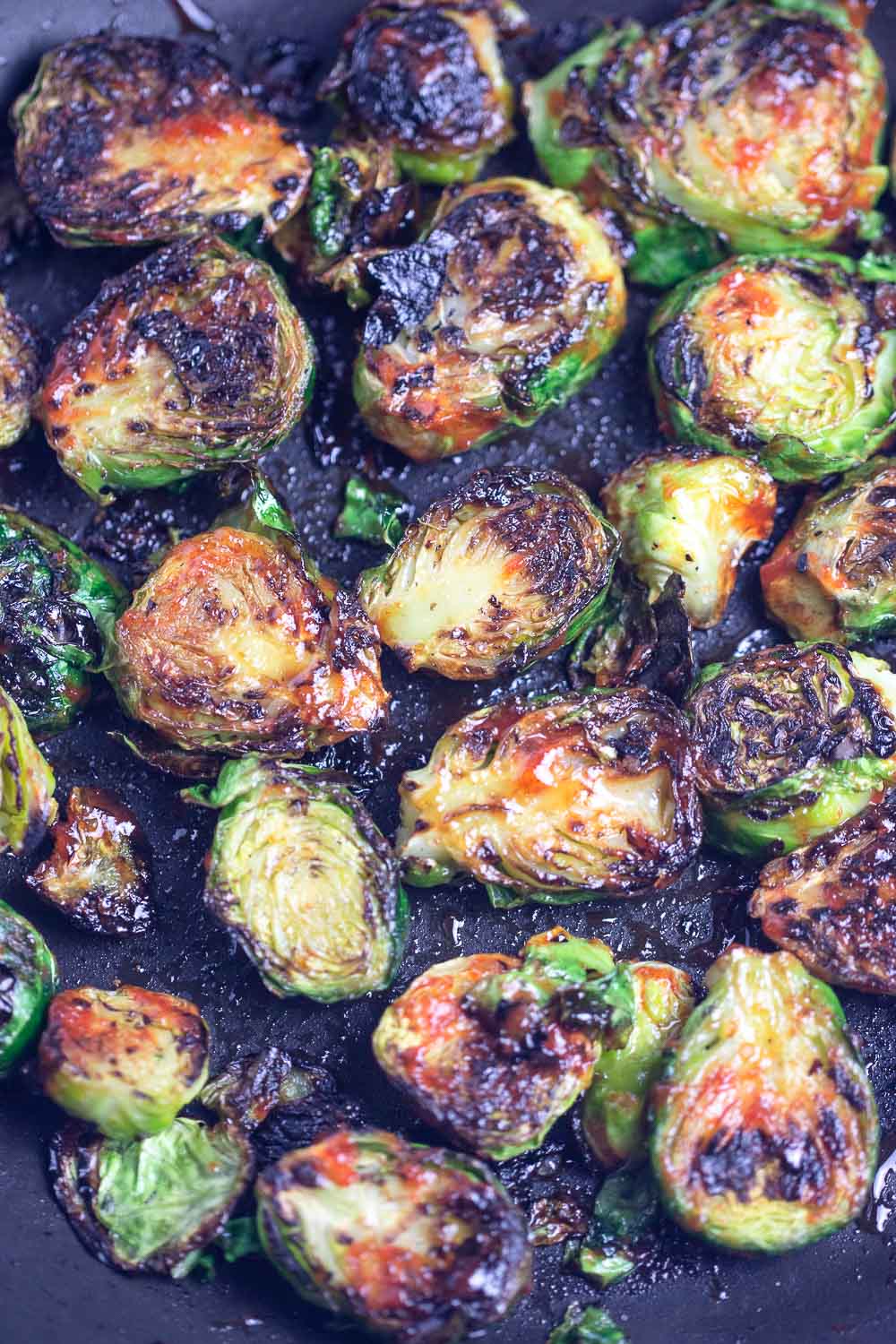 Well, I'm baaaack – after a long hiatus!
How long has it been now? Weeks? Months? Years? I know I'm super behind but… Happy New Year!
I truly enjoyed being recharged, spending time with my family, and having no agenda except work. I hope you started the new year with a big resolution or with a high note of motivation. Mine is to try to keep it steady with more greens and lean protein and fewer carbs and sugar. And that's what I did for the first two weeks in January. I have to say I'm feeling my best – so energized and much lighter.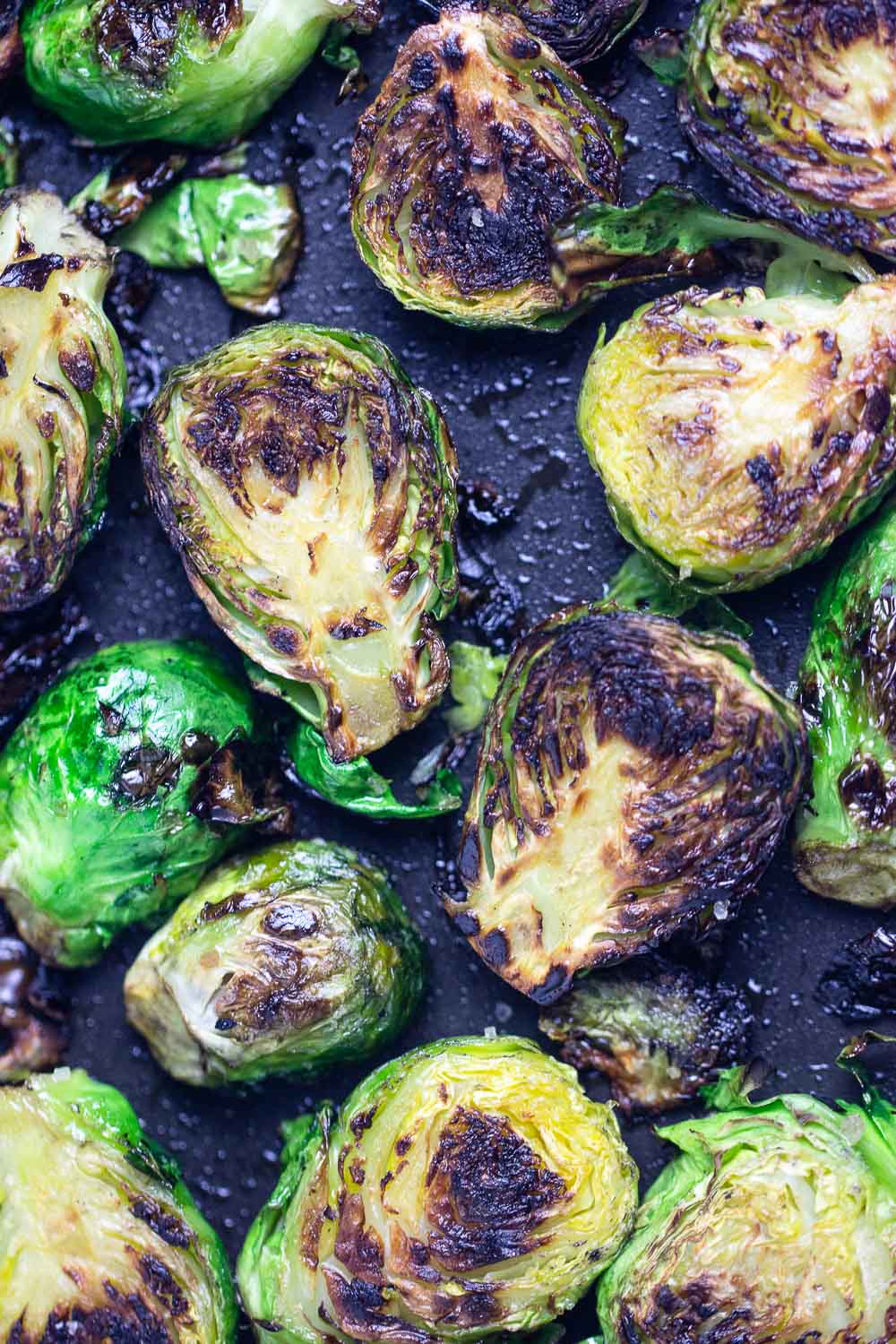 But the challenge was when I traveled to Indonesia last week. It was so hard to find a healthy plate of salad! People over there are so into their carbs – and I used to be one of them. From the morning when I woke up to the moment I went to bed, it was carbs, carbs, and more carbs! We had noodles for breakfast and rice for lunch and dinner, not to mention all of the snacks in between. Gulp! Sure enough, my waistline grew a bit even though I was only there for a week.
So, you can imagine how hard it must be to get back on track. To date, I still cheat a bit here and there because, ahem, carbs are good. So to celebrate my return to clean eating, I've been enjoying this honey sriracha Brussels sprouts dish. I don't know about you, but I do enjoy crispy baked Brussels sprouts. The crispier it is, the tastier it is. Yeah, I'm that girl! And honey mixed with sriracha…who can resist sweet paired with a subtle hint of spicy? They go so well together.
The good thing about this honey sriracha brussels sprouts recipe is that it's easy to make and doesn't require much prep time. In fact, if you live near Trader Joe's, they already have this dish in a microwavable bag. Just toss it in a baking pan, coat it with olive oil and the rest of the ingredients, then place it in the oven until you reach that perfect crispiness. Once it's out, add lemon juice, and voila! It's ready for you to enjoy.
Can I make this honey sriracha brussels sprouts in an air fryer?
Yes! Preheat the air fryer to 350 degrees. Toss all ingredients, except lemon, in a bowl. Add the brussels sprouts and air fry for 15 minutes, shaking the basket every 5 minutes, or until crispy. Squeeze the lemon juice and enjoy!
If you are brusseling, which I know you are because we go together that way, you must try this cozy, perfect-for-winter comfort food.
Looking for more vegetables recipes?
Sauteed Garlic Butter Mushrooms. In addition to their wonderful complex taste, mushrooms are packed with good-for-you nutrients. They are the perfect addition to soups, stews, and even cooked rice, but they stand alone very well, too.
Long Bean Salad. Long Bean Salad is so easy to make and will quickly become your favorite summer recipe. It's great served warm or cold or even as a side dish.
Cauliflower Mac-n-Cheese. Here's a kid-friendly way to sneak some veggies onto the dinner plate. And the puréed cauliflower makes the mac even creamier, so it's a win-win!
Okay, everybody, put your face up to the screen now for the virtual eating together experience. Ready? One, two, three: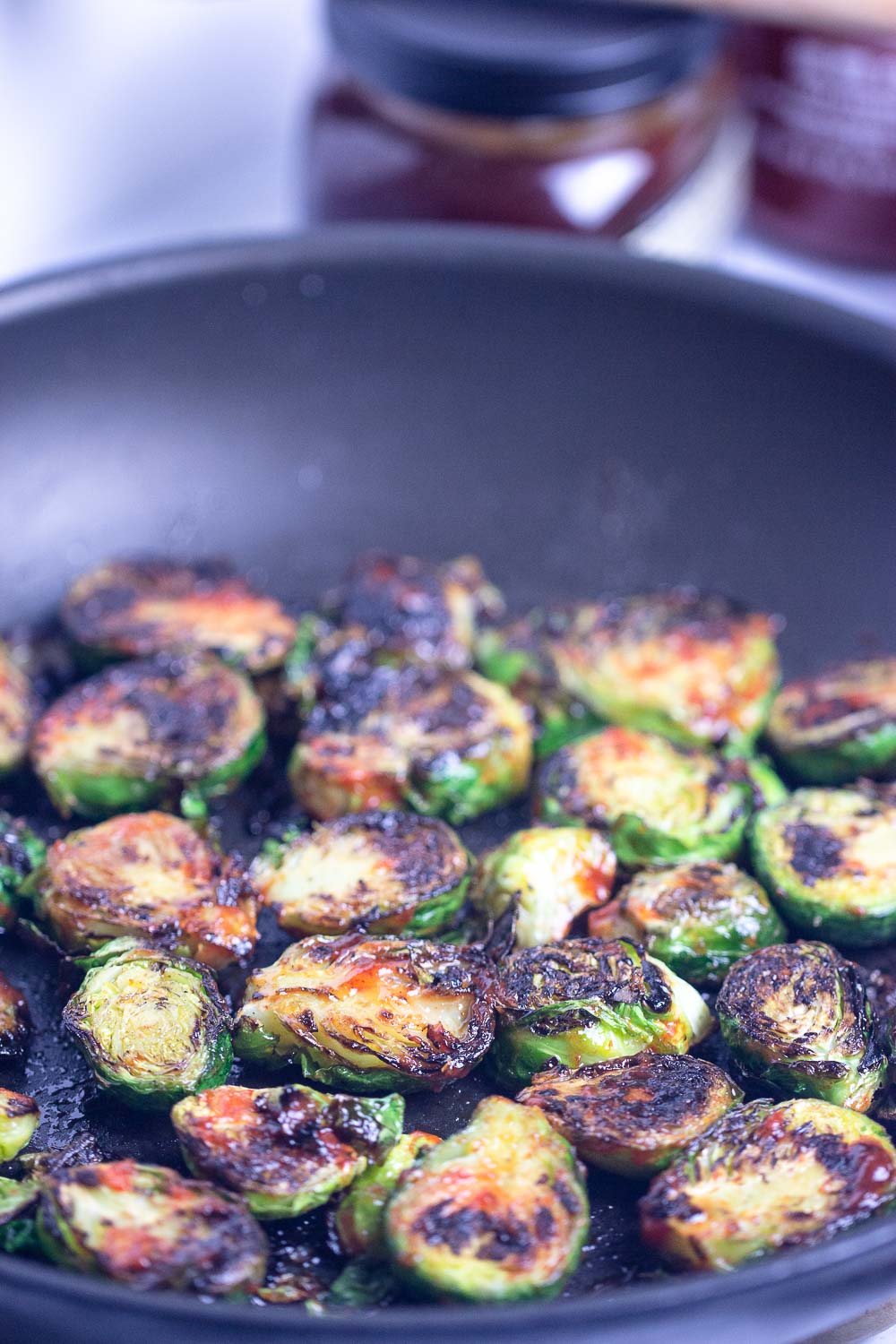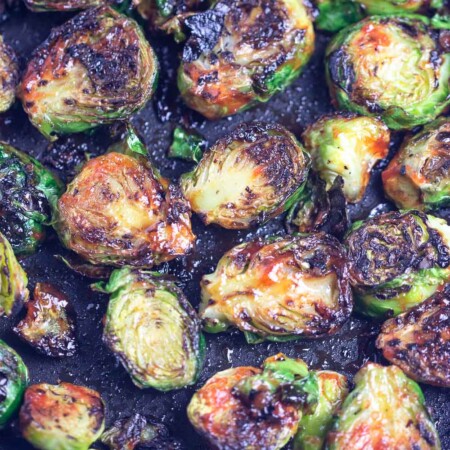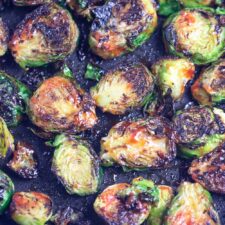 Honey Sriracha Brussels Sprouts
These

Honey Sriracha Brussels Sprouts

make an excellent side dish — sweet and fiery at the same time!
Print
Pin
Rate
Ingredients
1

pound

brussels sprouts

trimmed and halved

2

tablespoons

olive oil

2

tablespoons

honey

2

tablespoons

sriracha

½

teaspoon

garlic salt or 1/2 of lemon wedges

optional
Instructions
Preheat the oven to 500 degrees F. Place a large rimmed baking sheet in the oven to heat.

In a small bowl, whisk together olive oil, honey, sriracha, and garlic salt.

Place brussels sprouts in a bowl and toss with olive oil to thoroughly coat.

Once the oven and sheet pan are piping-hot, place brussels sprouts onto the hot pan and spread them out in a single layer. Turn the oven to 460 degrees F, stirring once or twice, until deep golden brown and crispy on one side for 25-30 minutes. Flip the brussels sprouts and place back in the oven for 10 minutes, or until brown and crispy.

Transfer to a bowl and squeeze lemon.