Peruvian skirt steak is a relatively inexpensive cut of meat with a lot of flavors. Super easy and great for weeknight dinner as it cooks quickly. Don't forget to end your meal with Habanero Chocolate Bundt Cake or Mango pudding for dessert.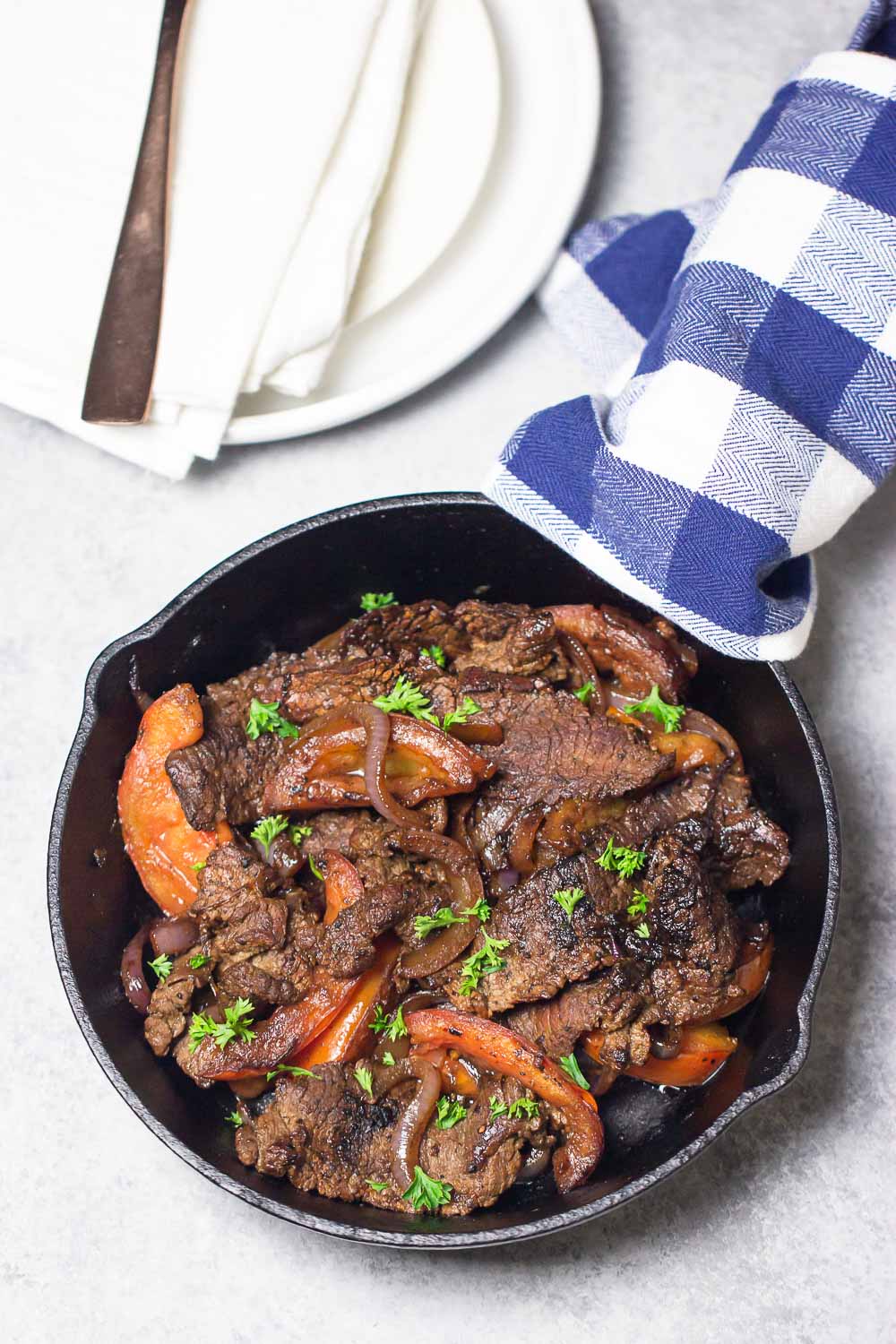 PIN HERE FOR LATER AND FOLLOW MY BOARDS FOR MORE RECIPE IDEAS
Lomo saltado. Not only is it fun to say, it's also delicious on your tongue.
Background story – I didn't know the original name of this dish until recently, but I've been having a bit of a love affair with this dish. Peruvian skirt steak, or what people know as Lomo saltado, is one of my go-to recipes when I run out of time and budget but still want a fancy meal at home.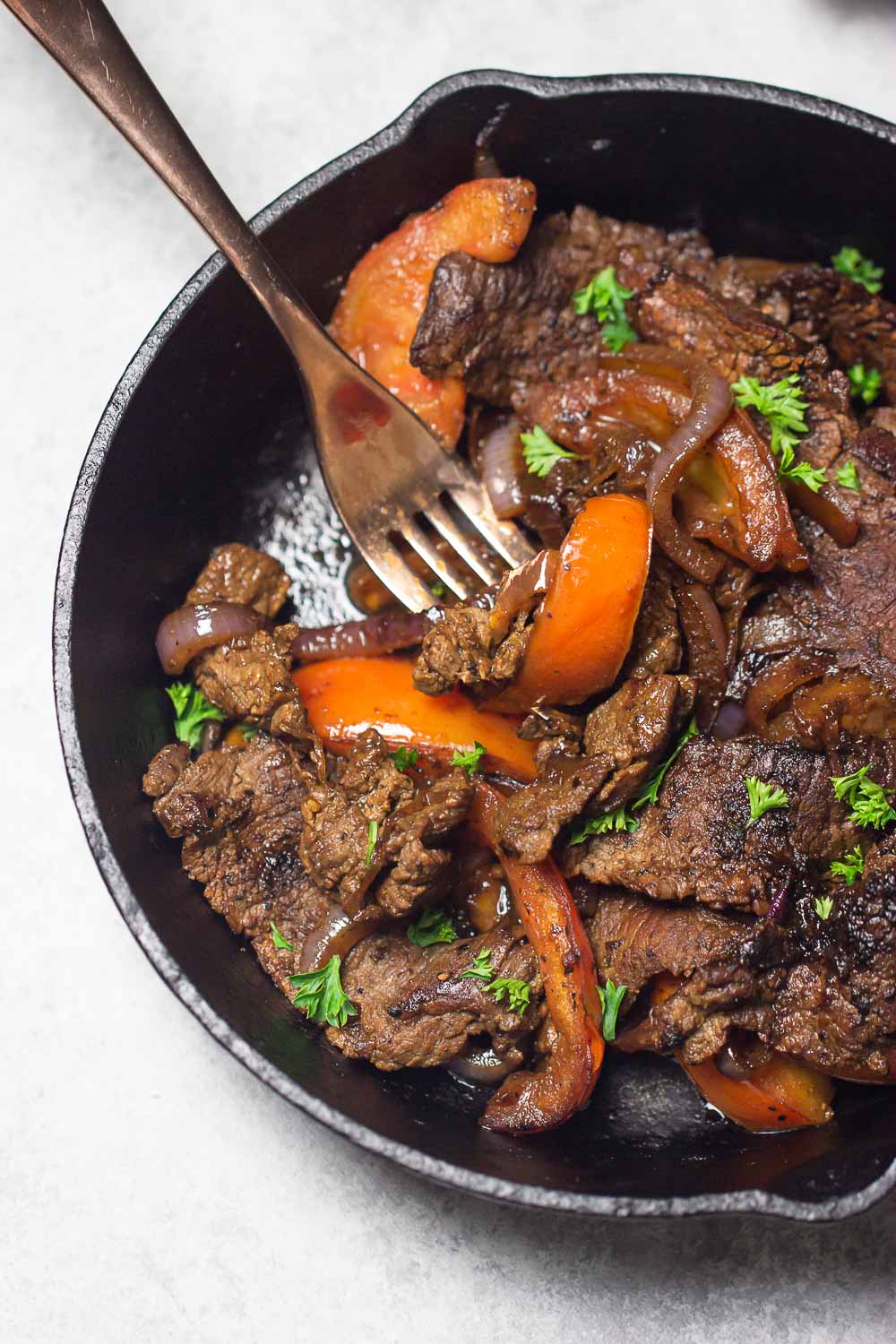 PIN HERE FOR LATER AND FOLLOW MY BOARDS FOR MORE RECIPE IDEAS
What is Lomo Saltado?
It is a popular, traditional Peruvian stir-fry dish. You might have heard it as Peruvian beef saltado or Peruvian beef stir-fry. Basically, it is a quick and easy stir-fry that literally translated means "jumped loin" with a combination of thinly sliced steak, onions, tomatoes, and French fries with a side of rice.
There are lots of reasons why I really enjoy this dish:
Skirt steak is cheaper than flank but has a beautiful marbling
Easy prep and clean up
Perfect for a quick weeknight dinner
Pairs great with rice, salad, or fries
Comforting!
The ingredients for Peruvian skirt steak
Beef. There are several different beef cuts you can use for this recipe.
Garlic, onion. You can use red onion or yellow onion.
Tomato. Use fresh tomato for a better result.
Cumin, salt, pepper. Cumin gives an aromatic flavor to this skirt steak.
Red wine vinegar, low sodium soy sauce. The vinegar will balance the savory and umami flavor of this dish.
Cilantro, lime. For garnish.
PIN HERE FOR LATER AND FOLLOW MY BOARDS FOR MORE RECIPE IDEAS
How do I serve Peruvian skirt steak?
You can serve this over a bed of salad, with a scoop of rice (don't forget fried plantains), or fries. And if you still have leftovers, you can turn this into a Peruvian steak sandwich, tacos, or burrito rice bowl. Yum!
Do I need to marinate the steak?
This Peruvian skirt steak cooks very quickly, so you only need to marinate your steak for 5-7 minutes while you prepare the rest of the ingredients. And that's one of the reasons why I like this so much.
What kind of beef cuts can I use?
I'm using skirt steak in this Peruvian skirt steak recipe; however, you can use filet mignon or flank steak. Just be sure to thinly slice the meat so it cooks evenly.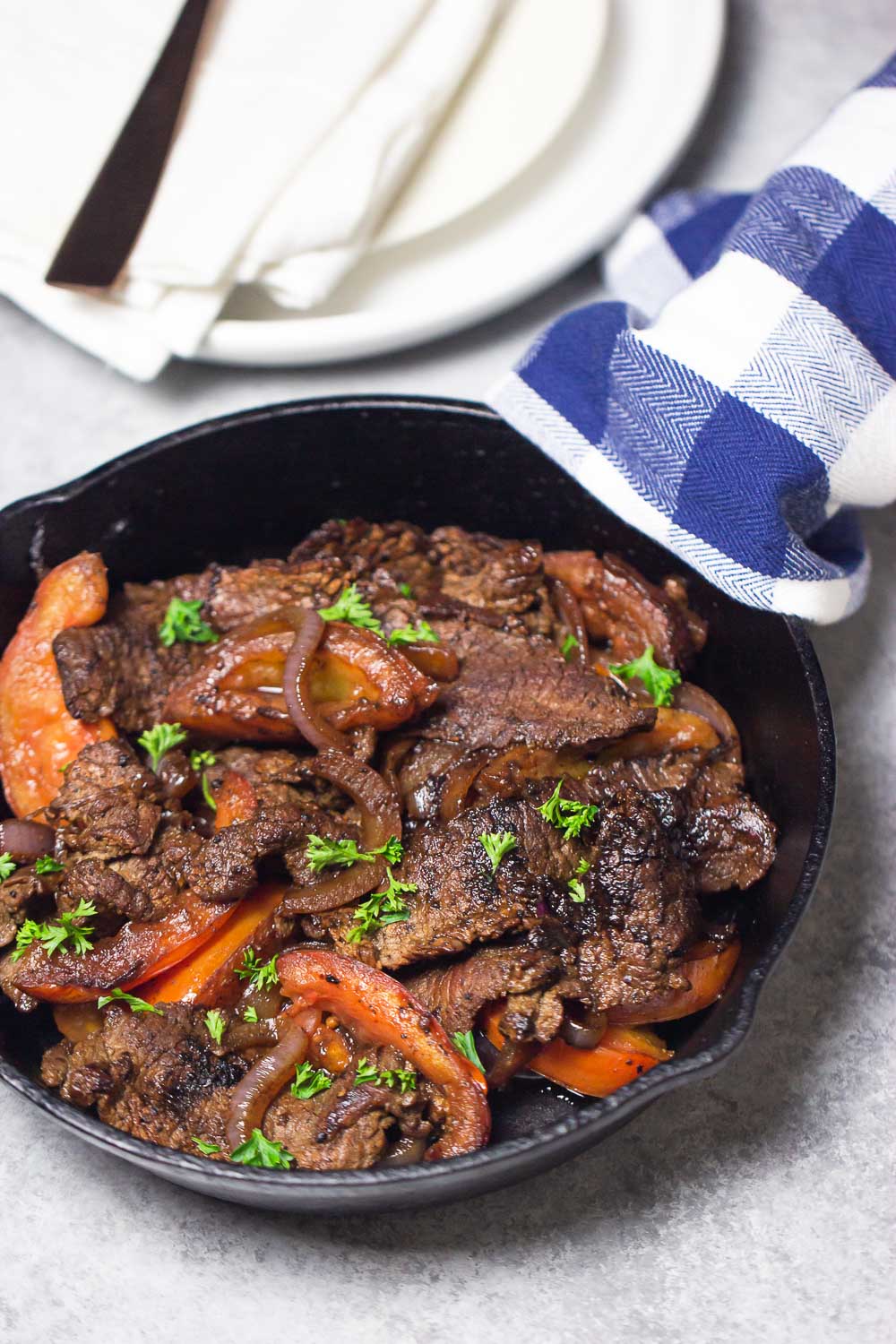 PIN HERE FOR LATER AND FOLLOW MY BOARDS FOR MORE RECIPE IDEAS
Print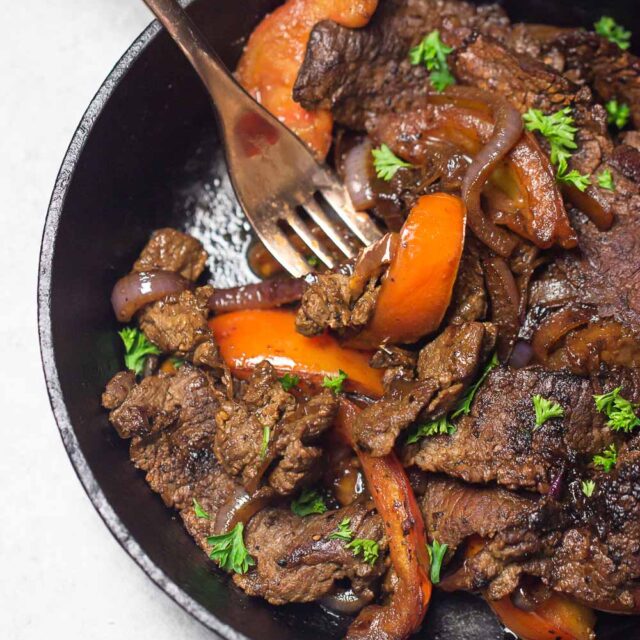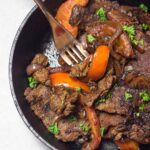 Peruvian Skirt Steak
---
1

pound skirt steak, sliced to 1.5-inch wide strips

2 teaspoons

ground cumin

1 teaspoon

salt

2 tablespoons

oil

1

small red onion, halved and thinly sliced

2

roma tomatoes, quartered

3

cloves garlic, finely minced

1 tablespoon

red wine vinegar

1 tablespoon

soy sauce
Fresh cilantro, for garnish
Lime, sliced, for garnish
---
Instructions
In a bowl, marinate the steak with ground cumin and salt for 5-7 minutes. Set aside while you prepare the vegetables.
Add 1 tablespoon of oil to a cast-iron skillet and let it heat all the way through. Sear the steak for about one minute on each side and remove to a plate.
Add another tablespoon of oil and onion—Cook for about 5 minutes or until they are wilted and begin to brown.
Add garlic and red wine vinegar. Cook for another 30 seconds.
Add tomatoes and cook for another 2 minutes.
Return the steak to the pan. Add soy sauce and toss to combine until the steak is completely cooked. Garnish with cilantro and serve warm over rice.