Pineapple Chili Relish, or Sambal Nenas, is a perfect blend for a tropical adventure. It's also a super versatile condiment. Serve this with ayam kalasan, coconut rice, and end the feast with kue pukis.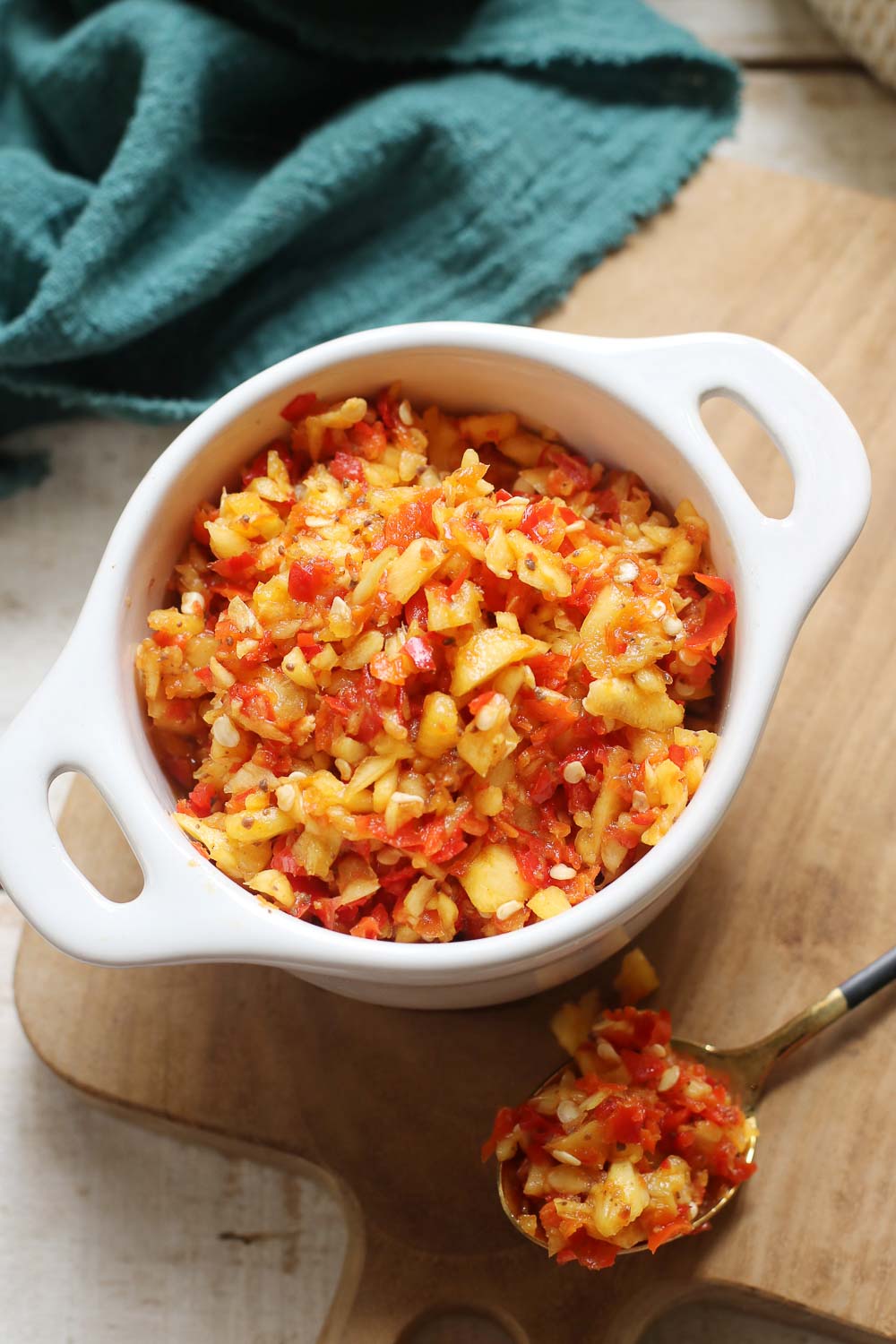 Introducing our tantalizing Pineapple Chili Relish, a perfect blend of sweet and spicy that will take your taste buds on a tropical adventure! This relish is the ultimate flavor booster for any dish, made with fresh, juicy pineapples, fiery chilies, and a medley of aromatic spices.
Whether you're looking to spice up your grilled meats, add a zesty twist to your tacos, or elevate your snack game, sambal nenas is the versatile condiment you never knew you needed. Get ready to embark on a culinary journey like no other, and let the vibrant flavors of this exotic relish transport you to a sun-soaked paradise.
If you love sambal, be sure to try sambal dabu-dabu, sambal matah, and sambal terasi.
What is Sambal Nenas
Sambal Nenas is a traditional Indonesian condiment with a delightful combination of sweet, spicy, and tangy flavors. It is made by blending ripe pineapples with a mixture of chilies, shallots, garlic, and other spices, often including shrimp paste for an added depth of flavor. The term "sambal" generally refers to various chili-based sauces or relishes in Indonesian cuisine, while "nenas" means pineapple.
This vibrant and versatile sauce can be served as a side dish, dip, or accompaniment to various meals, such as grilled meats, seafood, rice dishes, or a topping for street food snacks. Sambal Nenas adds an exotic and refreshing twist to any meal, making it popular among food enthusiasts who enjoy exploring bold and unique flavors worldwide.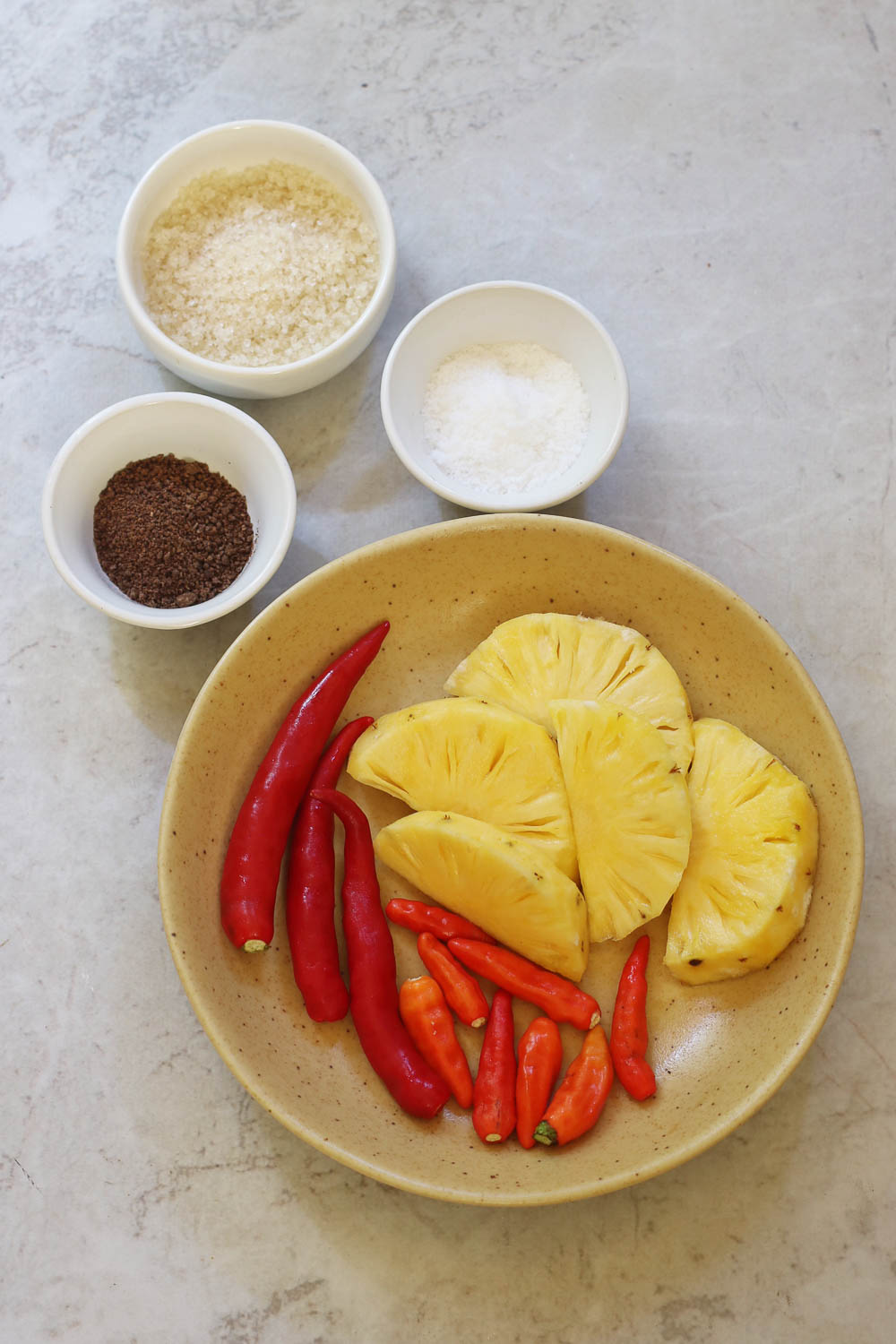 Ingredients Needed
Small ripe pineapple (Indonesian: nenas batu) – The star ingredient, this juicy and sweet tropical fruit adds a refreshing burst of flavor and serves as the perfect base for the Pineapple Chili Relish. Its tender pieces not only provide a delightful texture but also beautifully complement the heat of the chilies.
Red Anaheim chilies (Indonesian: cabe merah besar): Known for their mild heat and fruity taste, these red chilies add a gentle warmth and vibrant color to the relish.
Bird eye chilies (Indonesian: cabe rawit): Small but mighty, these fiery chilies pack a punch and bring an intense heat to the relish, perfectly balancing the sweetness of the pineapple.
Toasted shrimp paste (Indonesian: terasi bakar) – This robust and savory paste provides a rich umami flavor, enhancing the overall taste of the relish and making it truly unforgettable.
Salt – An essential seasoning, salt helps to balance and intensify the flavors of the other ingredients, ensuring a harmonious taste experience.
Sugar – This will accentuate the natural sweetness of the pineapple and create a delightful contrast with the spicy chilies.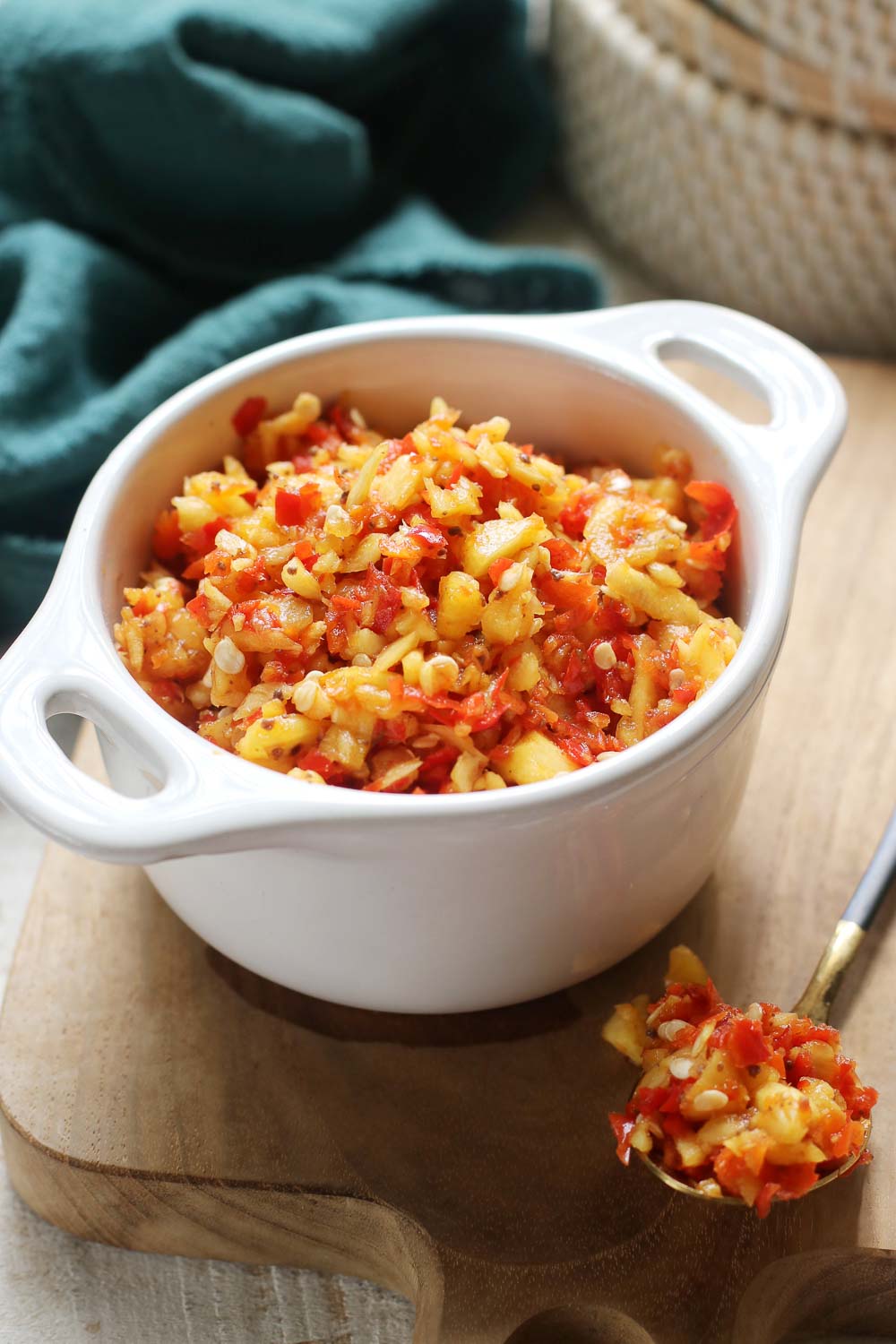 FAQs for Pineapple Chili Relish
How spicy is Pineapple Chili Relish?
The spiciness of Pineapple Chili Relish can vary depending on the types and quantities of chilies used in the recipe. You can adjust the heat level to your preference by using more or fewer chilies or choosing milder or hotter chili varieties.
Can I make Pineapple Chili Relish without shrimp paste?
Yes, you can make Pineapple Chili Relish without shrimp paste. While shrimp paste adds a unique depth of flavor, you can still enjoy a delicious relish without it. To maintain a rich umami taste, consider using alternatives like soy sauce, miso paste, or fish sauce.
How long does Pineapple Chili Relish last?
Pineapple Chili Relish can last up to a week when stored in an airtight container in the refrigerator. You can freeze the relish for up to 3 months for longer storage. Be sure to use a freezer-safe container or bag and defrost it in the refrigerator before using it.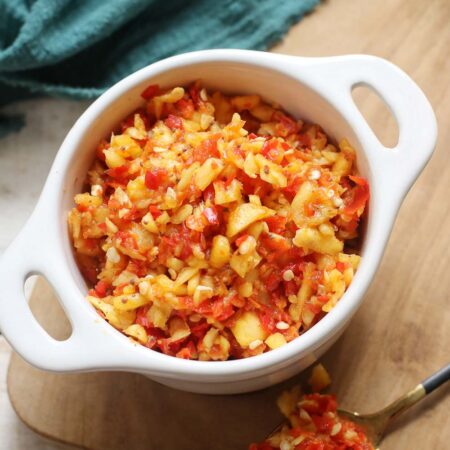 Pineapple Chili Relish (Sambal Nenas)
Pineapple Chili Relish, or Sambal Nenas, is a perfect blend for a tropical adventure. It's also a super versatile condiment. Serve this with ayam kalasan, coconut rice, and end the feast with kue pukis.
Print
Pin
Rate
Ingredients
1/2

small pineapple

3

red Anaheim chilies

8

bird eye chilies

1

tablespoon

toasted shrimp paste

1

teaspoon

sugar

1/4

teaspoon

salt
Instructions
Trim and peel the pineapple, cut into small chunks, and remove and discard the tough core.

Add pineapple to a food processor, then pulse until fine with texture.

Add the rest of the ingredients, pulse briefly to combine. Then serve.