Pumpkin and chocolate makes a perfect duet, and this pumpkin chocolate tea bread makes a sweet treat for breakfast!
Happy Monday! I had a terrific weekend celebrating my nephew's birthday. He just turned seven and had too much celebration with his buddies. The party was held in Golden Apple and the theme was science. Basically, it's a learning store where the kids had a chance to learn about and participated in science. How cool was that. I'd love that theme for my own party, too.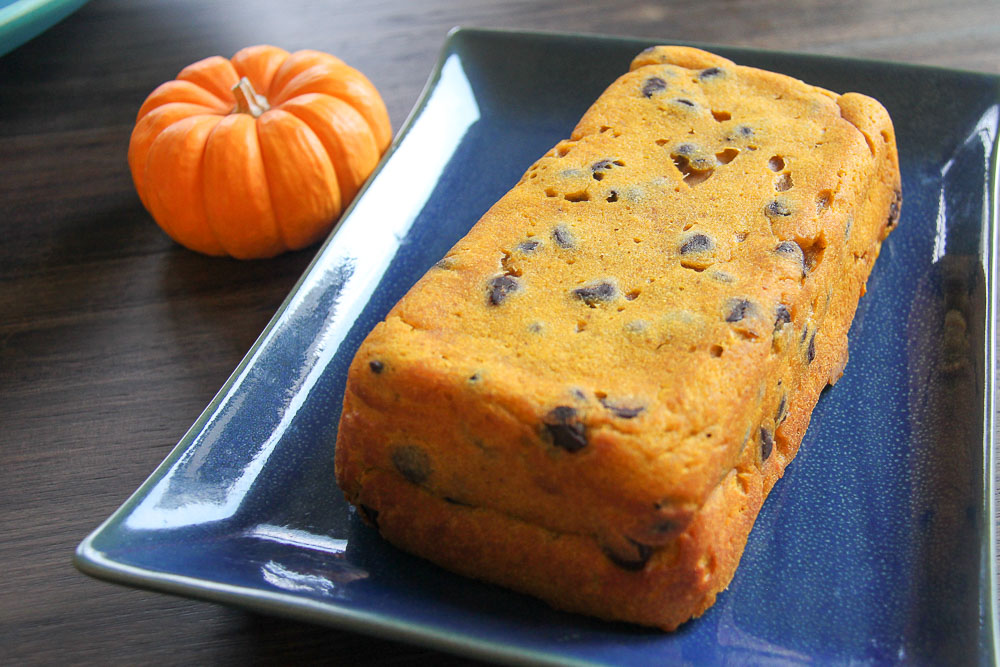 Unlike any other Monday, today we're celebrating National Homemade Bread. I do love bread, in fact when we eat out, I often order bread. I always admire people who bake – they're the early birds with magic in their hands. Everything they bake turns out to be magical. In honor of the National Homemade Bread, I made pumpkin chocolate tea bread with glaze on top. I've never been a fan of pumpkin until a couple years ago and now I thought that pumpkin and chocolate is the best combination ever! With a drizzle of glaze on top, it sure made this tea bread extra special and lovely for breakfast.
Today's event is hosted by Lauren of From Gate to Plate. She is a certified chef with a passion for baking and pastry and her blog is filled with drool worthy recipes from parmesan garlic knots to bacon cheeseburger soup to steakhouse deviled egg dip. Yum, indeed!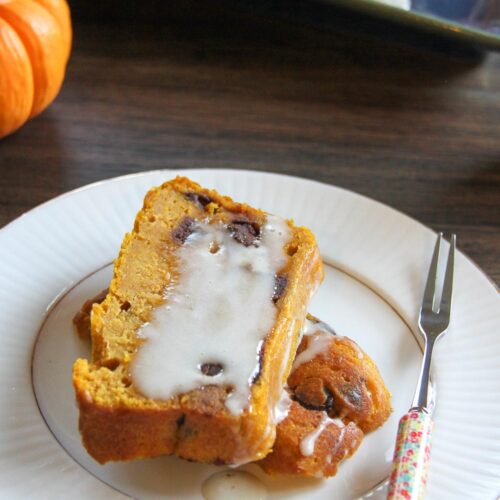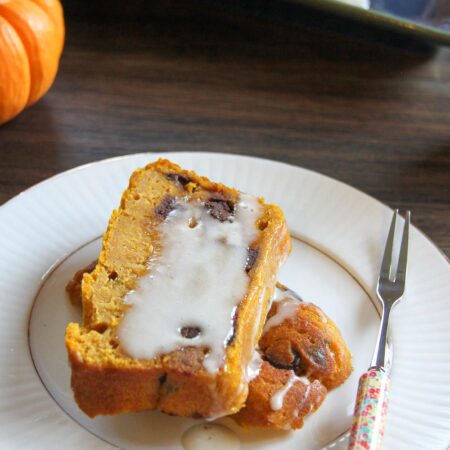 Pumpkin Chocolate Tea Bread
Pumpkin and chocolate makes a perfect duet, and this pumpkin chocolate tea bread makes a sweet treat for breakfast!
Print
Pin
Rate
Ingredients
1/2

cup

butter

softened

1/2

cup

light brown sugar

4

eggs

lightly beaten

8

oz

dark chocolate chips

2

cups

pumpkin puree

2

cups

self-rising flour
Glaze:
1

cup

confectioner sugar

2

tbs

milk

1/4

tsp

vanilla extract
Instructions
Lightly grease a 2-pound loaf pan and line the base with baking parchment.

Cream together the butter and sugar in a bowl until light and fluffy.

Gradually add the eggs, beating well after each addition.

Add the pumpkin puree and mix well.

Stir in the chocolate chips.

Sift the flour and carefully fold it into the mixture.

Spoon the mixture into the prepared loaf pan and make a slight dip in the center of the top with the back of the spoon.

Bake in a preheated oven at 350F for about 45 minutes, or until a toothpick inserted into the center of the load comes out clean.

Cool in the pan for 5 minutes before carefully turning out and leaving on a wire rack to cool completely.

Glaze: In a small bowl, combine the sugar, milk and vanilla. Stir until smooth. Let stand for 5 minutes to thicken if desired. Spoon over bread. Drizzle on top of pumpkin chocolate tea bread.

I hope you enjoy our love of bread just as much as we do on this National Homemade Bread Day as you browse through these 10+ new recipes!