I hope you're not over with pumpkin yet because I'm still having a pumpkin party in my kitchen. The idea behind pumpkin wonton was born out of my craving for churros, those little crispy bites dipped in chocolate. That's what happened when you browse through Pinterest before bedtime, I was dreaming of churros and their images keep running in my head the next day. However, I wasn't in the mood for frying and I happened to have all the ingredients in my pantry, so, baked pumpkin wonton it is.
I added extra kick in the filling by adding pumpkin butter instead of cream cheese, and found it to be just right. There is not too much spices so that people who dislike cinnamon can nibble on these cuties.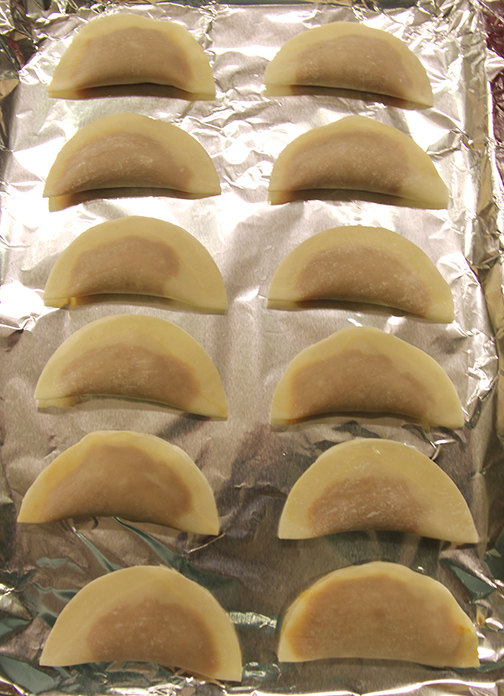 Print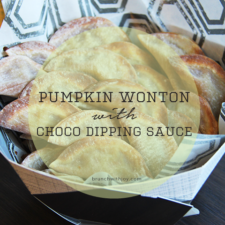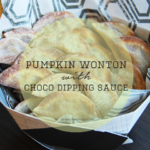 Pumpkin Wonton with Chocolate Dipping Sauce
---
2 cup

canned pumpkin

4

tbs brown sugar

2

tbs maple syrup

2

tbs pumpkin butter

50

Wonton wrapper
Chocolate Dipping Sauce:

1/2 cup

dark chocolate chip

2

tbs milk chocolate

1

tbs corn syrup

2/3 cup

double cream
---
Instructions
Preheat the oven to 375F.
For pumpkin: combine all the ingredients, except the wrapper. Mix well.
Place a wrapper diagonally on your cutting board with one point facing you so that it looks like a diamond.
Place a teaspoon of the filling in the middle of the wonton (don't put too much). Dip your finger in water and coat the edges of the wonton.
Bring the bottom corner of the wonton up to the top corner, pressing down lightly, sealing the edges.
Bake for 10-15 minutes.
For chocolate dipping sauce: Melt all of the chocolate sauce ingredients in a heavy based saucepan over low heat. Once combined and the chocolate has melted, remove the pan from the heat and set it aside in a warm place.