Quinoa Chickpea Salad with Cilantro Dressing. A fresh vegetarian salad loaded with protein, fiber, and a flavorful combination.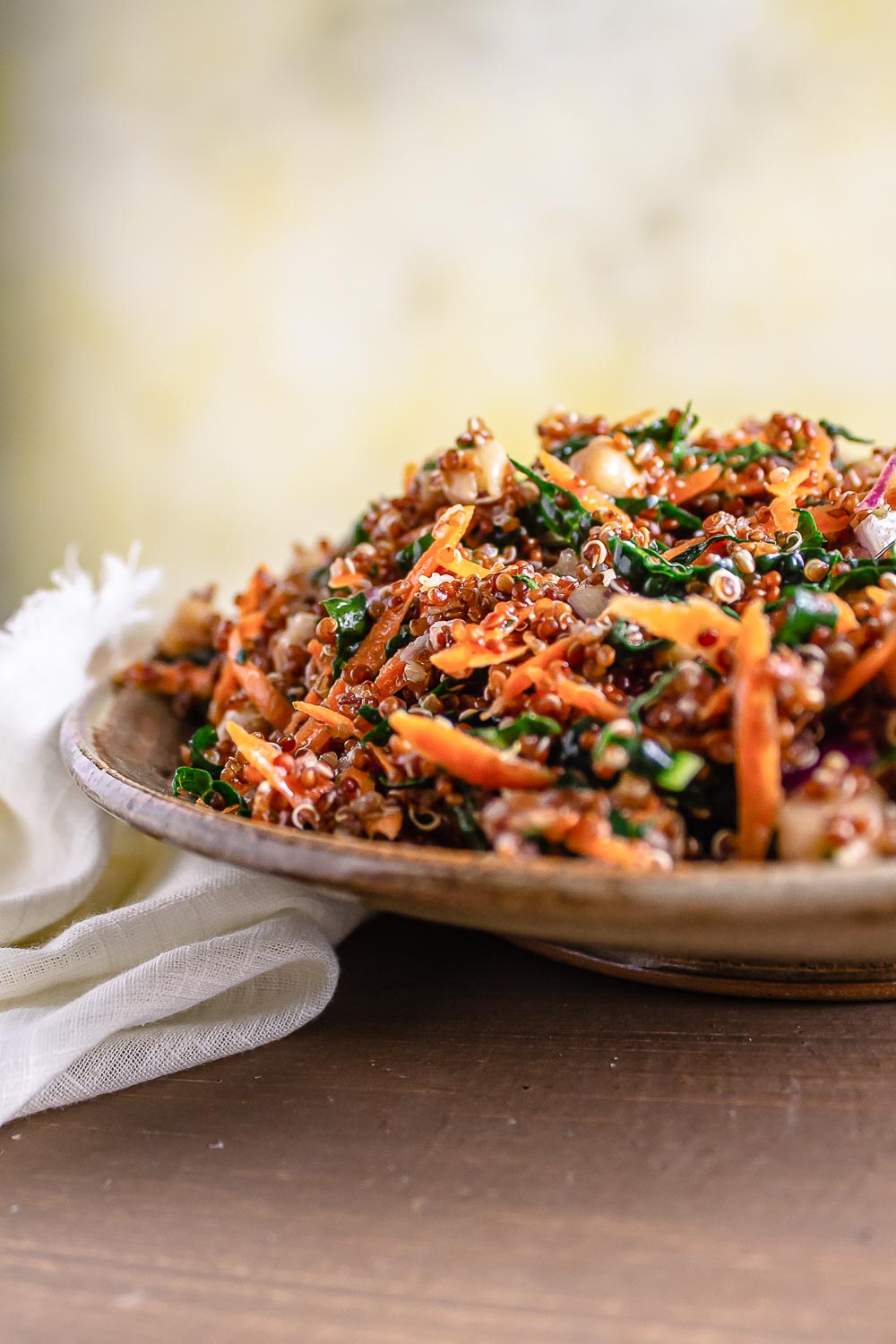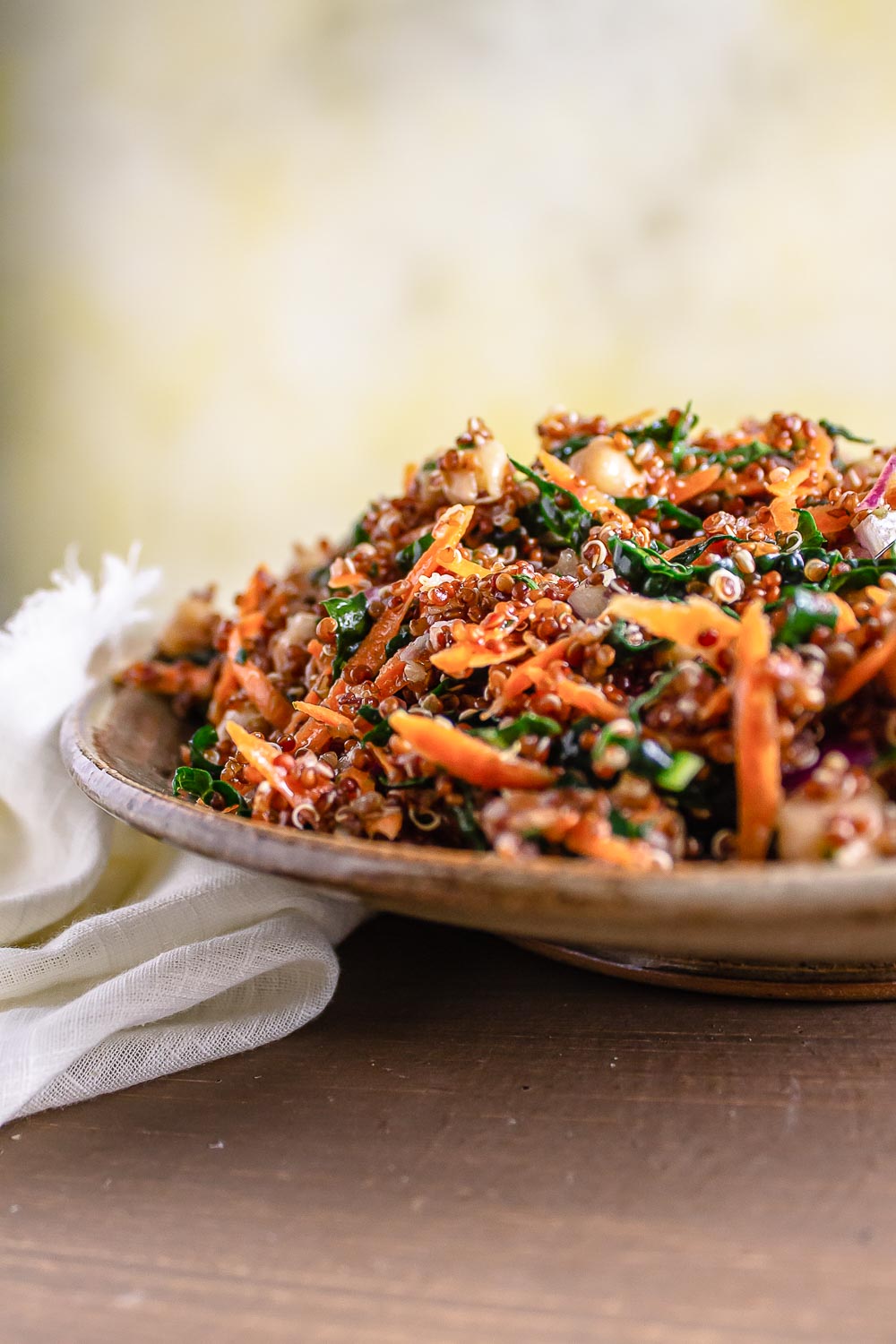 I know it's difficult right now. Empty shelves at the grocery stores, long lines, and so much more. Hang in there and know we're all in this together. Whether you're choosing to self-quarantine or you have to look after the kids, it is always a good idea to have something healthy and flavorful.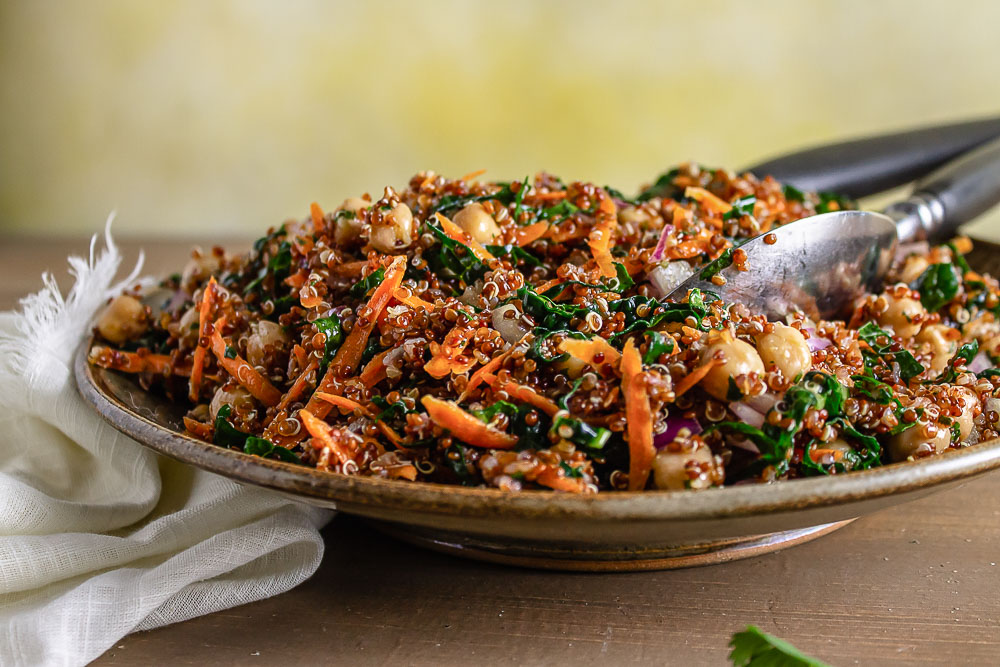 Chickpeas are my favorite legumes because they are rich in protein and fiber, and one of my favorite recipes with chickpeas is this Crunchy Air Fryer Chickpeas. Also, more of my favorite salad recipes are Keto Berry Cheesecake Salad, Breakfast Salad, or Mediterranean Chickpea Salad to name a few.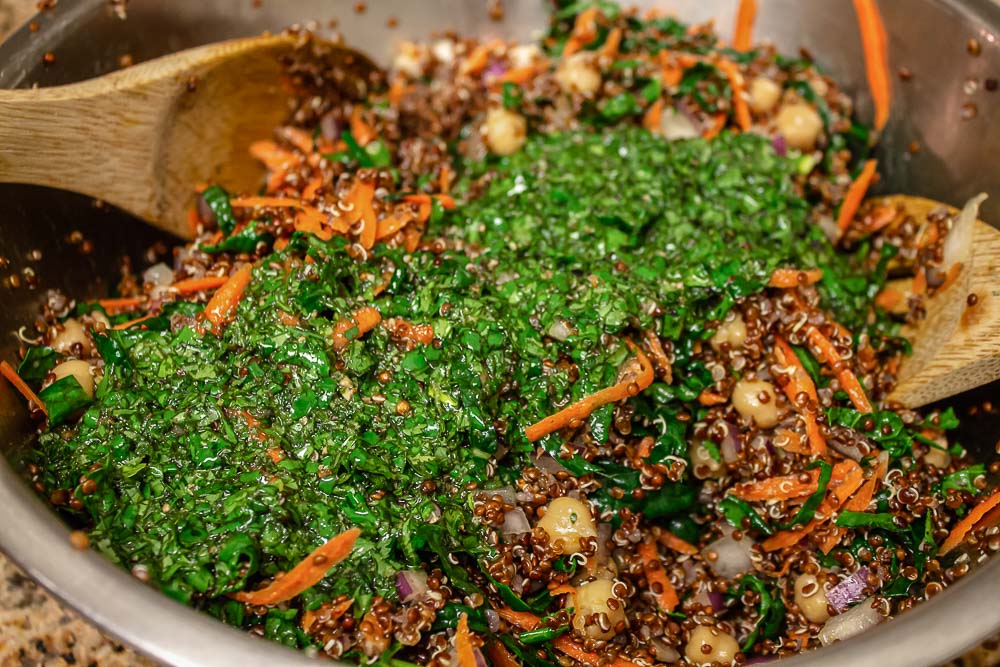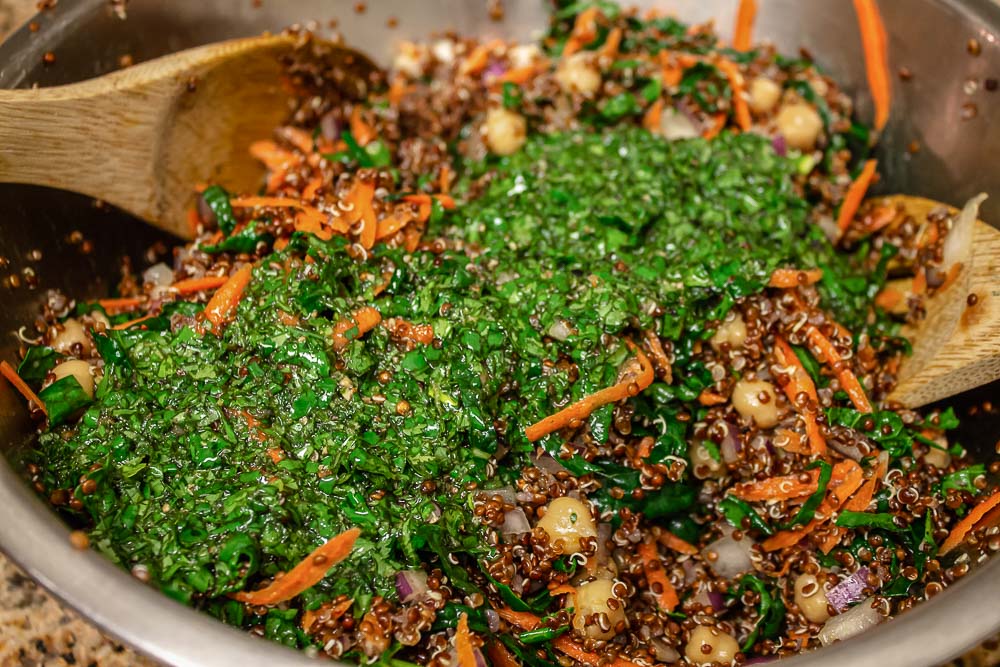 Quinoa chickpea salad with cilantro dressing.
I've always loved the combination of quinoa and chickpea salad. It's flavorful, comforting, and packed with so many good nutritions.
Obviously, making this salad doesn't take a whole day and it only requires a few ingredients which you may already have.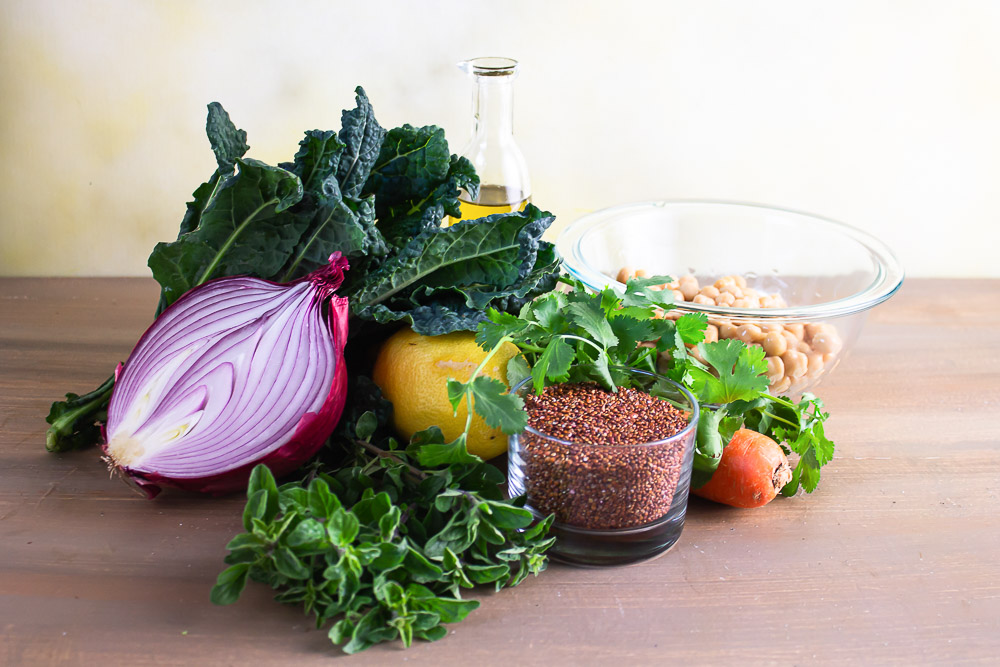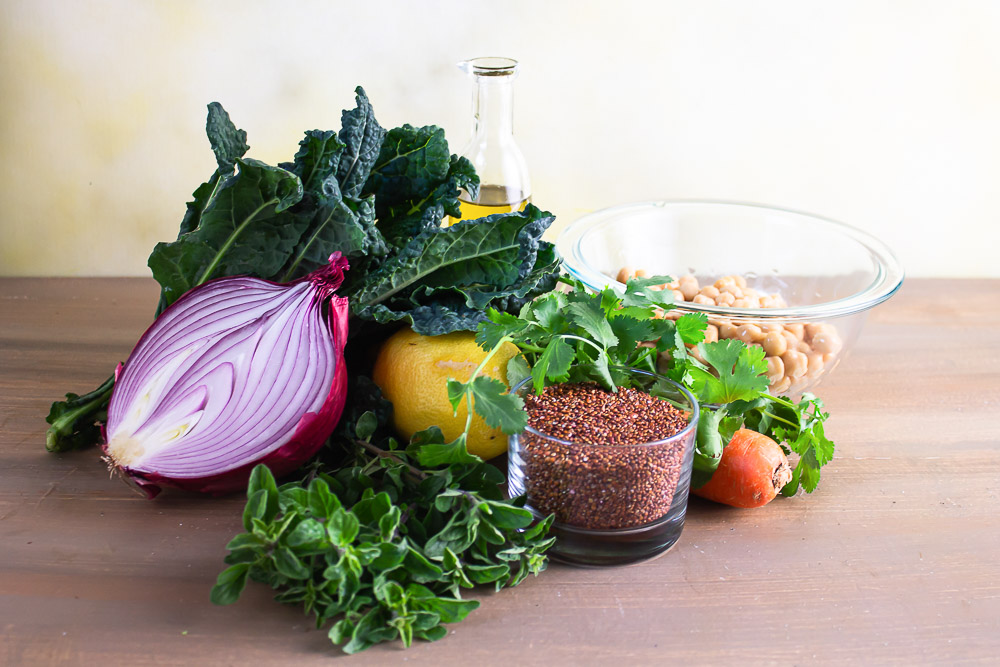 The ingredients.
Quinoa and chickpeas. These are the main stars of this salad.
Carrot, kale. I love the crunch of carrot and kale; however, you can use spinach as well.
Cilantro, oregano, lemon. Easy peasy. And always use fresh ingredients whenever possible.
What goes well with this salad
You can add cucumber, avocado, or cherry tomatoes and it will taste delicious! Or add jalapeno slices for an extra kick.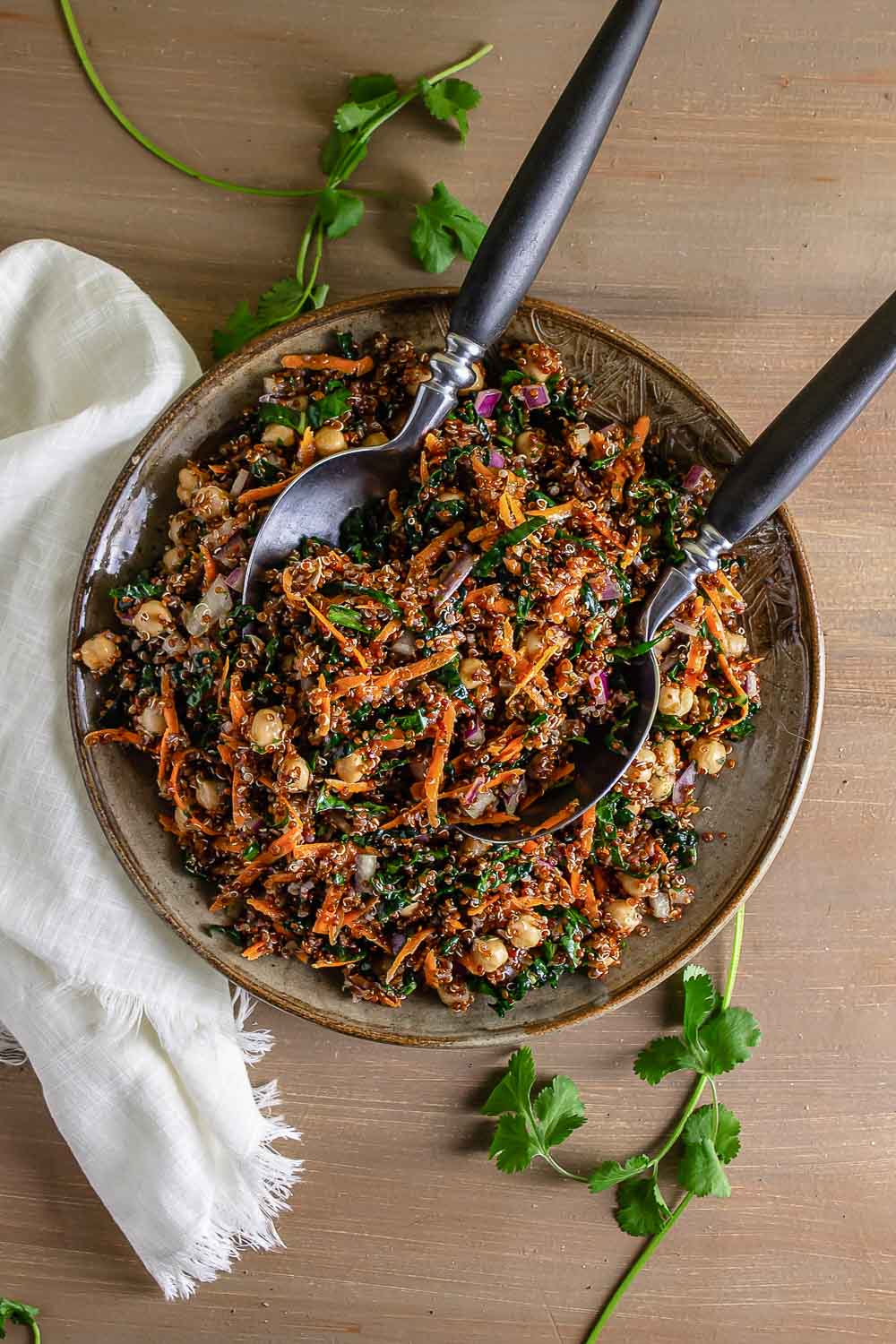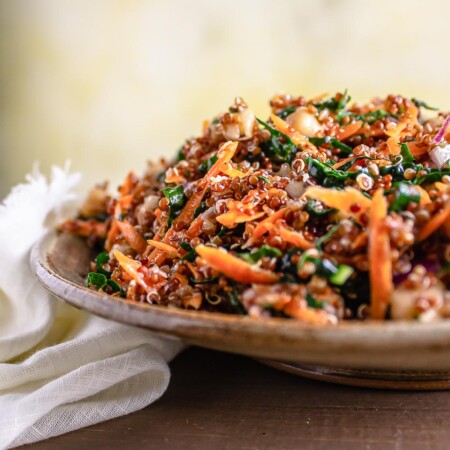 Quinoa Chickpea Salad with Cilantro Dressing
Quinoa Chickpea Salad with Cilantro Dressing.

A fresh vegetarian salad loaded with protein, fiber, and flavorful combination.
Print
Pin
Rate
Ingredients
1

cup

dry quinoa

1

cup

cooked chickpeas

1

cup

grated carrot

1

cup

minced red onion

1/2

bunch kale

1

tablespoon

olive oil
Dressing:
1/2

cup

fresh cilantro leaves

1

tablespoon

fresh oregano leaves

4

tablespoons

olive oil

3

tablespoons

lemon juice

1/2

teaspoon

ground cumin

1/2

teaspoon

ground pepper

1/4

teaspoon

sea salt
Instructions
Cook quinoa according to the packaging directions.

Mince cilantro and oregano finely. Whisk with all remaining ingredients.

Mince onion and grate carrot. Wash and dry kale. Remove large stems with a paring knife or by pulling along the stem from the base to the tip. Slice kale into thin 1/4″ strips crosswise.

Heat oil in a pan over medium-low heat. Add chickpeas and cook for 1 minute, stirring frequently. Set aside.

Combine cooked quinoa, chickpeas, and prepared vegetables. Toss with dressing.

Serve well warm or keep in the fridge for 2-3 days.