Fresh, heart-healthy Seared Salmon with Roasted Corn Salsa is an absolute delicious lunch or dinner that's served in well under 30 minutes.
Happy November! Hope your midweek holiday was a blast and all your wildest candy-eating, costume-wearing dreams came true. I did not play dress up yesterday but we had kids stopping by in our home with their cute costumes. Unlike previous year or the year before, I completely forgot to stock on candies.
Halloween feels like a good time for me to admit that I've never really been one to pour out my creativity to make some holiday themed treats. Well, there was these monster cupcakes (aka Dark Chocolate Cupcakes with Baileys frosting) or this Bloody Berry Cake; and that was it. I just… I don't. I don't and I won't.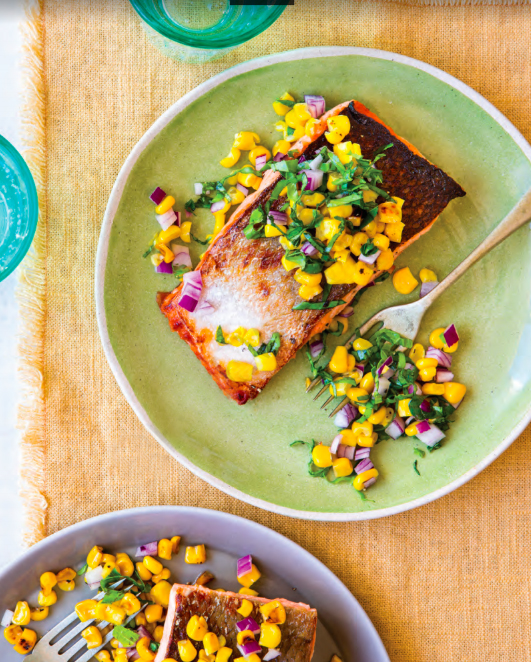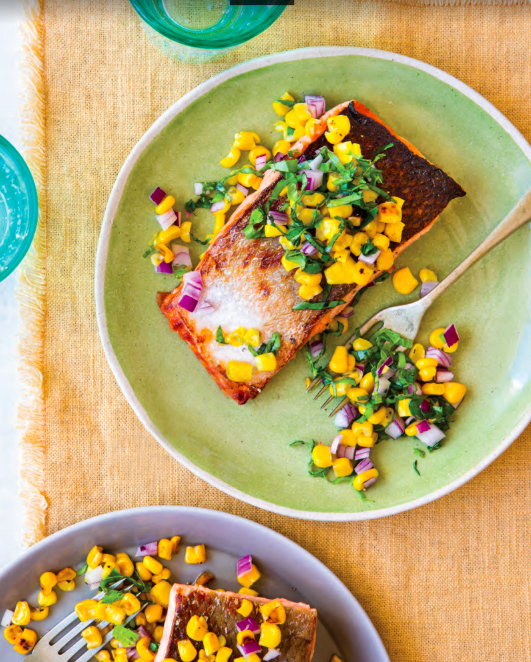 But we had our own fun last night while waiting for kids to knock on our door. This salmon though was our fun and tasty dinner. We've been enjoying salmon at least once a week and this is one of the easiest recipes you should try. It's filling, nutritious, and make your dinner colorful. In short, you should give it a try!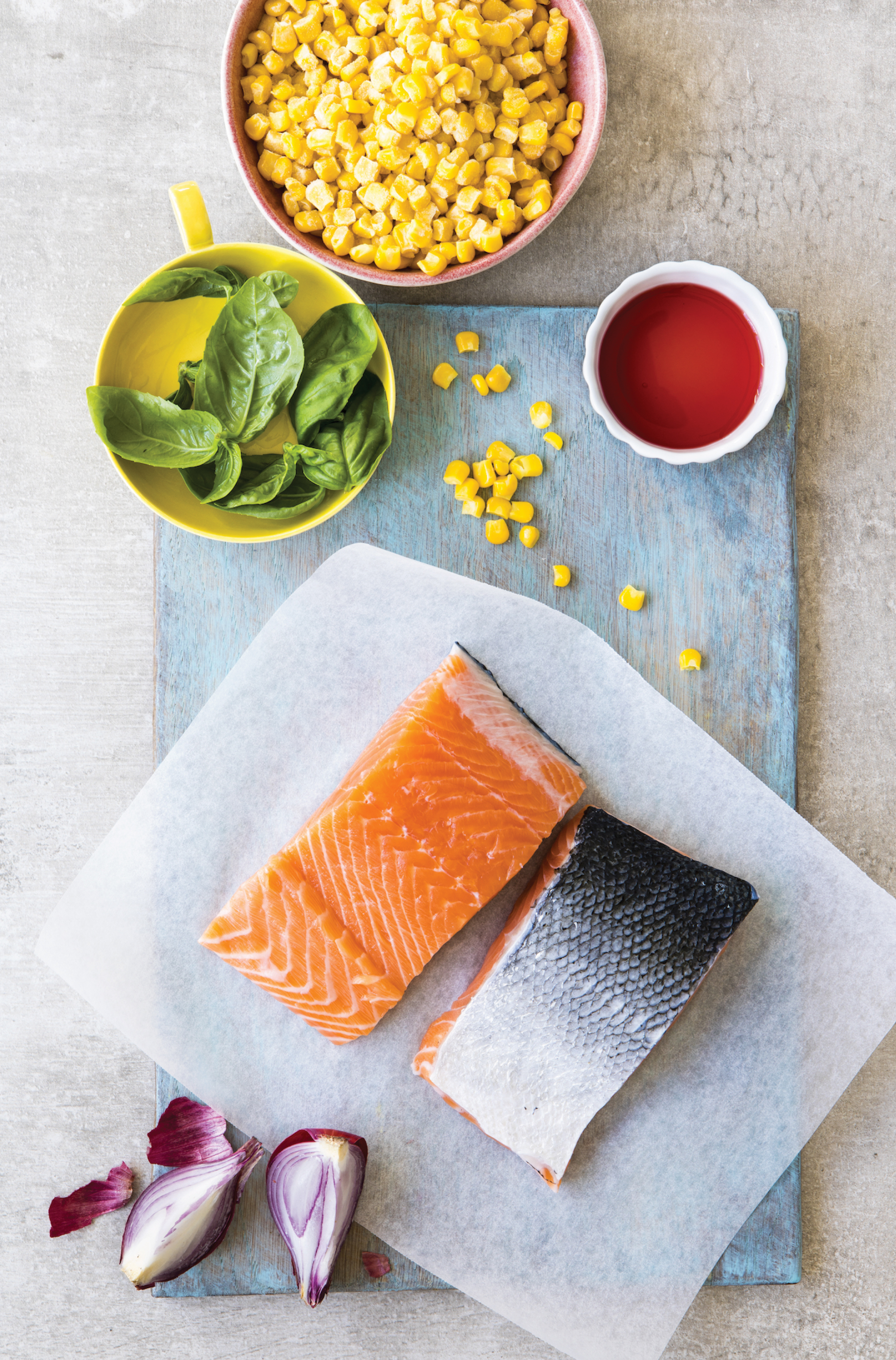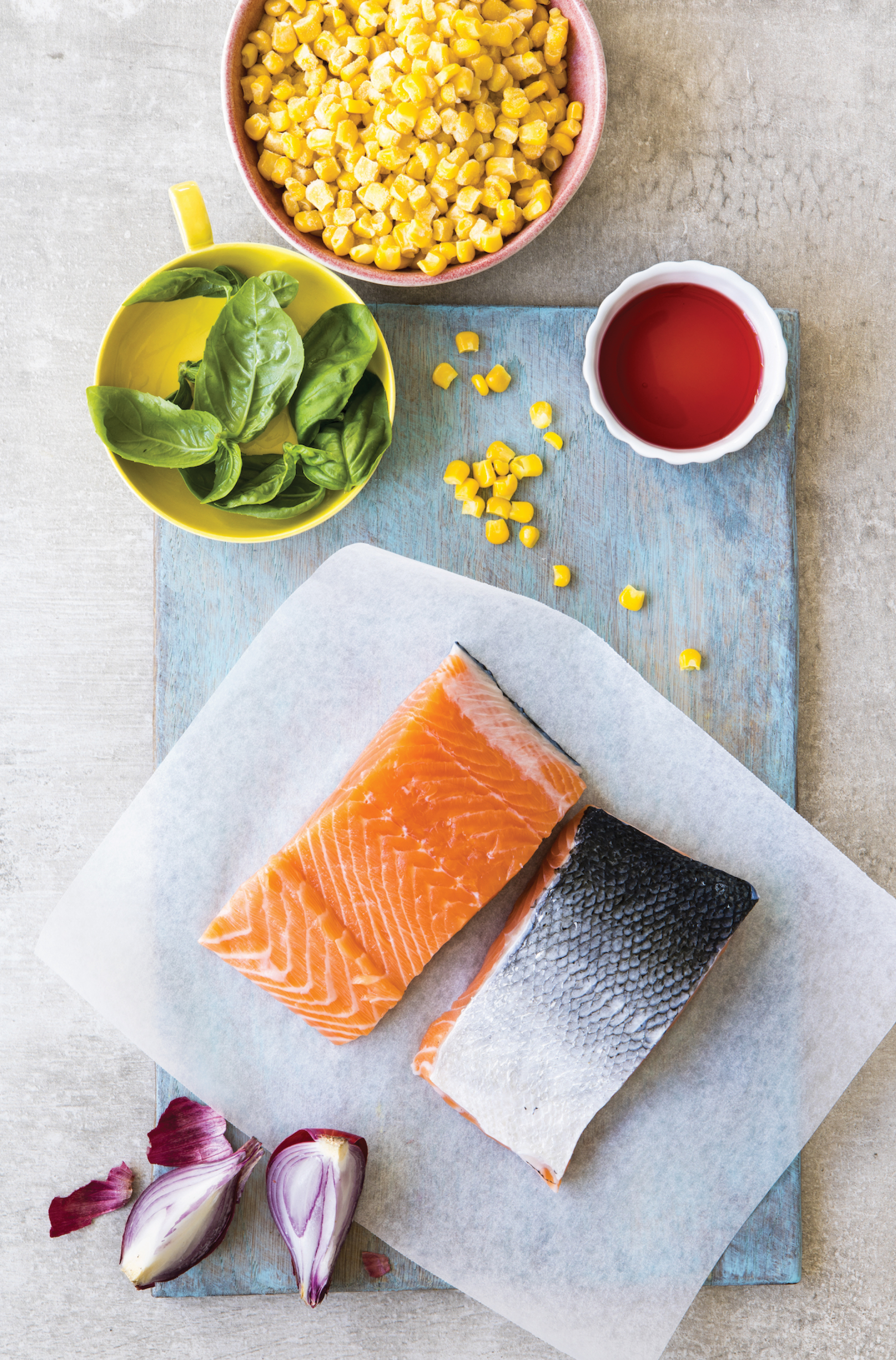 For perfectly cooked and crispy salmon skin, always use fillets at room temperature and a skillet over high heat.
Check out this video to see how easy it is to make this dish!
And in case you missed it, I'm writing a cookbook 5-ingredient One Pot Cookbook which you can pre-order here. And this Seared Salmon with Roasted Corn Salsa is also one of the recipes you can find in my cookbook, along with this Thai Lettuce Wrap recipe and this Sweet Potato Thai Curry Soup recipe. The idea is to share easy, delicious meals with just fresh 5 ingredients, excluding pantry staples. Like this seared salmon which can be done within 20 minutes.


Most importantly, my biggest focus is to use fresh ingredients as much as possible, keeping processed ingredients to a minimum. While it may sound difficult to make homemade food that is healthy and tasty, you will soon see that you can create beautiful meals in the same amount of time it takes to order takeout. You will also save money cooking at home. One-pot cooking is an easy, stress-free way to prepare scrumptious, nutritious dinners.


And if you haven't already done so, be sure to sign up for The Simply Healthyish Recipes newsletter. That way you'll be the first to receive recipes, special offers, and lots more about the book!
On that note, I am signing off. I've got a long list of emails I need to catch up on. Catch you guys later on Instagram stories!
GIVEAWAY
Of course it wouldn't be a party without a prize and today I'm giving 3 readers a chance to win a $25 Amazon gift card and a copy of my cookbook!
3 winners will each receive:
a copy of my cookbook
$25 Amazon gift card
How to enter:
To enter, simply follow the instruction below.This giveaway is open to the whole world. Giveaway ends Thursday, November 8 at 11.59pm PST. Three winners will be selected at random and notified via email.
Print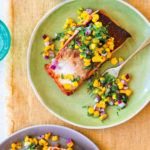 Seared Salmon with Roasted Corn Salsa
---
5 tablespoons

extra-virgin olive oil, divided

3 cups

frozen corn, thawed

4

(5-ounce) skin-on salmon fillets

Salt

Freshly ground black pepper

1 cup

diced onion

½ cup

chopped fresh basil

¼ cup

red wine vinegar
---
Instructions
In the skillet over medium-high heat, heat 1 tablespoon of oil. Add the corn and cook for 10-12 minutes, or until the corn starts to brown, stirring occasionally. Set aside.

Over medium-high heat, add 2 tablespoons of olive oil to the skillet. Season the salmon with salt and pepper. Cook the salmon skin-side down for 3-4 minutes, or until the skin is crispy. Flip, then cook for another 4 minutes on the other side, until the fish is opaque and flakes easily with a fork.

In a medium bowl, combine the onion, roasted corn, basil, the remaining 2 tablespoons of olive oil, and the red wine vinegar. Season with salt and pepper.

Serve the salmon skin-side up with the roasted corn salsa on the side.