Taiwanese meat sauce recipe (lu rou fan). This savory classic comes in aromatic Chinese five-spices and soy sauce in a simple braised form for ground or minced meat. The best part is you can make this on a stove or in an instant pot.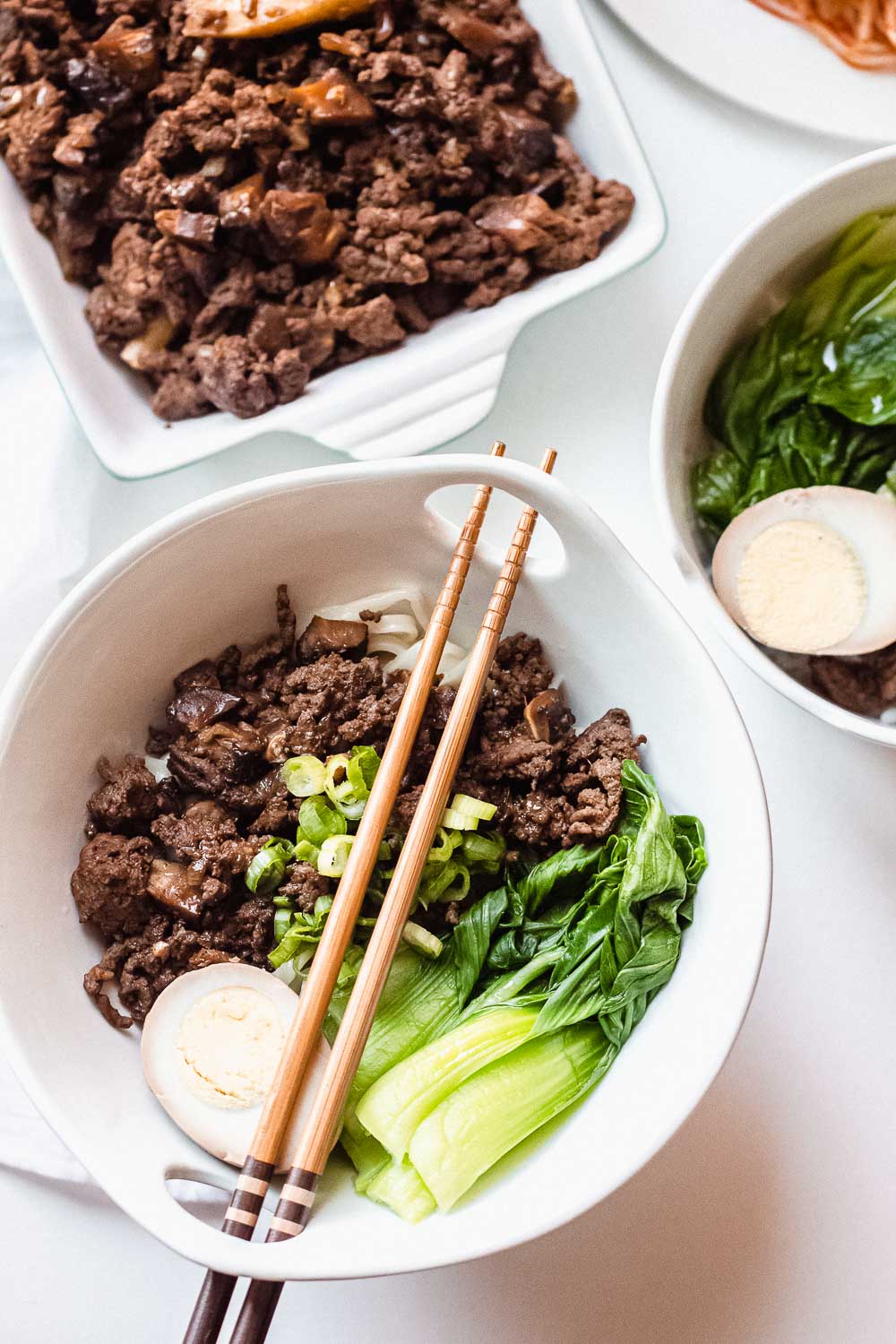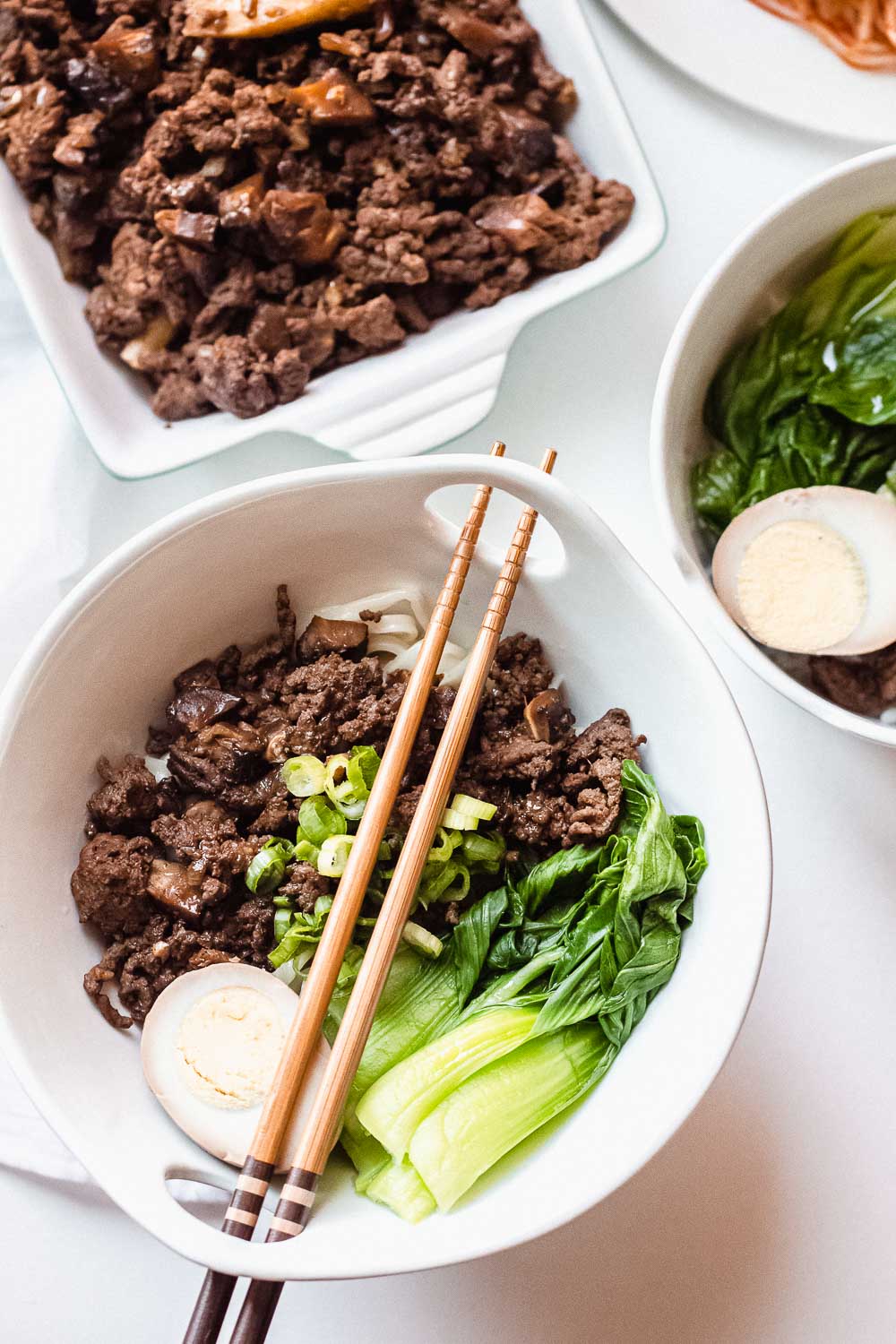 Everyone has to have a food memory that reminds them of home or their childhood. In my case, it's this Taiwanese meat sauce over rice (or over noodles). This easy Taiwanese meat sauce is just one of those things you can never go wrong with and it's perfect on any given day.
Lurofan simply means stewed meat (Lurou) sauce on top of steamed rice (Fan)
In Taiwan and the Fu Jian province of China, you will find the most common street food is the Taiwanese meat sauce. Outside of these areas, lu rou fan is also popular comfort food of Singapore and Malaysia. This dish is often made with minced pork belly and sweet and savory sauce over a bowl of white rice or noodles, and with Chinese spy egg and blanched bok choy and side.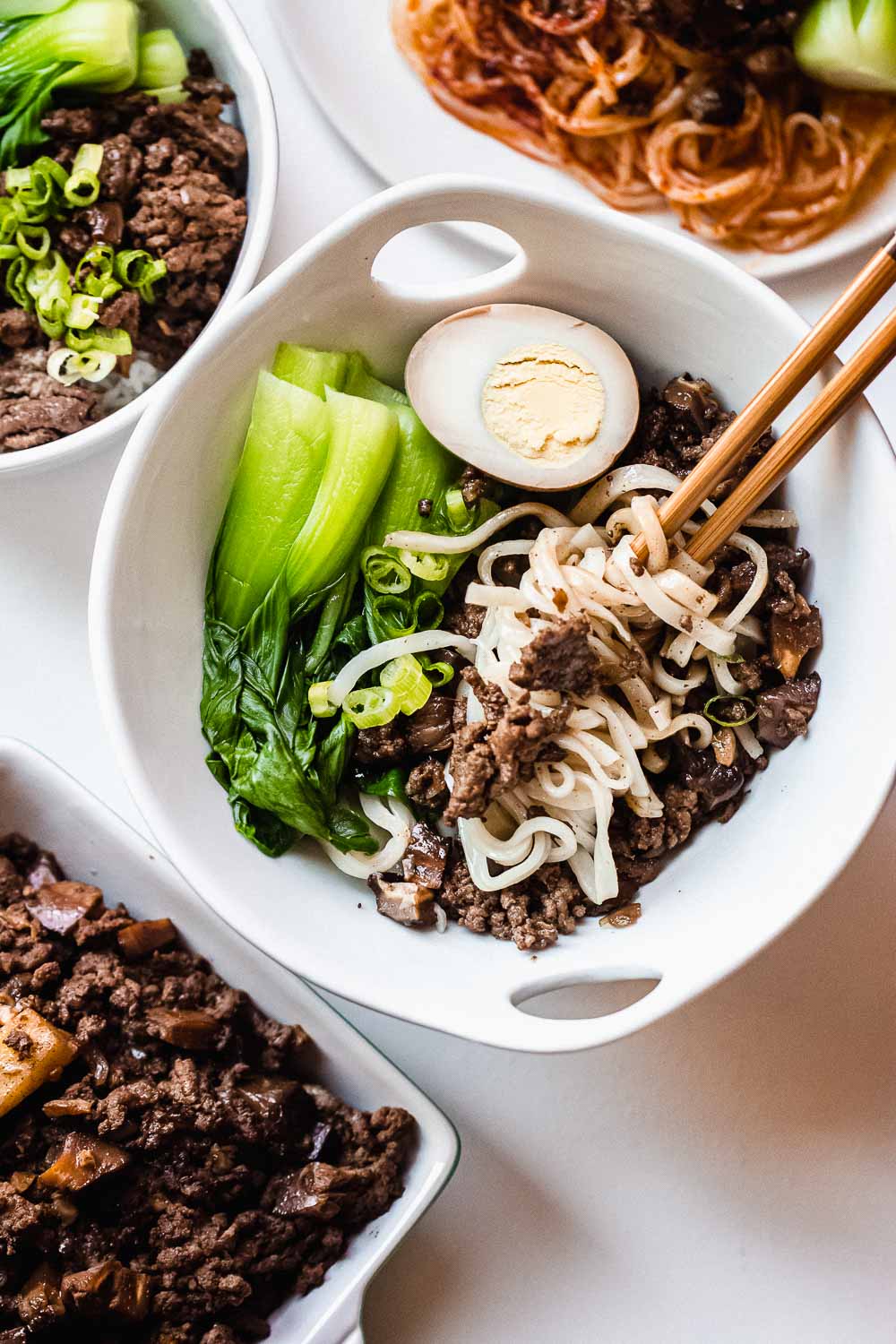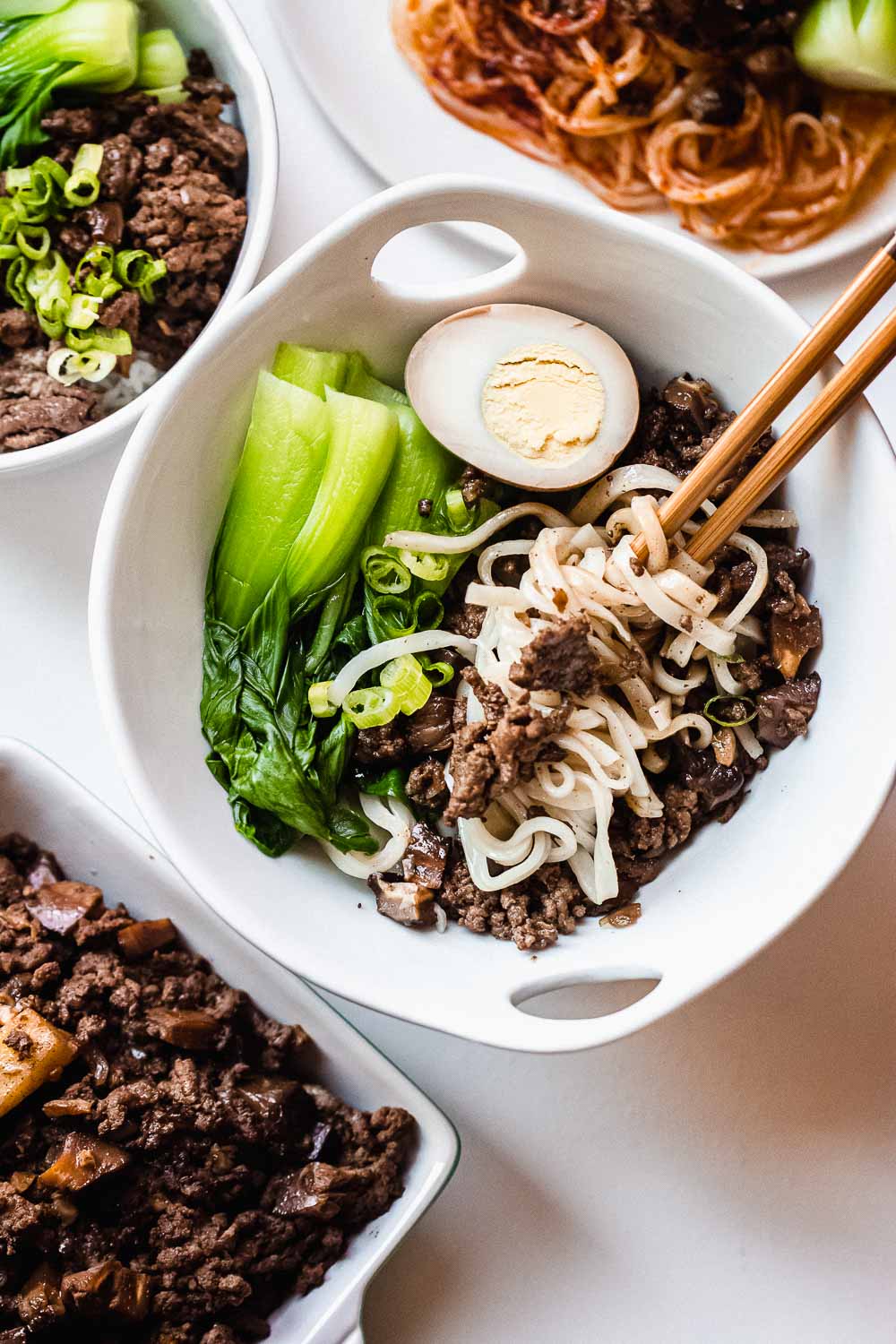 Today's Taiwan Meat Sauce recipe is a lighter version than the traditional one and it uses ground beef instead of pork belly. But first…
What is Taiwanese meat sauce?
Traditionally this is made with ground pork, Chinese black mushrooms, and shallots. Warm Chinese five-spice powder, dark and light soy sauce, black vinegar, and a little brown sugar contribute to all the seasonings.
Why is Taiwanese meat sauce the best comfort food?
Flavorful
Easy Peasy – you most likely have the ingredients available
Lightning Fast – who can say no when it can be done in less than 30 minutes?
Crowd Pleaser – everybody loves it!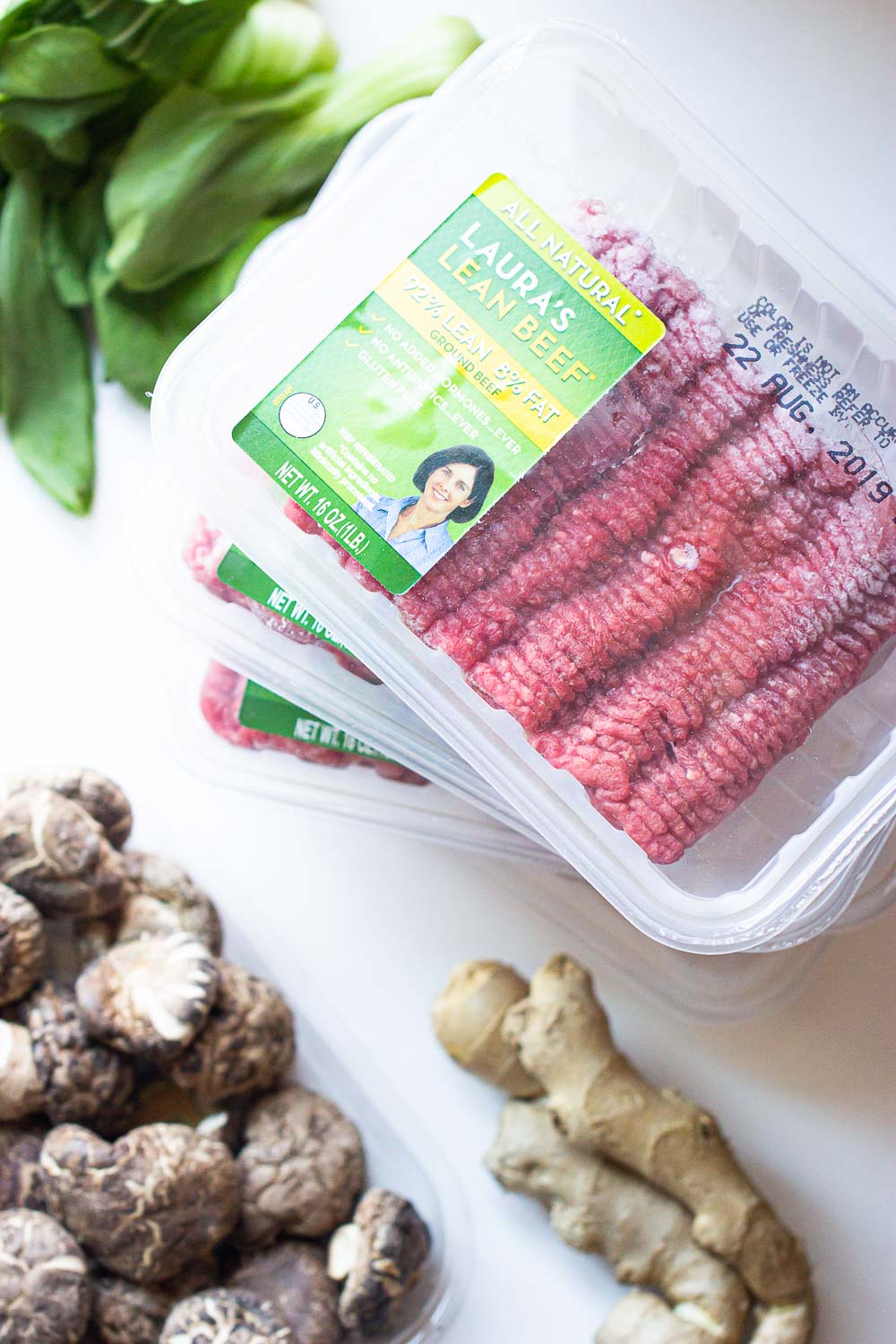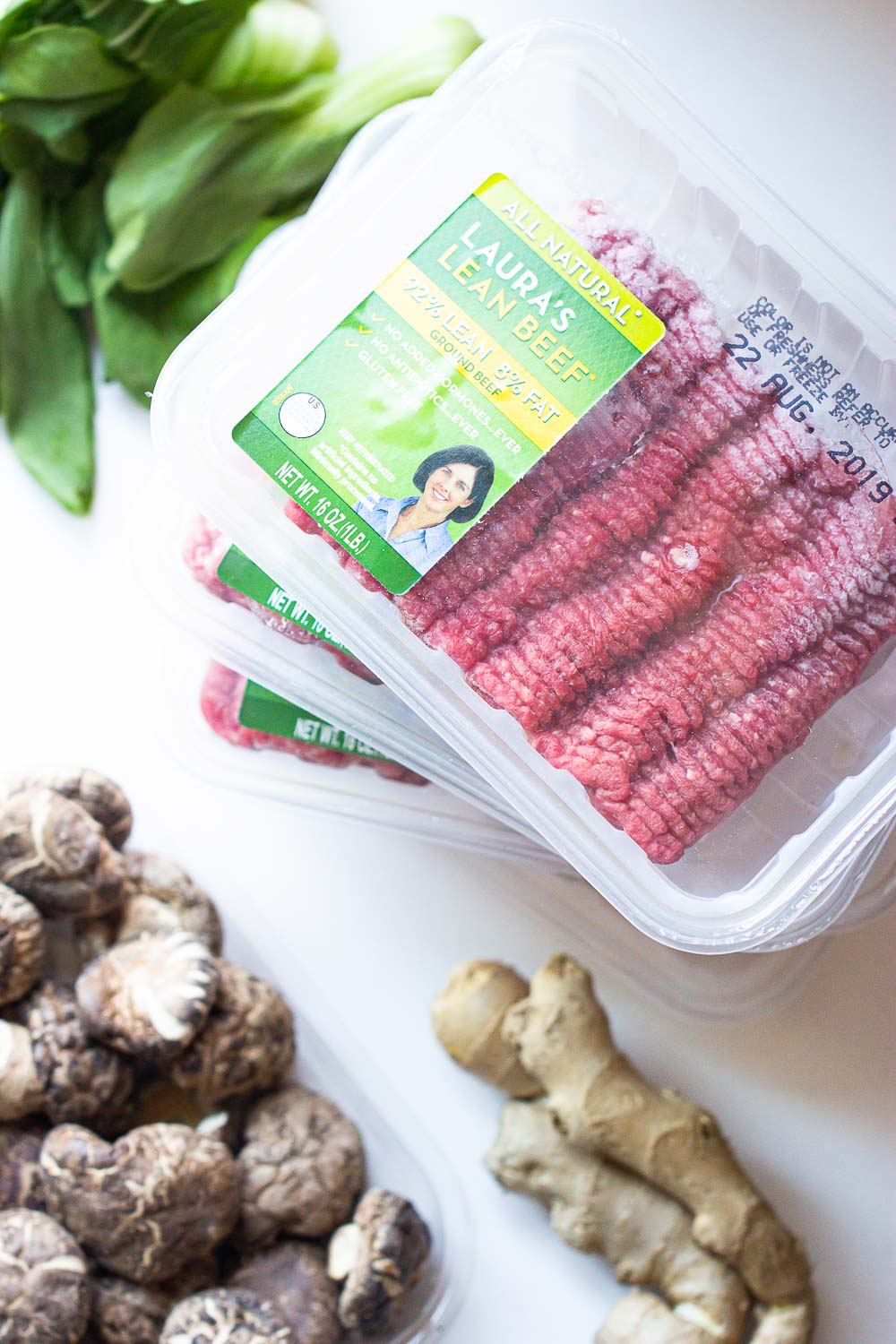 What is the secret to making the best Taiwanese meat sauce?
Chinese cooking is very simple; however, there might be a few sauces that you are not familiar with.
Chinese five-spice powder – This is a mix of cinnamon, cloves, fennel, star anise, and Szechwan peppercorns. Often used in marinades and rubs, it is also used to flavor braised and roasted meats and fish.
Dark soy sauce – As the name suggests, this is a dark-colored soy sauce. The Chinese typically use it for adding color and flavor to their dishes. You will find that it is richer, less salty and a bit thicker than other soy sauces.
Shaoxing rice wine – This wine is a staple in traditional Chinese cooking. It is amber-colored, aromatic, and nutty-tasting. Made from sweet/sticky rice, it's one of the earliest liquors that the Chinese made. When added to dishes, it adds fragrance and an unmistakable flavor. If you are experienced with Japanese sake, you will enjoy using Shaoxing wine too.
Can I make this in an Instant pot?
Absolutely! This easy meat sauce recipe only takes less than 30 minutes to make; however, this can also be done in an instant pot or slow cooker if you are planning to leave it for a while so the meat can get juicier.
To make this on a stove: first, you need to stir fry shallot and garlic on medium-high heat. Push aside shallot and onion to the side of the wok, then add ground beef. Cook for a few minutes, add mushrooms and bamboo shoots, stir occasionally. Pour in the broth and sauce, including star anise; bring it to a simmer, stir in finely chopped green onion and serve this meat sauce over rice or noodles.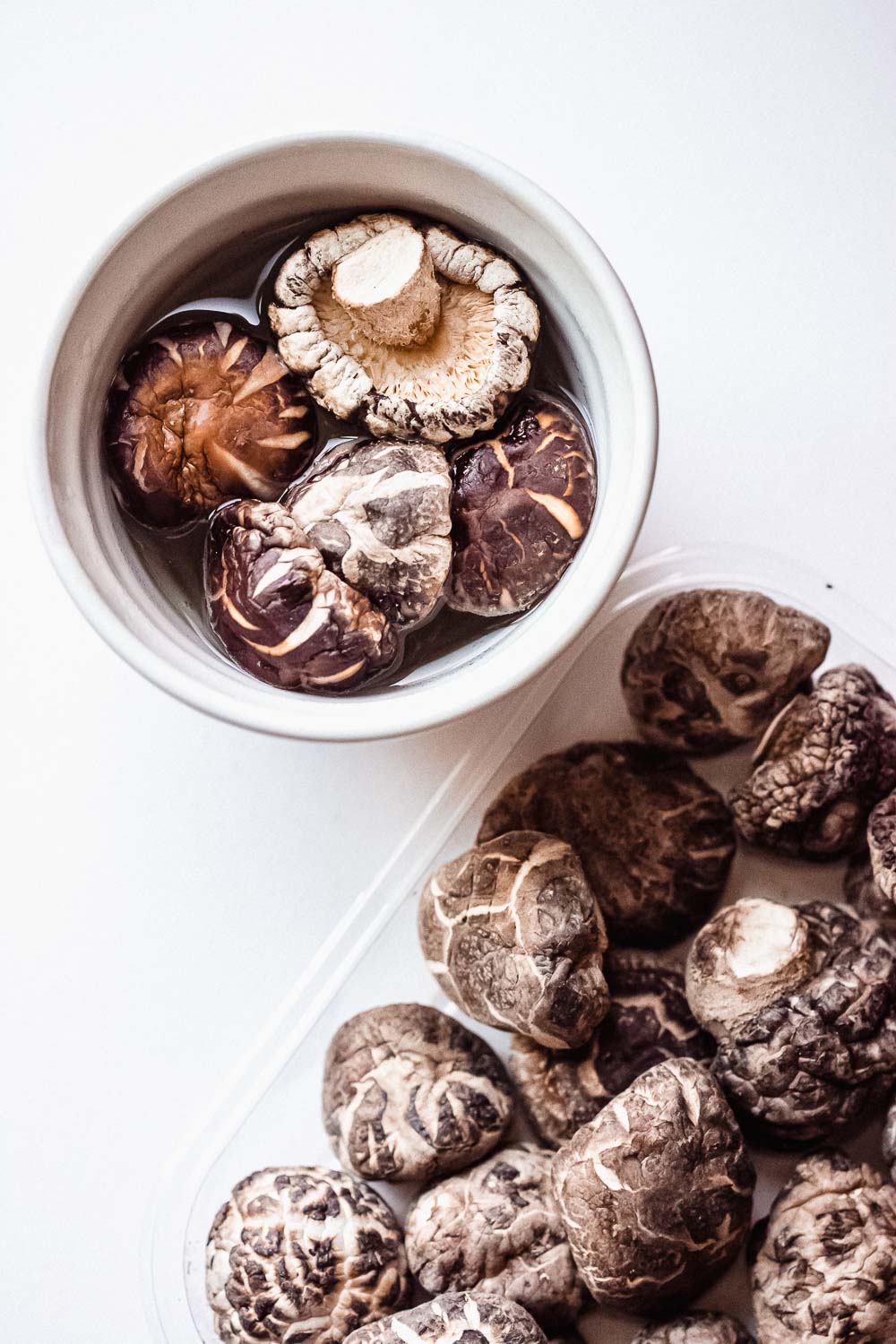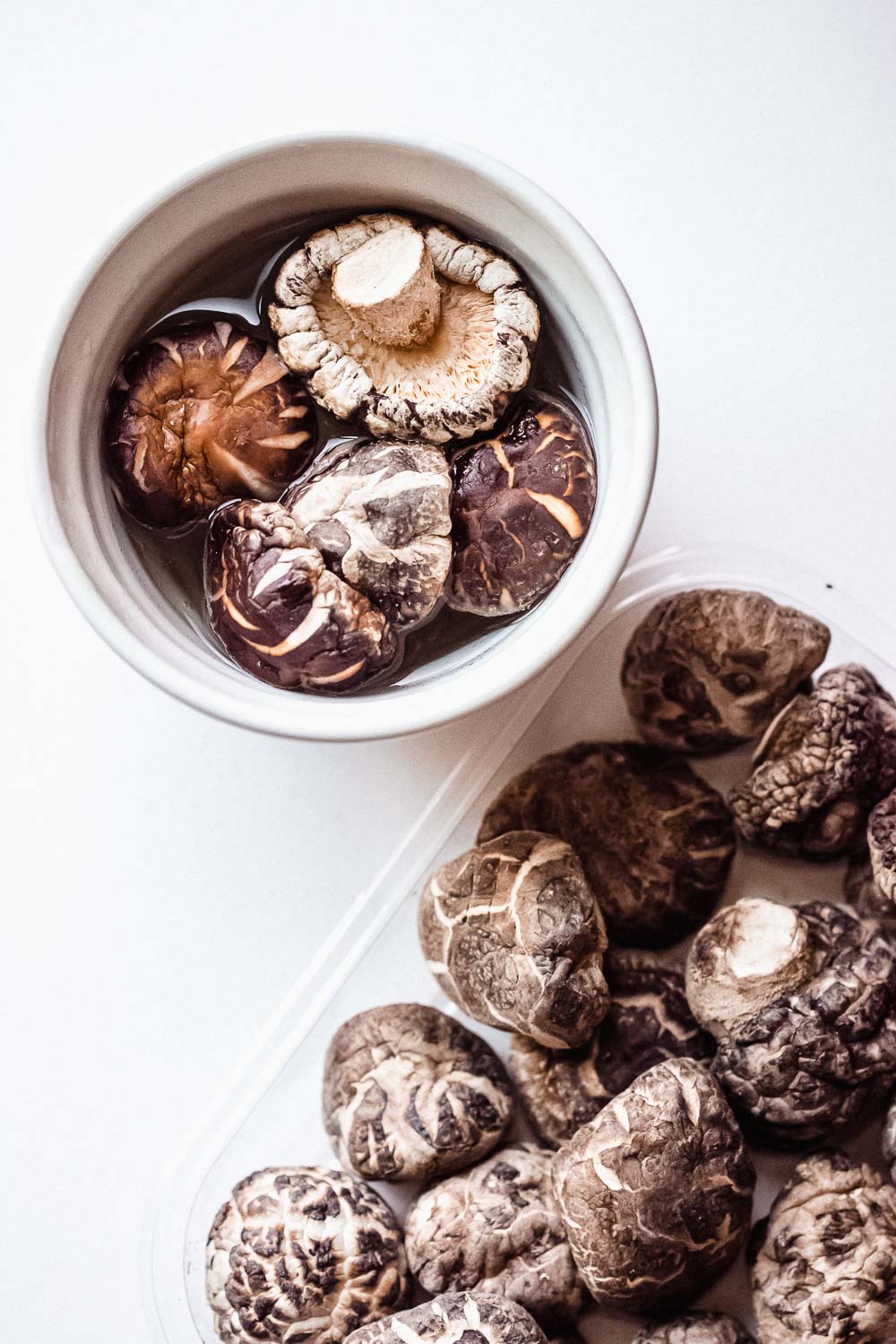 Can I modify this meat sauce?
Yes! The original recipe is using ground pork or pork; however, I am using ground beef since it is easier to get. And in this case, I trust Laura'sLean ground beef in making this recipe.
I'm using shiitake mushrooms in this recipe, but you can use button mushrooms or cremini, or make it vegan braised meatless style and replace the meat with firm tofu and bamboo shoots.
Working with dried shiitake mushrooms can be a challenge. To prepare, cover the mushrooms in boiling or hot water and soak for 15-20 minutes. Drain. Discard the stems – they're too tough to eat, and slice the mushrooms.
To make it spicy, add Spicy Sichuan Chili Oil to the noodles. Warning! This sauce might not be for spicy food beginners. But if you love heat and/or Sichuan cuisine, this is a treat!
Plus, you can make this on a stove, in an instant pot, or in a slow cooker. So, the possibilities are endless.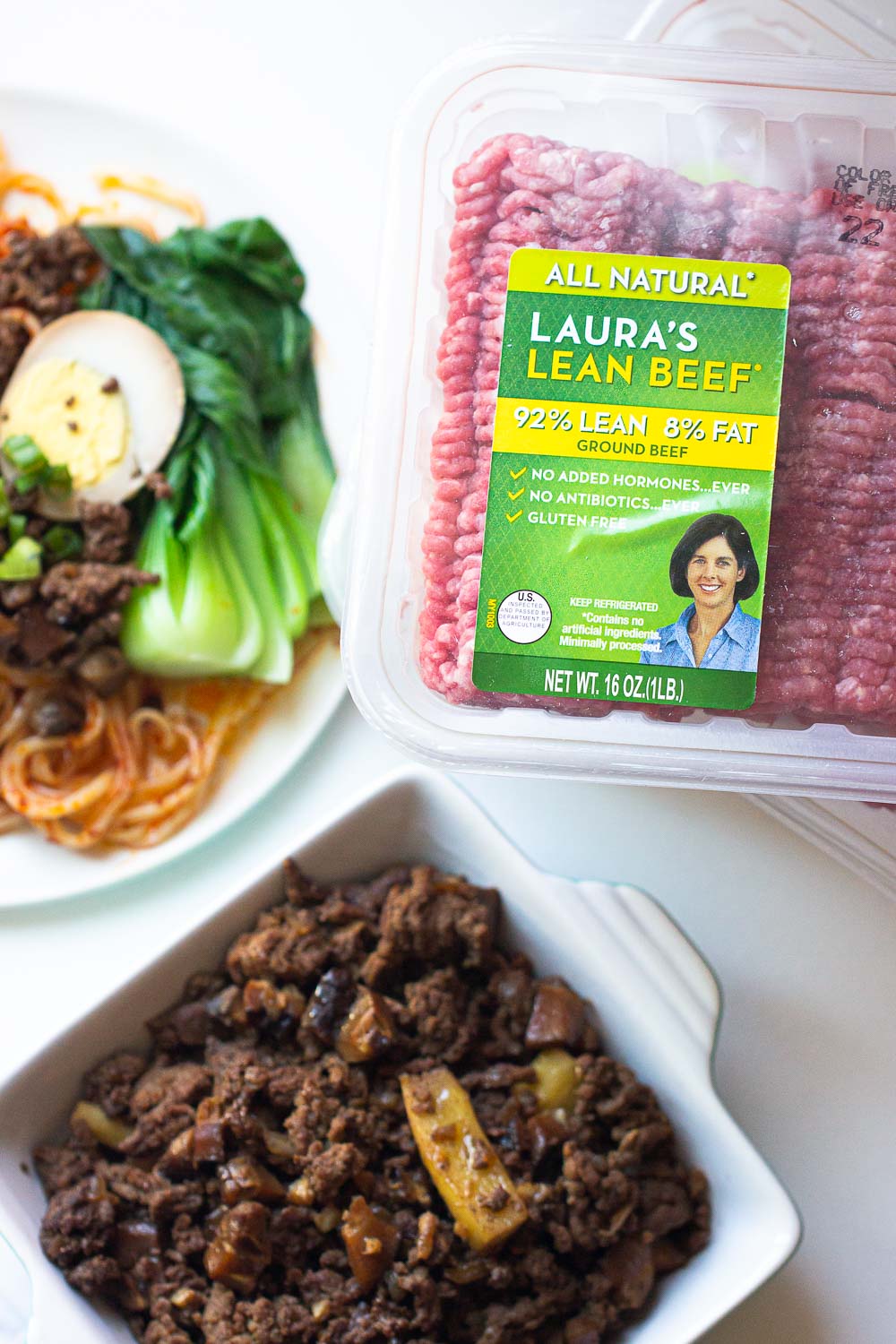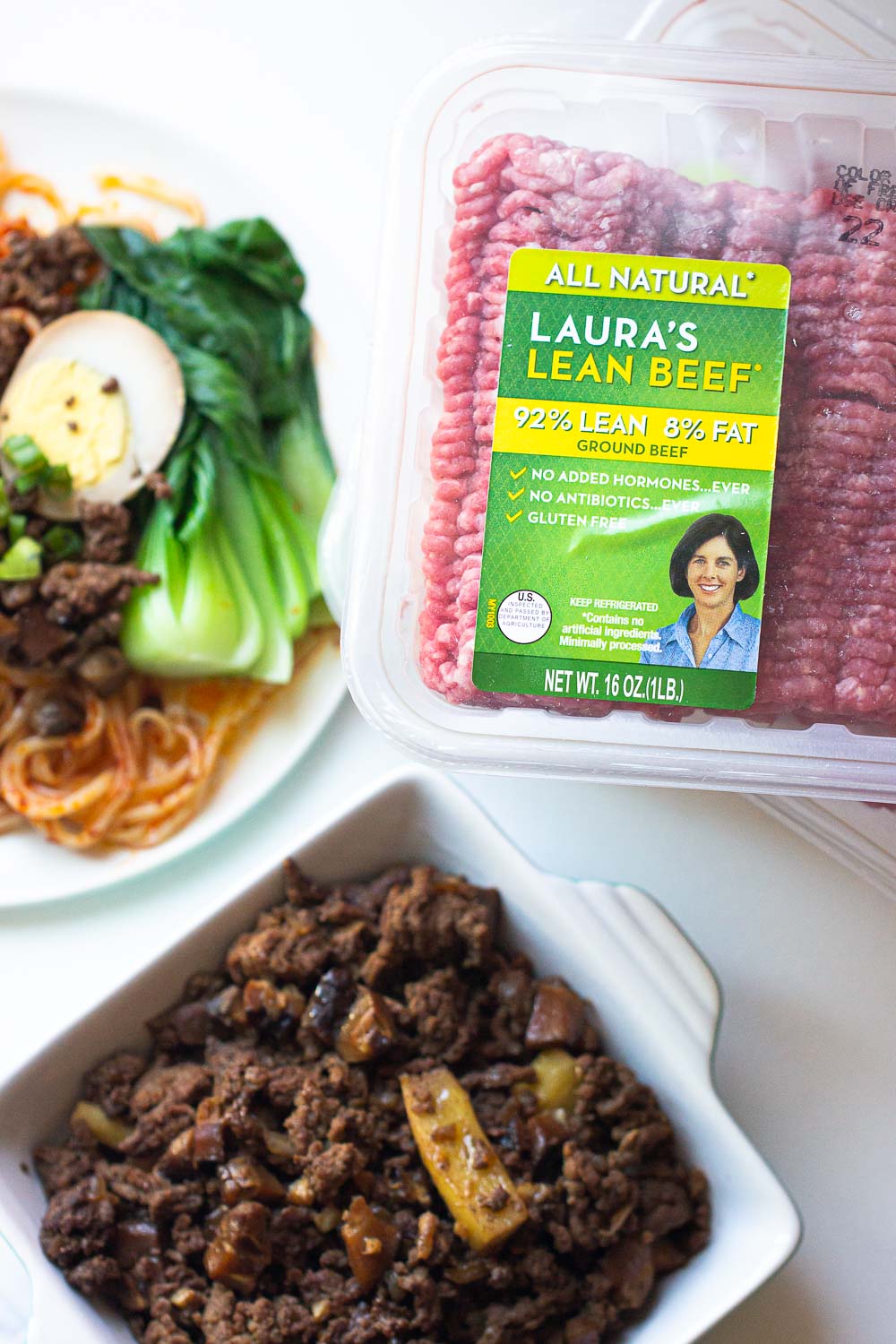 What makes Laura's Lean ground beef different?
According to USDA rules, beef can be considered and labeled "natural" as long as it contains no artificial ingredients and is minimally processed. This definition includes most grocery store-bought fresh beef. However, Laura's Lean product is unlike most other "natural beef". It's a "Never Ever" offering which means that it is sourced from suppliers who do not use added hormones or antibiotics to raise their cattle.
All of Laura's Lean products have to meet the strict USDA standards to qualify as being lean. Every 4oz serving must contain less than 10g fat, 4.5g or less of saturated fats, and less than 95mg of cholesterol. Additionally, Laura's Lean 96% Ground Beef meets the standards set by the American Heart Association's heart-check program and is classified as Extra Lean by the USDA standards. 
You get the best of both worlds of taste and nutrition when you choose Laura's Lean products for your family to enjoy.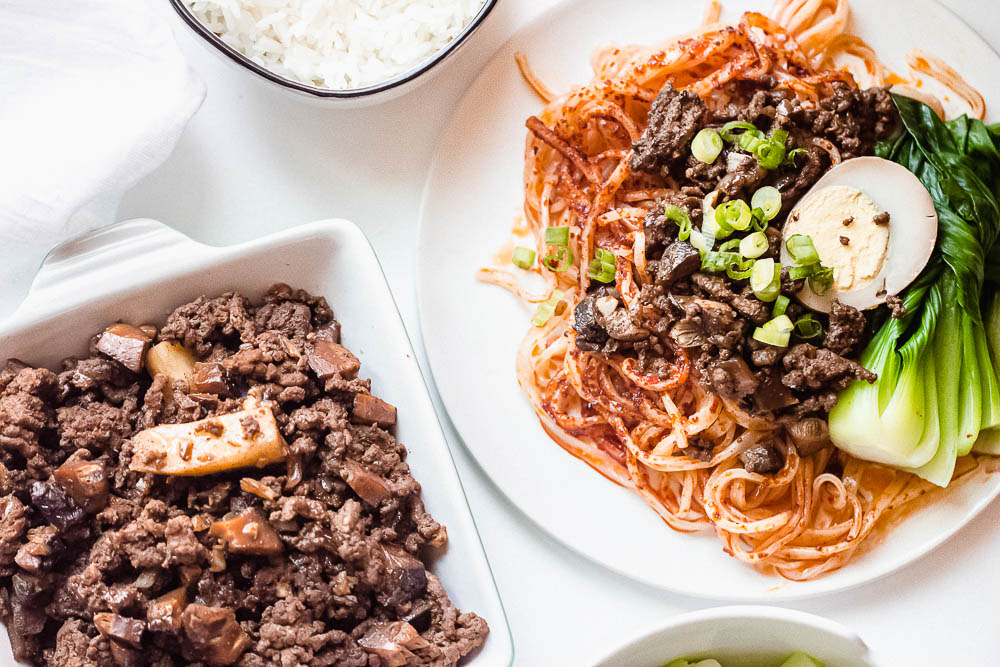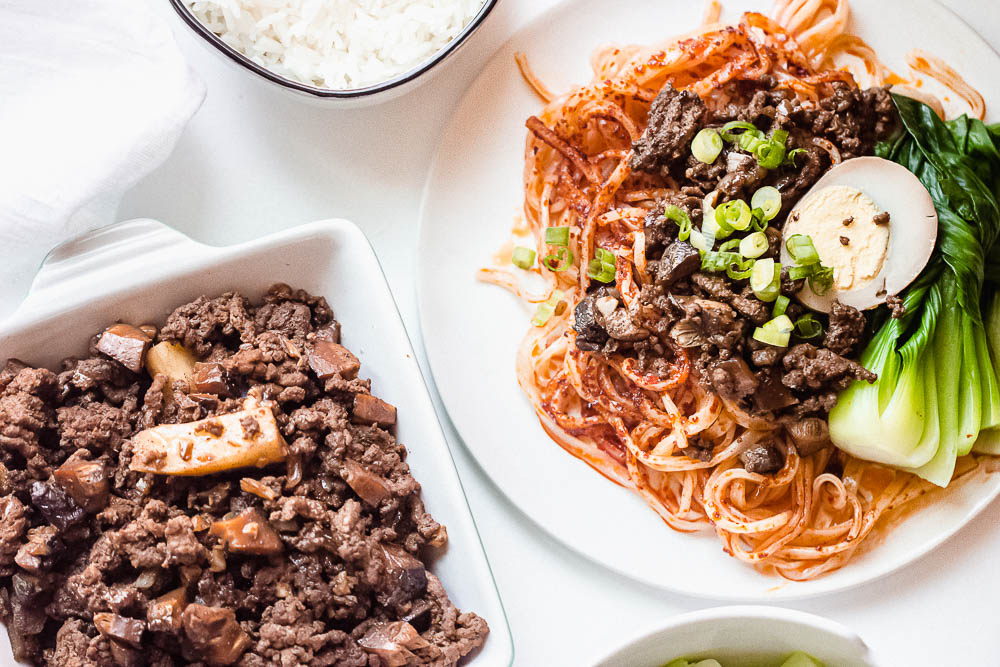 Care for more recipes using ground beef? Check these out:
Thai Beef Taco Bites – These beef tacos are full of bold Thai flavors and topped with toasted peanuts. Enjoy the yummy Thai flavors in taco form that will feed a hungry crowd!
Gochujang Glazed Meatloaf – Gochujang is the ideal blend of sweet, savory and sour, and unlike other hot sauce Sriracha, it won't burn your mouth.
Italian Hand Pies – Scrumptious Filling. Completely irresistible. Totally addictive. These dainty hand pies are full of flavor and gooey cheese and one of the most delightful pies you can make any time.
Korean Ground Beef Bowl – These Korean Ground Beef bowls are an easy and quick ground beef recipe, perfect for weeknight dinners! The flavors of beef bulgogi made easy using ground beef!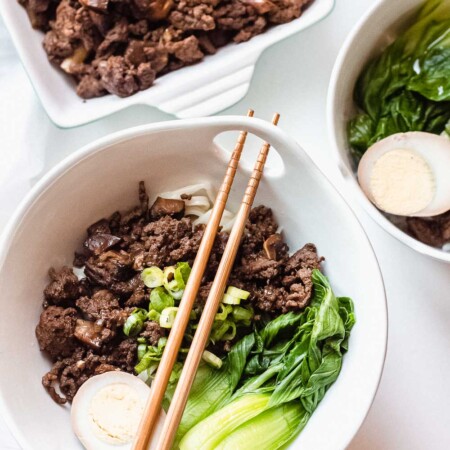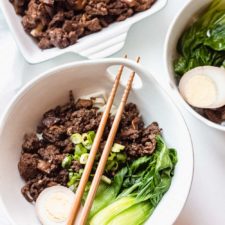 Taiwanese Meat Sauce (Lu Rou Fan)
Taiwanese meat sauce recipe (lu rou fan). This savory classic comes in aromatic Chinese five-spices and soy sauce in a simple braise for ground or minced meat. The best part you can make this on a stove or in an instant pot.
Print
Pin
Rate
Ingredients
1

pound

noodles or rice of your choice

1

pound

ground beef

or ground pork/chicken/turkey

2

cups

chicken broth

1

tablespoon

Shaoxing rice wine

1

tablespoon

dark soy sauce

1

tablespoon

oyster sauce

2

teaspoon

light

regular soy sauce

1

teaspoon

Chinese five-spice powder

1

star anise

1

tablespoon

brown sugar

2

teaspoons

sesame oil

5

shallots

finely minced

2

cloves

garlic

finely minced

4

ounces

fresh shiitake mushrooms

diced

1

stalk green onion

chopped
Instructions
Cook the noodles or rice according to package instructions. Drain. Add 1 teaspoon of sesame oil to noodles to prevent sticking.

In a small bowl, combine the chicken broth, Shaoxing rice wine, dark soy sauce, oyster sauce, regular soy sauce, five-spice powder, and brown sugar. Set aside.

Heat a wok over medium-high heat. Add in the sesame oil. Add in shallot and garlic, and cook for 1 minute. Push aside the shallot to one side. Stir in the ground beef and break it to smaller pieces. Cook for 2 minutes. Add in the mushrooms and star anise. Toss everything in the wok together.

Pour in the broth/soy sauce mixture and bring to a simmer. Adjust the seasoning with soy sauce, if needed. Cover and reduce the heat to low and simmer for 10-15 minutes. The sauce will still be very thin.

Stir in the green onions. Serve the ground beef mixture over rice or noodles.
Notes
To make in an instant pot: press saute and wait until the panel shows hot. Add the sesame oil, shallot, and garlic. Saute for 10 seconds or until fragrant. Add the beef, mushrooms, and break it further to smaller pieces. Saute for another 3 minutes. Add the broth/ soy sauce mixture and star anise. Seal the instant pot lid and valve. Press manual on high for 30 minutes, then do a quick release for 10 minutes. Stir in the green onion and serve the meat mixture over rice or noodles.