This recipe has all the crunchy goodness of fried ice cream. Definitely an amazingly delicious dessert! The perfect combination of crunchy-on-the-outside and cool-and-creamy on the inside.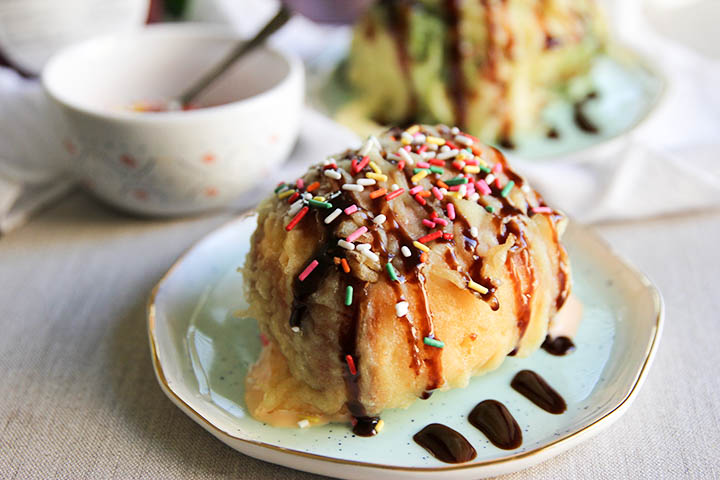 Life is always full of surprises, right? Call me insane…because I finally did my half marathon challenge a couple of weeks ago. When I started running 2 years ago, I never thought this would ever come up. In fact, I was joking with friends at work about running a 10k as my life goal. But I was wrong. I did a 15k back in January… And another since. So it felt amazing to see how far I've gone.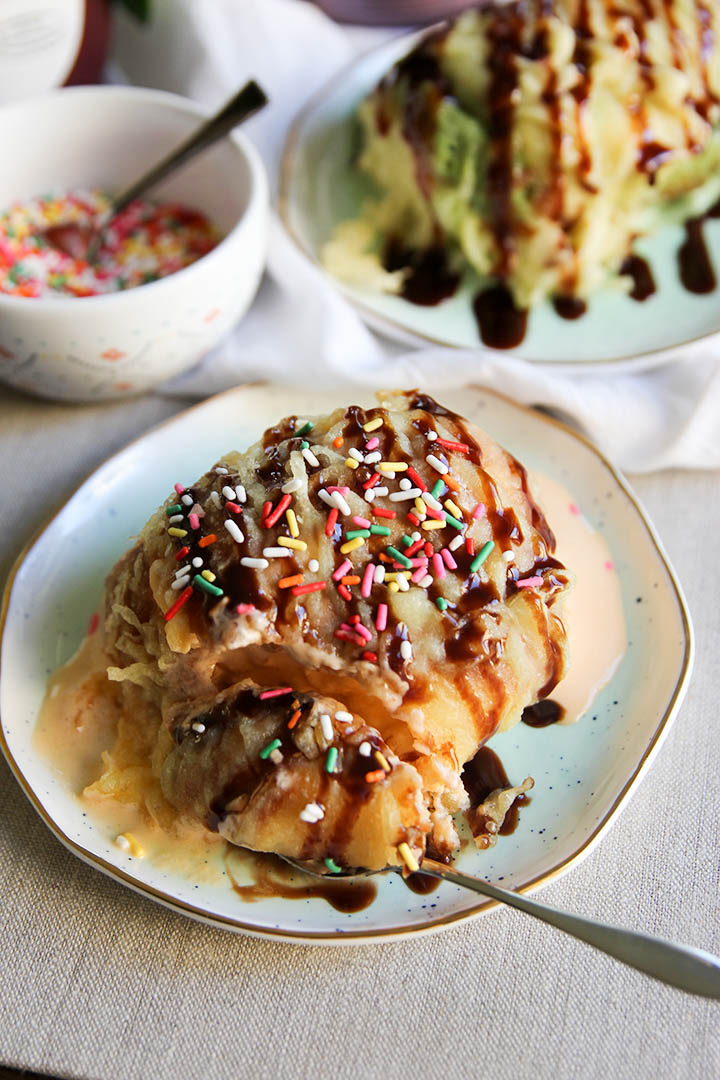 I think the insanity happened not when I registered for this event, but when I decided to join just 2 weeks before the actual date. It was nerve-wrecking and I had too many questions pop up in my mind. Will I make it? What happens if I crash? Can somebody carry me? Is there food trucks half-way? Can I have ice cream for breakfast? Silly questions surely jumped in and out of my mind, but I did it and I will definitely do better next time.
So back to ice cream…the weather has been so weird lately. There were days when it sprinkled in the morning, and there were gloomy days that it felt like Winter already was here. So…no, I'm not ready for Summer to end this way. I need flip flops and live freely without even bother to carry a light jacket. But that's part of the challenge living in the Bay Area. Weather can change from time to time without notice. But no matter what seasons you go through, you can enjoy this fried ice cream any time of the day.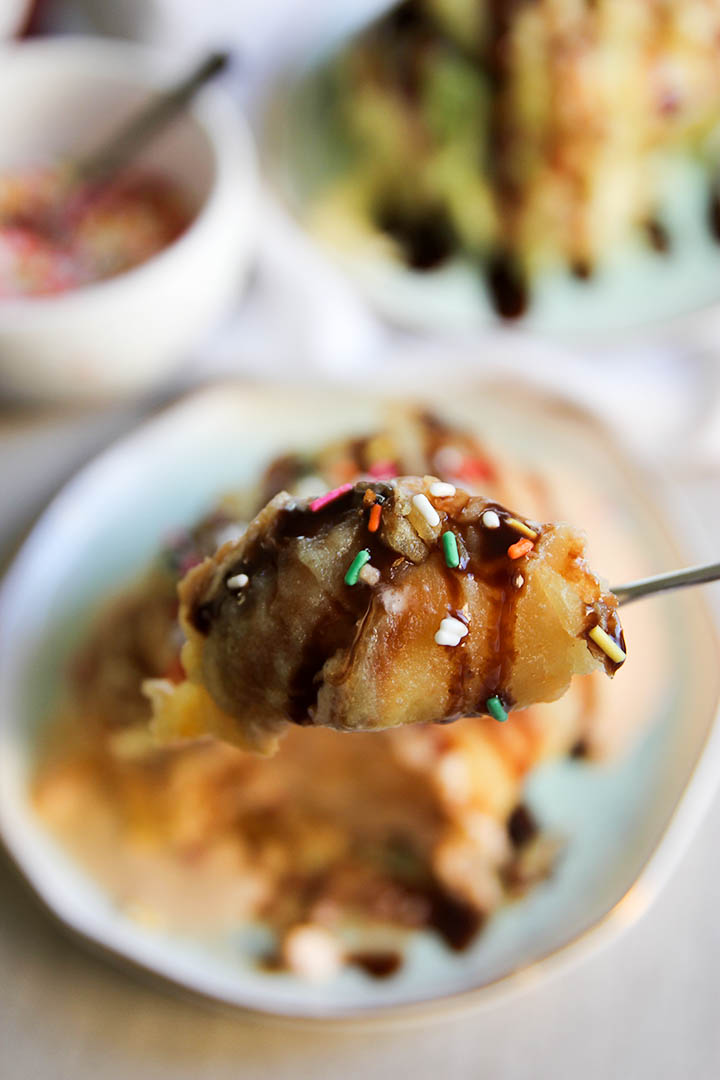 Have you tried this before? Tempura Fried Ice Cream – crispy on the outside, but creamy on the inside. It sounds or looks complicated since it requires several steps; however it is super easy to make. I am sure you will like this one especially if you're a fan of tempura. And of course, it tastes so much better with chocolate syrup and sprinkles. Check out this video below for the step-by- step instruction.
Print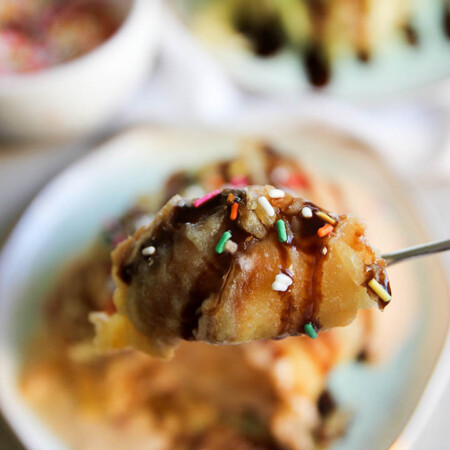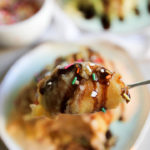 Tempura Fried Ice Cream
---
Description
This recipe has all the crunchy goodness of fried ice cream. Definitely an amazingly delicious dessert! 
---
1/2 gallon

French vanilla ice cream (or any flavors), softened
Sandwich bread
Oil for deep-fat frying

3 cups

Panko Bread Crumbs or Whole Wheat Panko

1/2 cup

firmly packed light brown sugar

1

tbs granulated sugar

2 tsp

cinnamon, optional

2

eggs
Honey and whipped topping, optional
---
Instructions
Place nine scoops (I'm using small/medium scoop, about 2 inches diameter) of ice cream on a frozen sheet pan and return to the freezer until frozen solid.
Cut the edges off the slices of sandwich bread and flatten with a rolling pin. (You will need 2 slices for each ice cream ball.) Take one flattened bread and place ice cream balls in the center; then top with another flattened bread. Mold the ice cream into a ball and cover each ice cream with saran wrap. Place back in the freezer for about 2 hours, until frozen rock-solid.
Whisk eggs in a medium bowl. Combine both sugars and cinnamon on a separate plate or cookie sheet. Stir in panko until well coated.
Heat oil in a cooking pot until it reaches 365 degrees Fahrenheit.
Unwrap the frozen sandwiches, dip ice cream in egg and roll ice cream balls in panko mixture, pressing to coat well. Place the sandwiches into the hot oil. Fry 20 to 30 seconds until golden brown on all sides. Drain briefly on a paper towel-lined plate before cutting in half to serve.
Garnish with your favorite toppings and serve immediately.