This spicy, aromatic Tom Yum Noodle Soup is a savory way to warm up your evening. Slurpy comforting!
Chicago is a nice city, so the thought of me ended up in a cold dreary snowy weather never crossed my mind. It was actually a nice weekend in Chicago, minus the cold weather. Being a California girl, I make sure to wrap myself in layers… like, literally, in layers. In my travel, I always took subway from the airport to the hotel. So I gladly did the same in Chicago, not realizing that I have to walk for almost 1 mile to the subway station. Actually the distance is not a big deal, but when you are wrapped in layers and have to carry your luggage for a mile… boy, it's one hell of a day especially after being on the plane all day.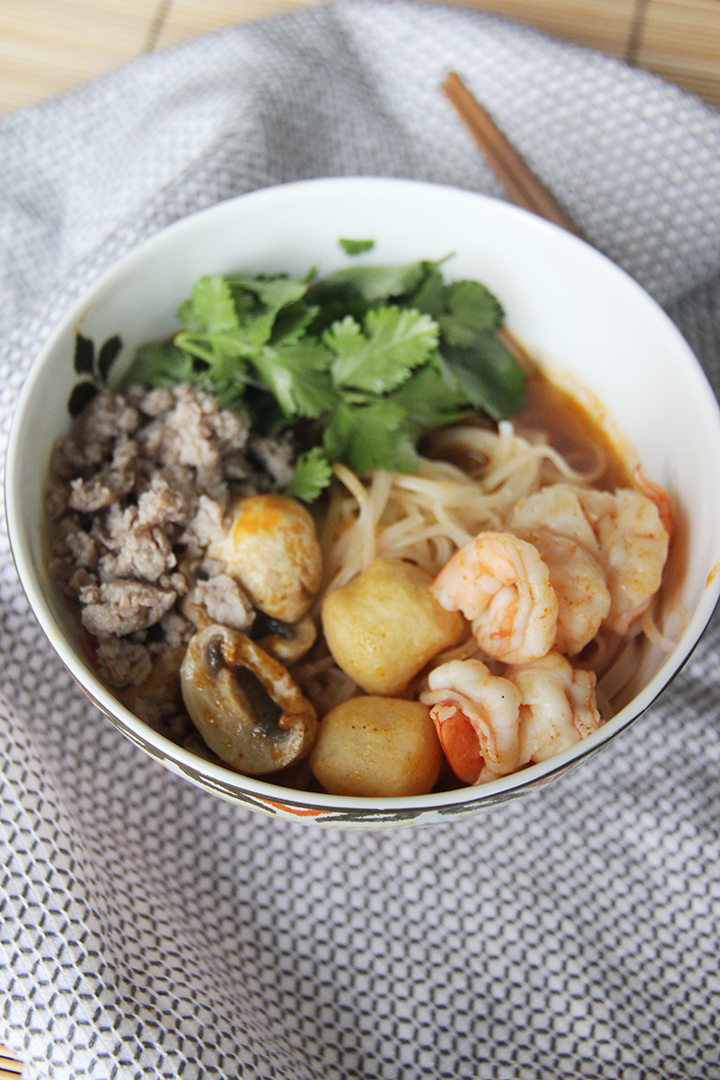 Fortunately, all tiredness went away once I enter my room. The hotel room was spacious and it even had a dining table. I could basically have my own party inside the room and let's be honest here… isn't it wonderful not to have to fix your bed every morning? But as much as I love the hotel, I missed my own bed and it feels good to be back home today.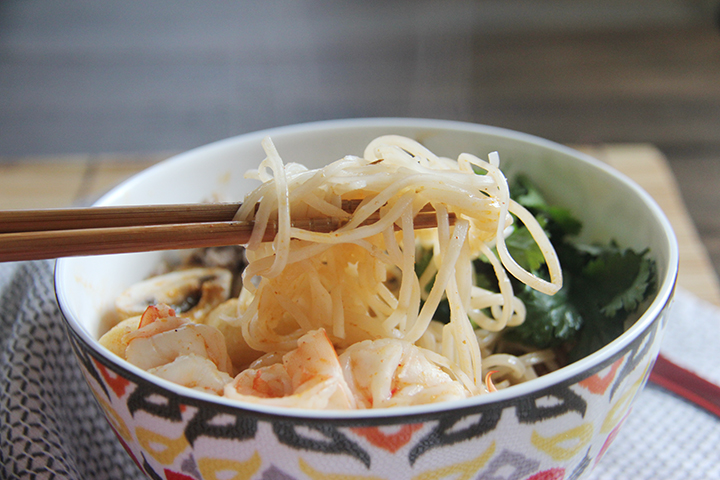 Cold weather always makes me crave for something warm and comforting. And this time, it is Tom Yum Noodle Soup. I have made this dish few times after the hubs and I came back from Thailand. We basically ate them on the day after we reached home, the next day, and the morning after the next day, and later that day. Well, you get it… it's so slurpy good and comforting! Best of all, you can skip a trip to Thailand and bring Thailand home.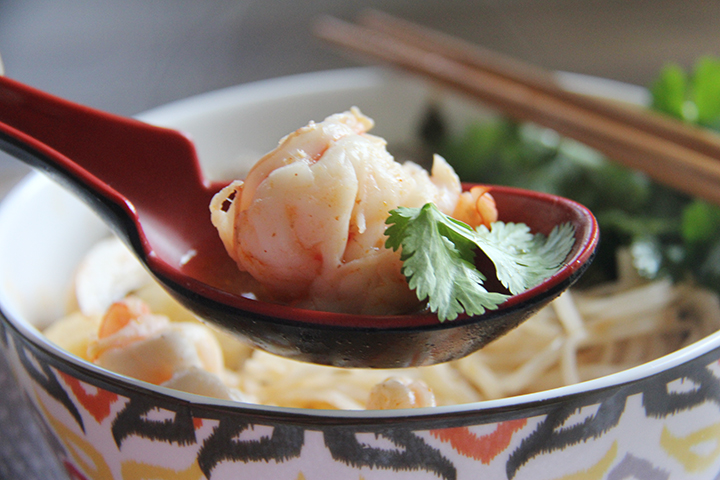 And oh, let's rewind a bit to my International Home + Housewares Show. It was really fun as I met many people unexpectedly: Alice of Hip Foodie Mom, Dani of The Adventure Bites, Emily of West of the Loop, Amanda of I Am Baker, and Diana of Eating Richly. Alice was doing a demo for KitchenAid new products. Exciting! And not to mention making new friends and meeting Celebrity Chefs like Paula Deen, David Tutera, Rick Bayless, Bill Parisi, and so much more. So glad that my friends over The Inspired Home invited me to this event. And I just can't stop smiling flipping through my Chicago pictures while enjoying this Tom Yum Noodle Soup. It was a blast.
Print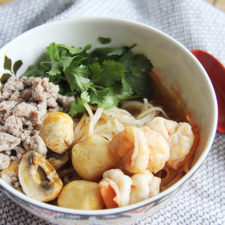 Tom Yum Noodle Soup
---
Scale
Ingredients
10

pcs shrimp

1

seafood bouillon

1

lemongrass

1

-inch galangal

5

kaffir lime leaves

1 cup

mushrooms, quartered

1

small tomato

3

tbs fish sauce

1/4

lb ground pork

2 cup

water

2

tbs oil

1

tbs Tom Yum paste

2

pkgs of your favorite ramen (I use clear glass noodle)
Fish balls. optional
Cilantro for garnish
Lime for garnish
---
Instructions
Heat 1 tbs oil in a wok and add ground pork. Add 1 tbs fish sauce and cook for 5 minutes or completely done. Set aside.
In a pot, add 1 tbs oil, lemon grass, kaffir lime leaves, galangal. Cook for 2-3 minutes or until aromatic.
Add water, tomato, and seafood bouillon and cook under medium-low heat for 15-20 minutes.
Adjust seasoning by adding fish sauce.
Add ramen to the mixture and cook until it's ready. Transfer ramen to 2 bowls.
Add mushroom and shrimp to the pot and cook until they're cook through. Add them on top of ramen.
Add ground pork to ramen bowls, add the soup, and garnish with cilantro and lime wedges.
---