These chicken and potato taquitos are loaded with flavor and pack a bite so crisp. Super easy to make and always a hit. Try them now and enjoy with a glass of strawberry lychee soda!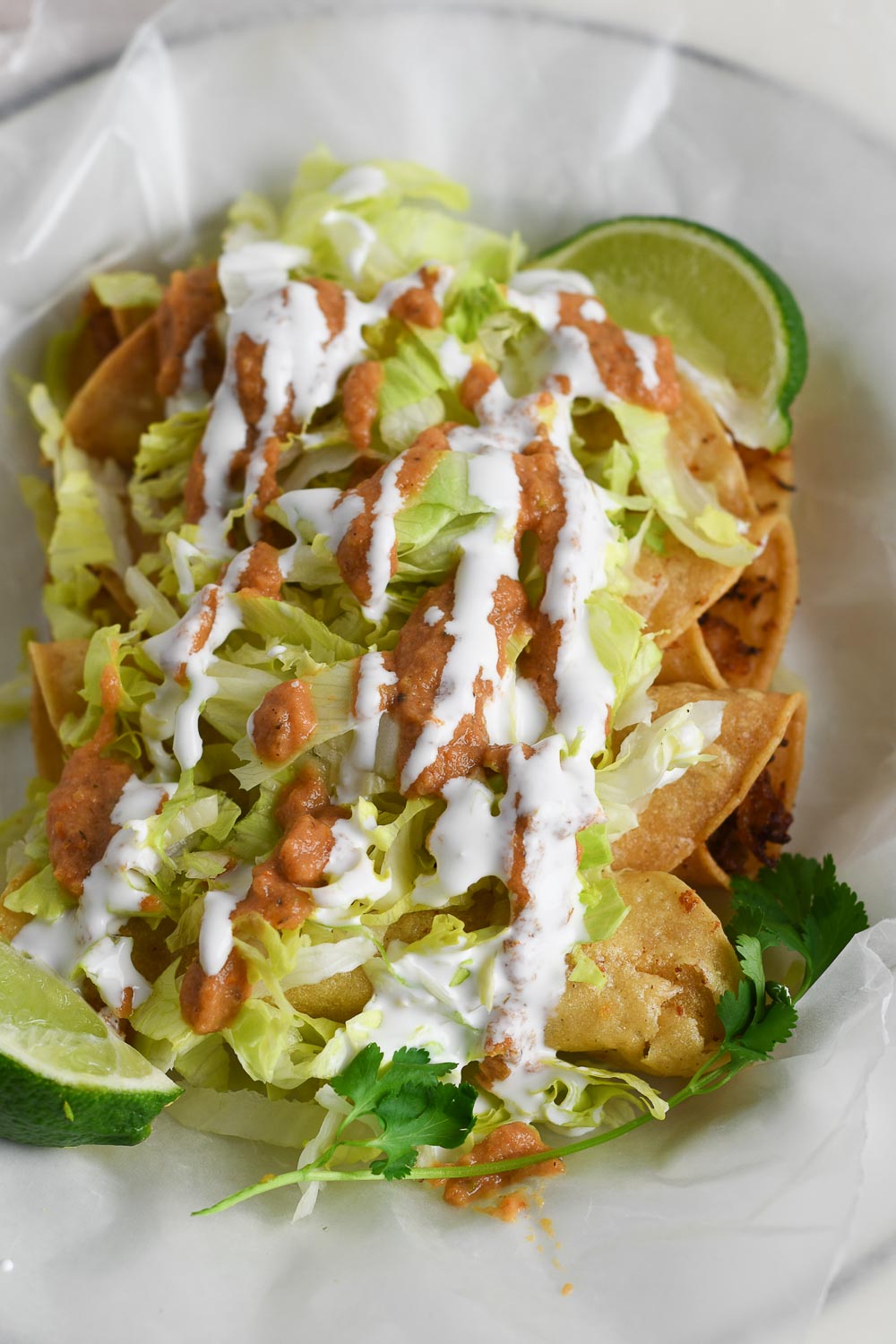 Taquitos vs. flautas
Chicken taquitos, tacos dorados, or flautas Friday? Whatever you call them, they are delicious, and you want to make this chicken and potato taquitos recipe. But first, what is flauta? Flauta is a Mexican dish consisting of a flour tortilla rolled with your favorite fillings and then fried, while taquitos are made of corn tortillas.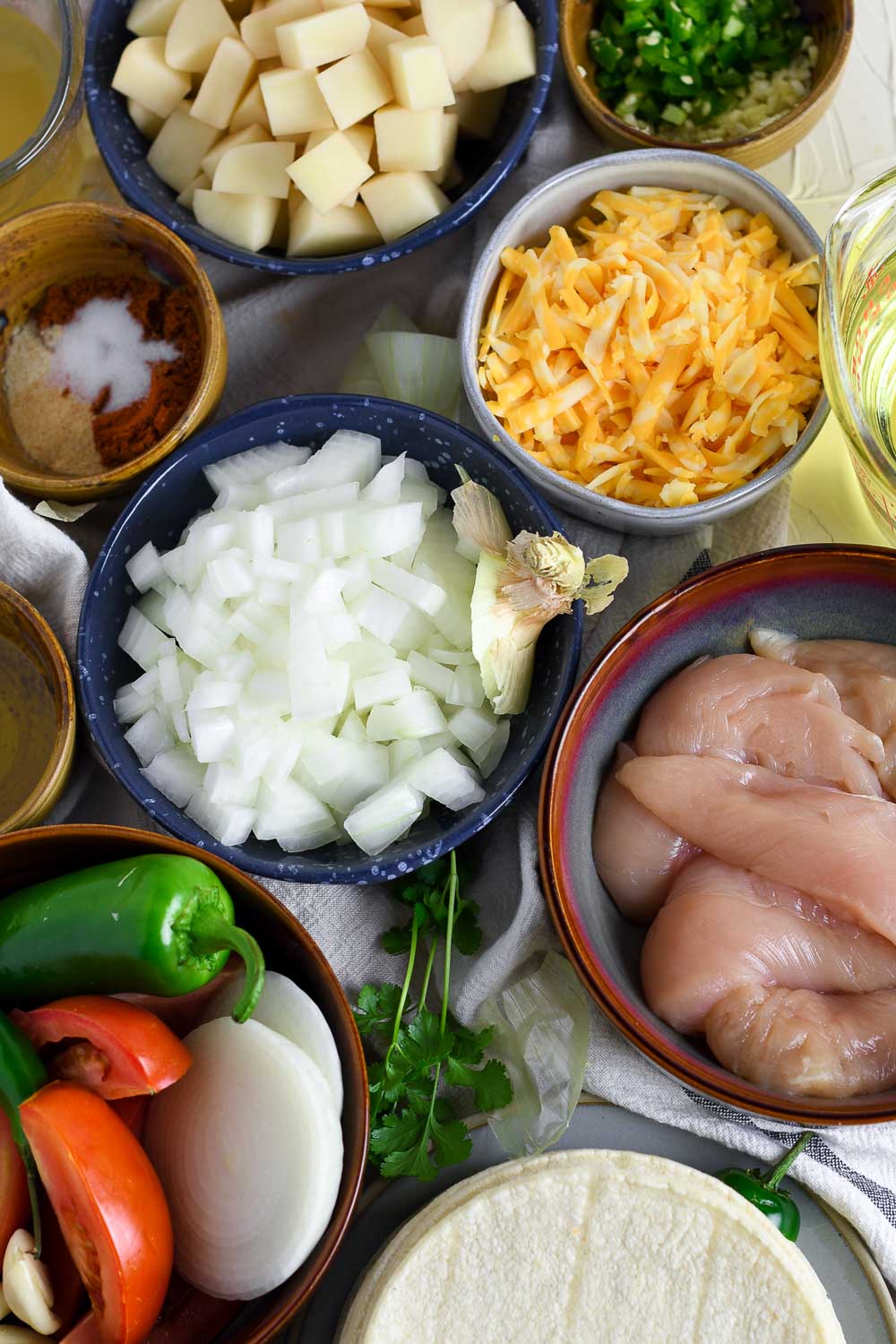 The ingredients
These taquitos are so easy to make, and these are the basic ingredients you need to make them.
Chicken. I use chicken tender pieces for a quick and easy cooking method
Potatoes. Russet potatoes give the best results; however, any potatoes will work
Cheese. I use Colby Jack cheese in this recipe
Tortilla. I use corn tortillas
Herbs, such as onion, garlic, and jalapeno if you like something spicy
Spices, such as cayenne pepper powder, garlic powder, onion powder
Oil for frying
Can I air fry these chicken and potato taquitos?
Yes, although the result will not be as crispy as when they're deep-fried. To air-fry, preheat the air fryer at 400F for 3 minutes. Then, lightly brush or spray taquitos with oil and place them in an air fryer. Cook for 6-8 minutes or until they're golden and crispy to your liking, turning halfway through the cooking time.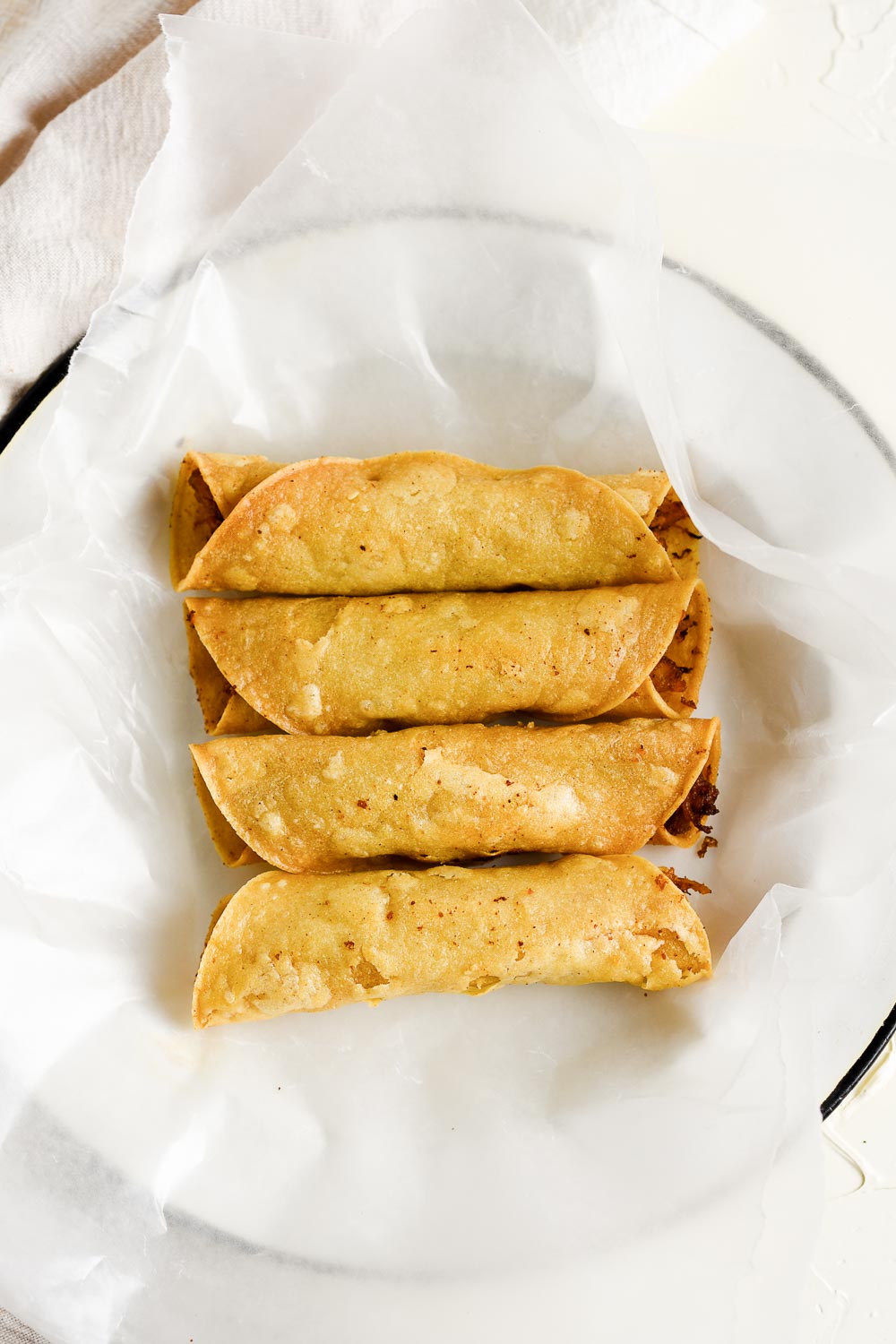 Leftovers and Storing
I doubt there will be leftovers; however, when you do, cooked taquitos will last 3 days in a covered container in the refrigerator, or you can freeze any leftovers you might have. Then, when you're ready to enjoy some more, pop them in an air fryer for 2-3 minutes.
The variations
There are lots of options when it comes to taquitos fillings. You can use:
Steaks – braised beef works well and you just need to shred the meat
Breakfast taquitos with onion, bell peppers, scrambled egg, and sausage
Sweet potato instead of potatoes
Vegetarian taquitos with mushroom or zucchini
BBQ pulled pork with Ranch dressing. Delish!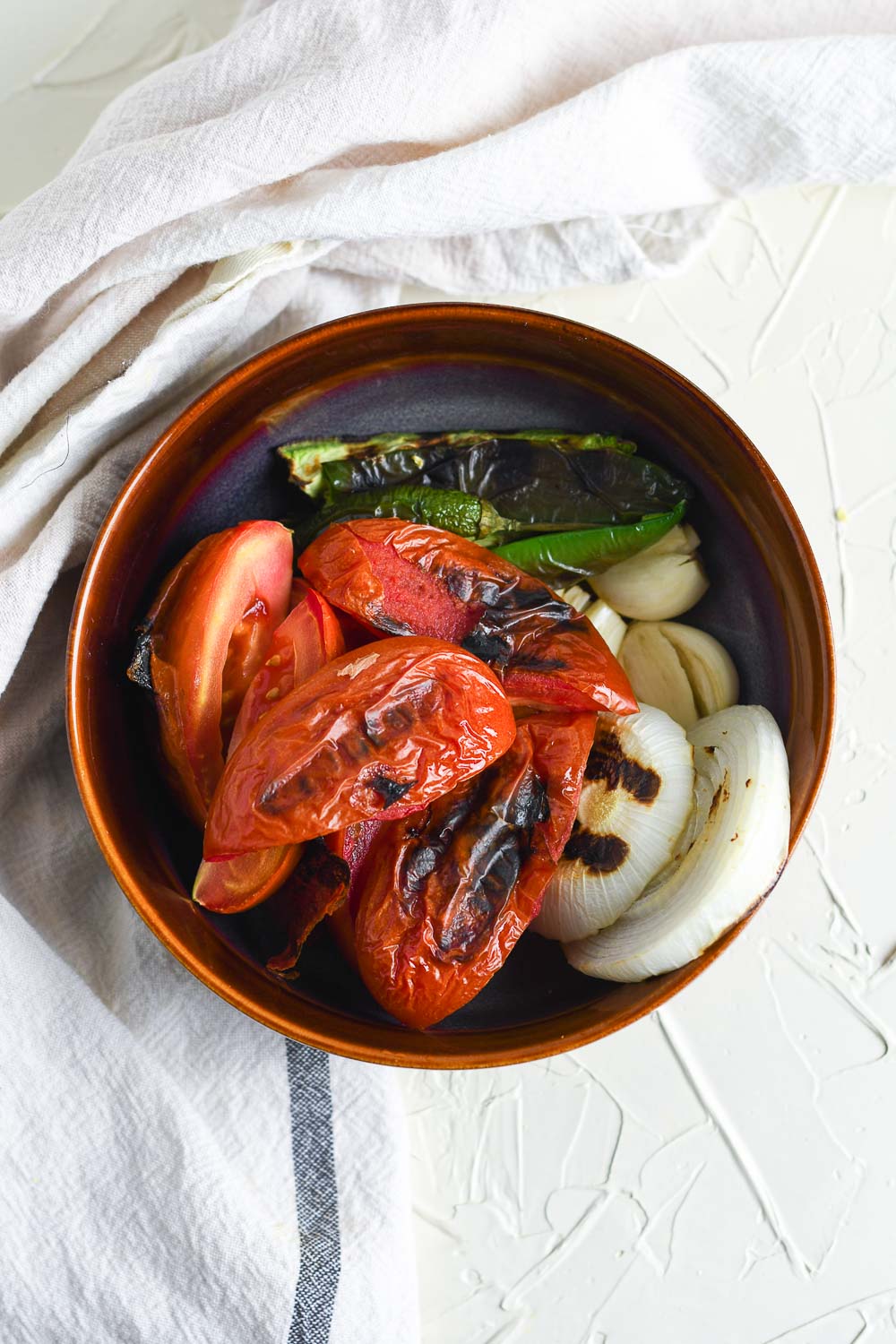 How to serve chicken and potato taquitos
In general, taquitos are an easy alternative to tacos, and they go well with
Salsa. You can make your own or get a store-bought salsa
Avocado, avocado crema, or avocado cilantro dressing
Sour cream
Yogurt
Lime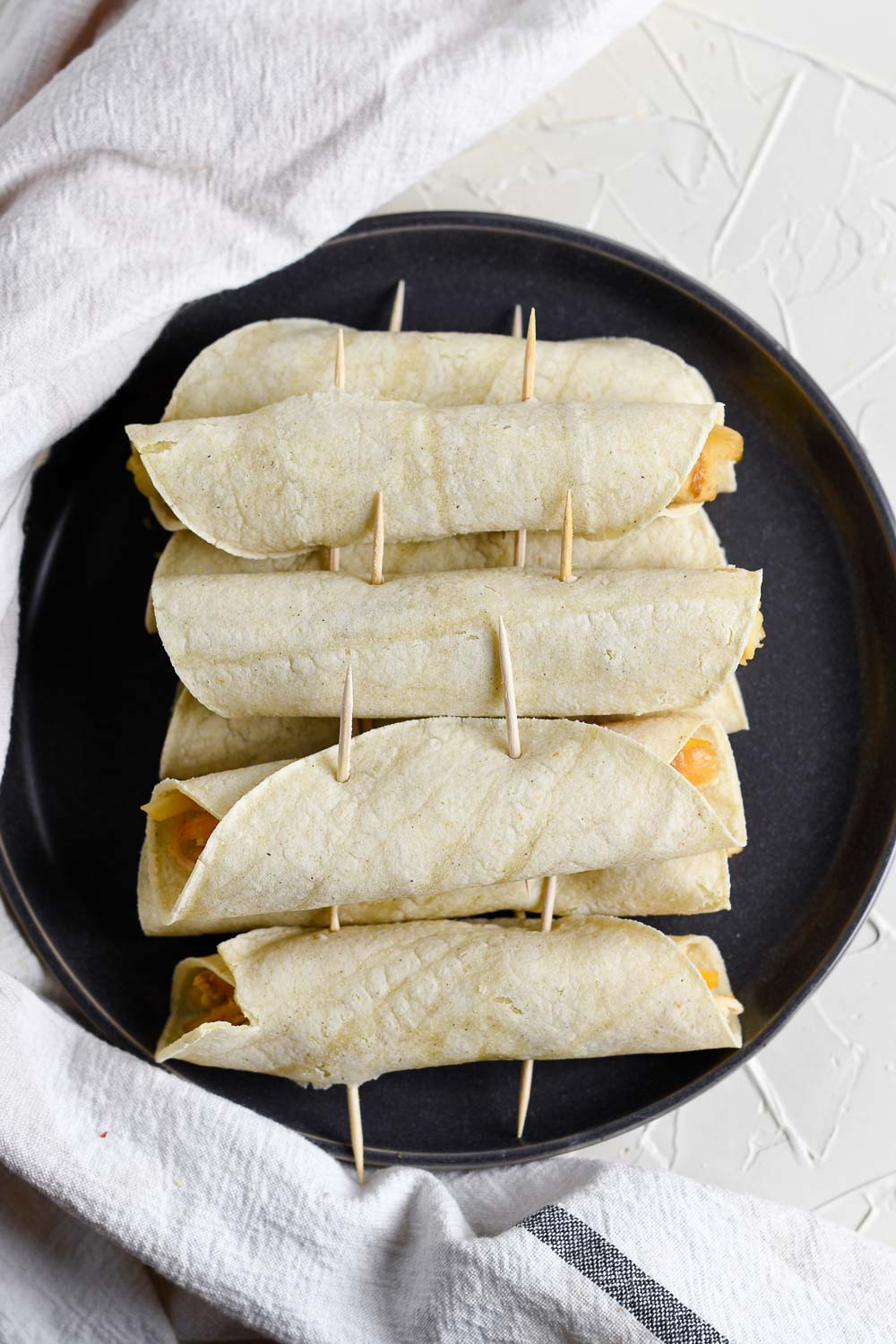 Important notes
Don't overfill the taquitos. Depending on the size of your tortilla, I usually add 1-2 tablespoons of fillings
Don't add too much oil when frying or the fillings will spill
Place taquitos seam side down when you're about to fry them
If you're having trouble closing the taquitos, use tooth picks
These chicken and potato taquitos make an easy appetizer or meal and also happen to go well with strawberry lychee soda any time of the year.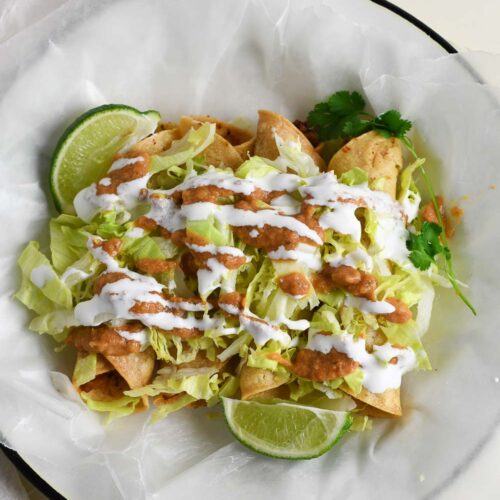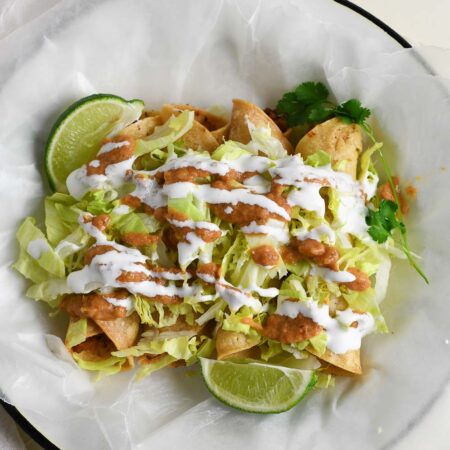 Ingredients
5-6

pieces

chicken tender

1

white onion

cubed

3

russet potatoes

1/2

cup

Colby jack cheese

3

cloves

garlic

diced

1

jalapeno

diced

1

teaspoon

tomato bouillon

1

teaspoon

cayenne pepper powder

1

teaspoon

garlic powder

1

teaspoon

onion powder

2

tablespoons

olive oil

salt

24

ounces

vegetable oil

20-25

corn tortillas
Instructions
Start by boiling 6 cups of water over high heat andsalt the water generously. Peel the potatoes and cut them into cubes. Add themto the boiling water and cook for five to six minutes, or until the potatoesare cooked but still hold their shape. Remove from the water and set aside.

Next, mix the cayenne pepper powder, salt, garlic powder, onion powder, tomato bouillon and 1 tablespoon of the olive oil in a small bowl and then rub it over the chickenuntil all of the pieces are covered in the spice mix.

Heat a large frying pan over medium heat and add the remaining olive oil to it. Next, fry the chicken with the olive oil mix in the panfor about three minutes on each side, remove from the pan and let cool before shreddingthe chicken into small pieces.

In the same pan fry up the onions until they are slightly translucent. Then add jalapeño to the pan and fry. At the last minute add the garlic and fry for thirty second to a minute. Remove the veggies from the pan and set aside.

Smash the potatoes slightly, add in the shredded chicken, shredded cheese and cooked onion mix.Add a dash of salt and pepper and mix the ingredients together until wellcombined.

Heat the tortillas in the microwave for thirty seconds, then flip them over and heat again. If the tortillas are still stiff,heat them for an addition thirty seconds.

Heat a large frying pan over medium heat and add the vegetable oil to the pan. Let heat for a fewminutes while you assemble the taquitos. (To test the oil, drop a small pieceof tortilla into the oil and if it bubbles immediately, then the oil is toohot, reduce the heat and wait for three to four minutes before adding anytaquitos to it. If the tortilla bubbles after a few seconds, then the oil isready.)

Add about a tablespoon and a half of the filling to the middle of the tortillas in a line and rollthem. Close the tortillas with two toothpicks and fry them in the oil for aboutthree minutes on both sides or until they turn crispy on the outsides

Remove them from the oil and set on a paper towel orcookie rack to drain the excess oil. Let cool for two to three minutes before serving with homemade salsa, shredded lettuce and sour cream.