Korean rice cake soup with dumplings (Tteok Mandu Guk) is a soothing and hearty soup. The clear broth signifies purity and the rice cakes symbolize prosperity.
Thick sweaters are out, but cold or hot, I always enjoy this Korean rice cake soup with dumplings. What can I say? I love dumplings, and you can tell from my recipes for crispy golden dumplings, tuna potstickers, or pork and cabbage potstickers. And this cold weather is perfect for a big bowl of dumpling soup.
When I went to Seoul years ago, I had a chance to stop at a famous restaurant for dumplings or mandu in Korean. It's a two-level restaurant where they make fresh mandu on the first floor. The taste was absolutely amazing and since then my love for mandu grew even stronger.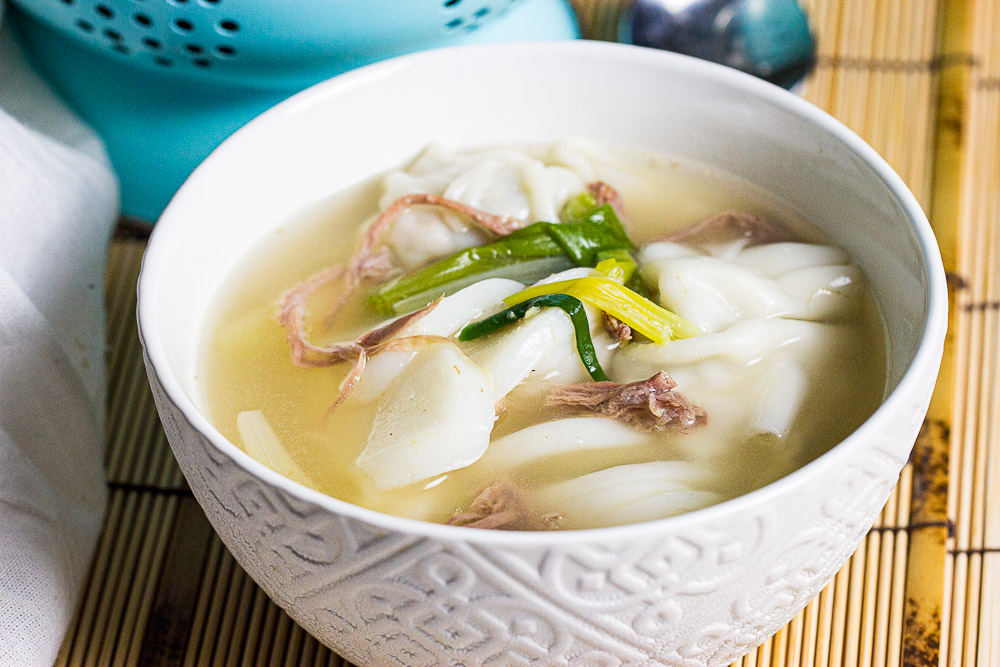 The ingredients
Broth. Clearly, you need a good broth and that takes 1-2 hours to make. However, you can prepare this ahead of time and refrigerate it
Beef brisket. As the base to make the broth
Dumplings and rice cake. Store-bought, both must be served immediately after cooking
Onion, green onion, garlic. They all compliment this soup!
What about the toppings?
There are some ingredients you can add to this soup, such as thinly sliced fried egg, roasted dried seaweed, or shredded cook brisket.
Make sure to separate any rice cakes that are stuck together.
My broth gets too starchy
There are two ways to cook dumplings (mandu) in this recipe. You can cook them in the broth with the rice cake slices; however, this will make your broth thick and starchy. So, you might want to boil them in a separate pot, then add to the soup after the rice cakes are softened.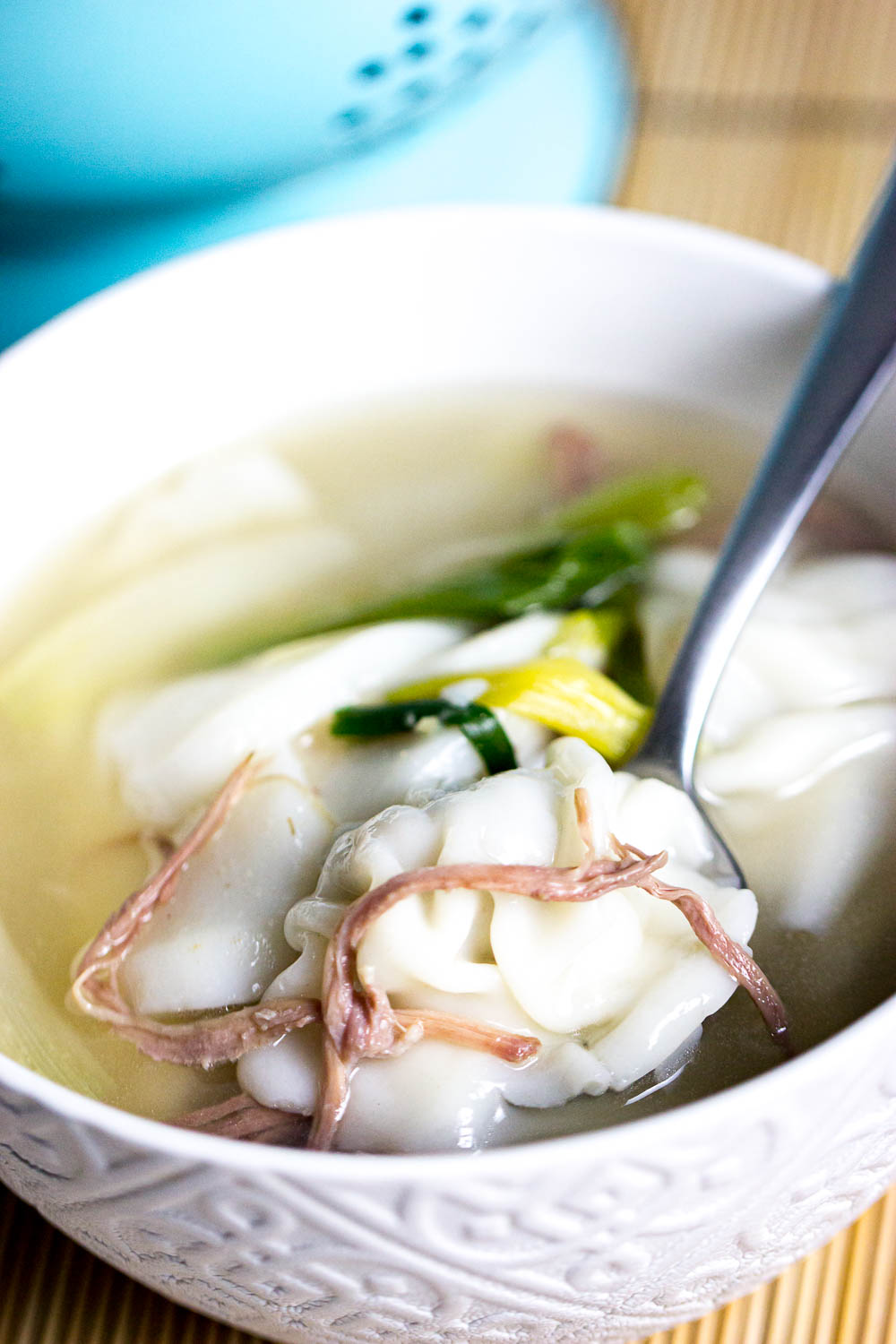 Want more soup recipes?
Sun-dried Tomato Tortellini Soup. If you are looking for a comfort soup recipe, this is it. Garlic and Parmesan cheese make this creamy tomato soup special enough for a celebratory night at home. This creamy tomato tortellini soup is quick, easy to make, and comforting.
Loaded Baked Potato & Cauliflower Soup. This Baked Potato & Cauliflower Soup has a thick and creamy broth that's loaded with onion and bacon. It is the definition of comfort food that also makes a delicious winter-warmer soup.
Mexican Chicken corn chowder. I like to make this smooth, creamy soup when company comes to visit. Its zippy flavor is full of southwestern flair. My family enjoys dipping slices of homemade bread in this chowder to soak up every bite!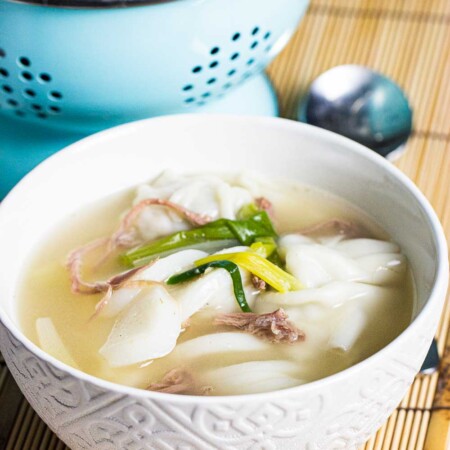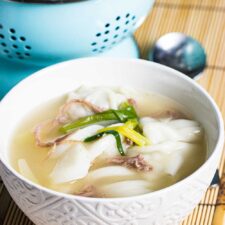 Korean Rice Cake Soup with Dumplings (Tteok Mandu Guk)
Korean rice cake soup with dumpling (Tteok Mandu Guk)

is a soothing and hearty soup. The clear broth signifies purity and the rice cakes symbolize prosperity.
Print
Pin
Rate
Ingredients
500-

gram

beef brisket

10

cups

water

1

medium onion

sliced

8

stalks green onion

cut into 5

5

cloves

garlic + 1/2 teaspoon minced garlic

400-

gram

Korean rice cakes

10-12

dumplings

1

tablespoon

tamari soy sauce

Salt

to taste
Toppings:
Fried egg

thinly sliced

Green onion

green part only, thinly sliced

Roasted dried seaweed

cut into thin strips

Shredded cook brisket

season with 1 tablespoon sesame oil
Instructions
In a pot, combine beef brisket, water, onion, green onion, and garlic cloves. Cook over medium-low heat for about 1.5 hours. Skim off the foam. Discard the vegetables, keep the stock, and set aside the meat from the stock. Shred the meat using a knife or hands and add sesame oil to the meat.

Soak the rice cakes in cold water for 15 minutes. Discard the water after 15 minutes. Meanwhile, prepare the toppings.

Boil the dumplings in a pot. Set aside.

Boil the stock in a clean pot. Add minced garlic, soy sauce, rice cakes, and dumplings. Cook for 2-3 minutes. Adjust the taste by adding salt and add a pinch of black pepper. Serve the soup in a bowl and add toppings.