This miso pesto ramen is the perfect weeknight dinner. Easy to prepare, packed in healthy colorful veggies, and full of umami flavor.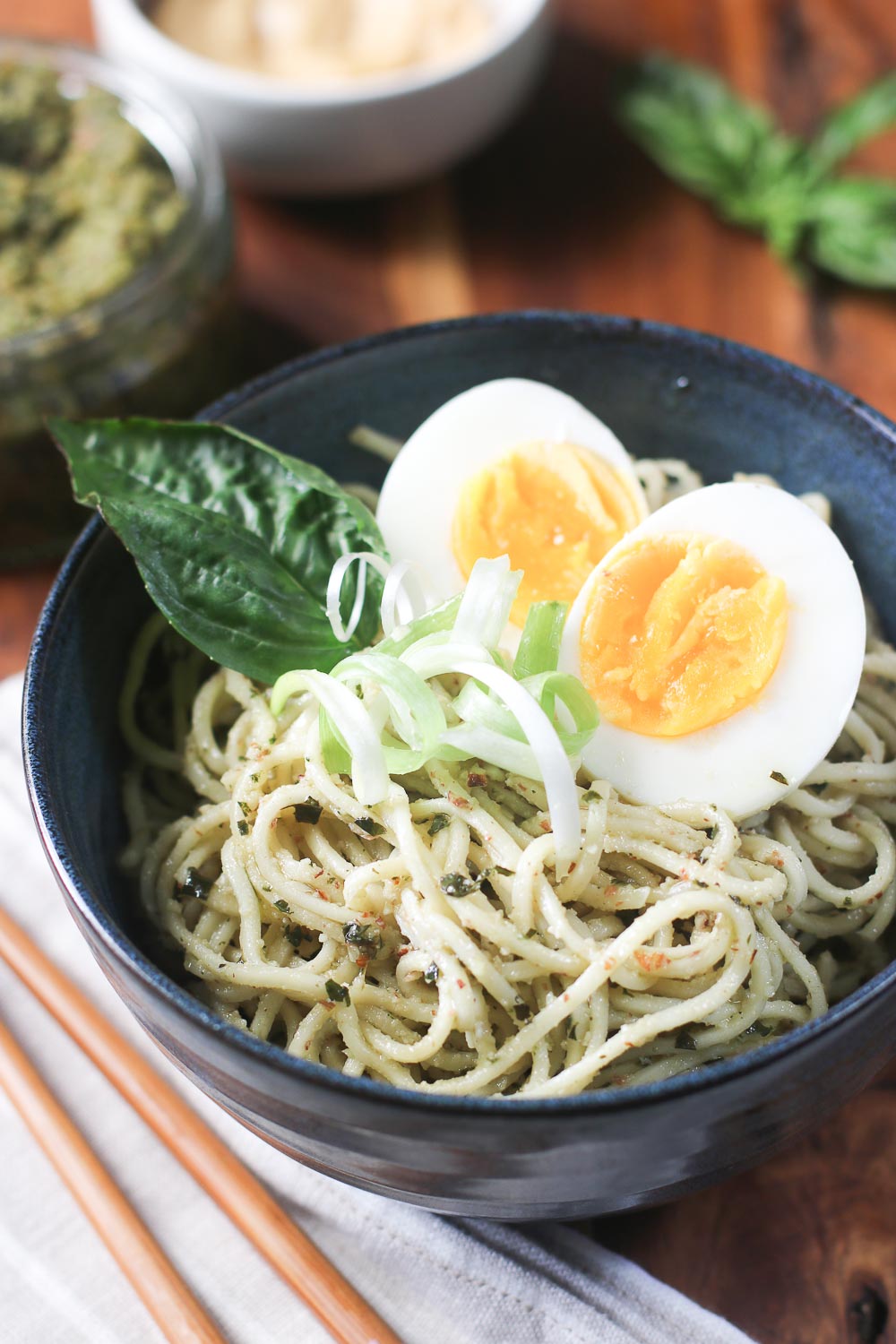 What is one of the all-time greatest comfort foods? For me, that's pasta, noodles, or ramen. An easy answer and pretty classic if you grew up in Asia. While I'm currently still on vacation, you can follow me along on InstaStory, but I already have this in mind for what I'm gonna make when I'm back in the kitchen. Hopping from one county to another in Europe is fun and travel exposes me to new cultures, cuisines, and landscapes, and pries me out of my comfort zone, which is good. But I do find myself missing comforts from back home, like this good homemade miso pesto ramen.
Once upon a time, I made ramens like Spicy Soupless Ramen or Tom Yum Noodle Soup.
Once upon a different time, I made pesto-like what I had over pasta.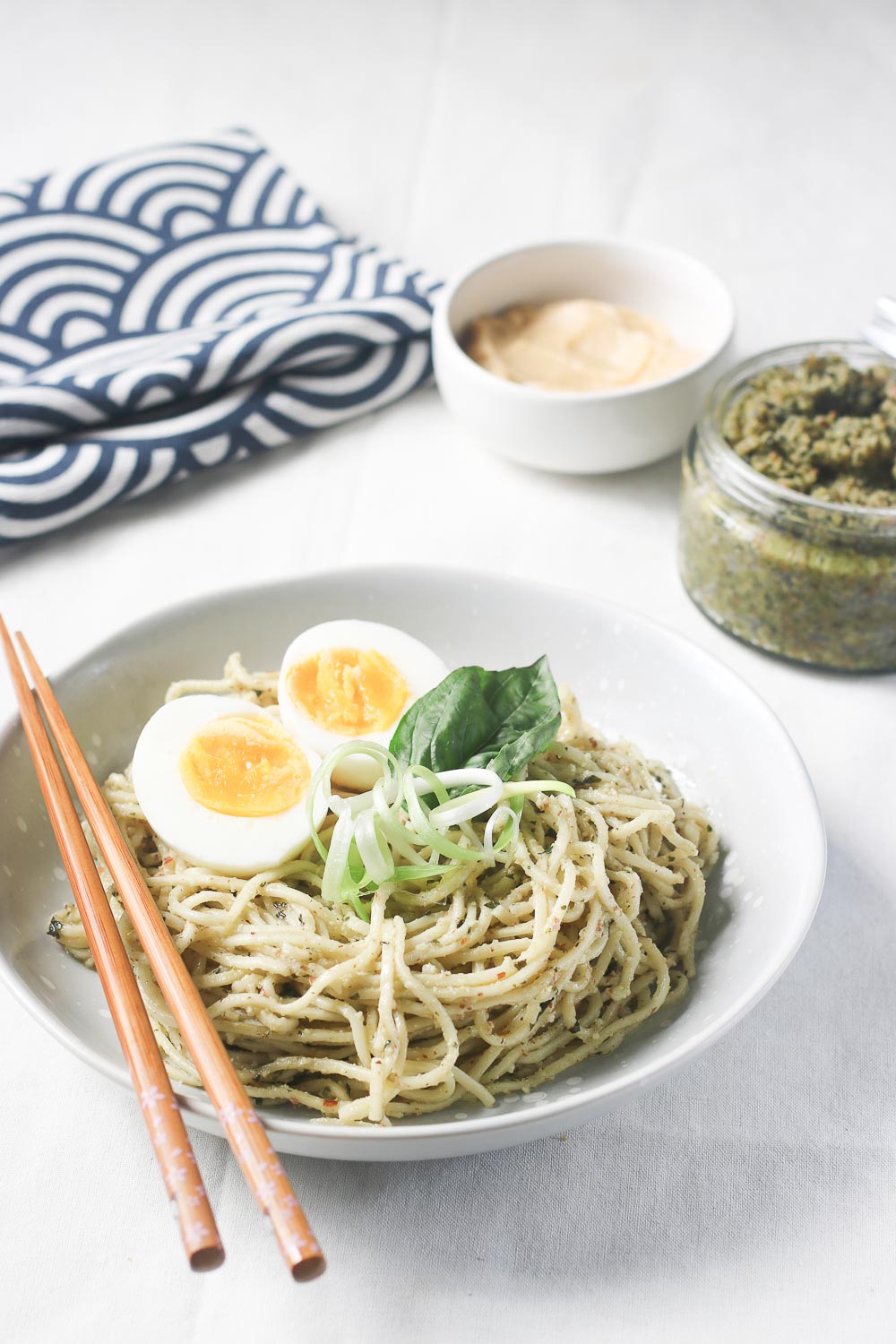 So I played matchmaker, and (as you might have noticed from picture number one with the giant bite) I am super happy with the results! You should be happy too because this ramen is not your regular ramen. It's a combination of both worlds. East meets West. Miso meets Pesto.
Yaizzzzz…..meet your new obsession here.
Miso Ramen. Or Me so ramen.
The ingredients for Miso Pesto Ramen
I use a combination of store-bought ramen and homemade pesto. Like my previous pesto recipe, the secret to this is fresh herbs. I love fresh herbs and it does make my dish tastes tastier and more flavorful.
Miso. I use white miso in this recipe and click here if you want to learn more about miso
Ramen. Any ramen works or instant noodle with no seasonings
Pesto. I add homemade pesto in this recipe, which you can find here
Olive oil
But, I don't have pesto
Worry not! This recipe works well with just ramen and miso, or what I call miso ramen. If you plan to make miso ramen instead, I suggest using unsalted butter instead of olive oil. And add Parmigiano Reggiano cheese on top. To make it extra special, sprinkle furikake and top with a fried egg. Delicious!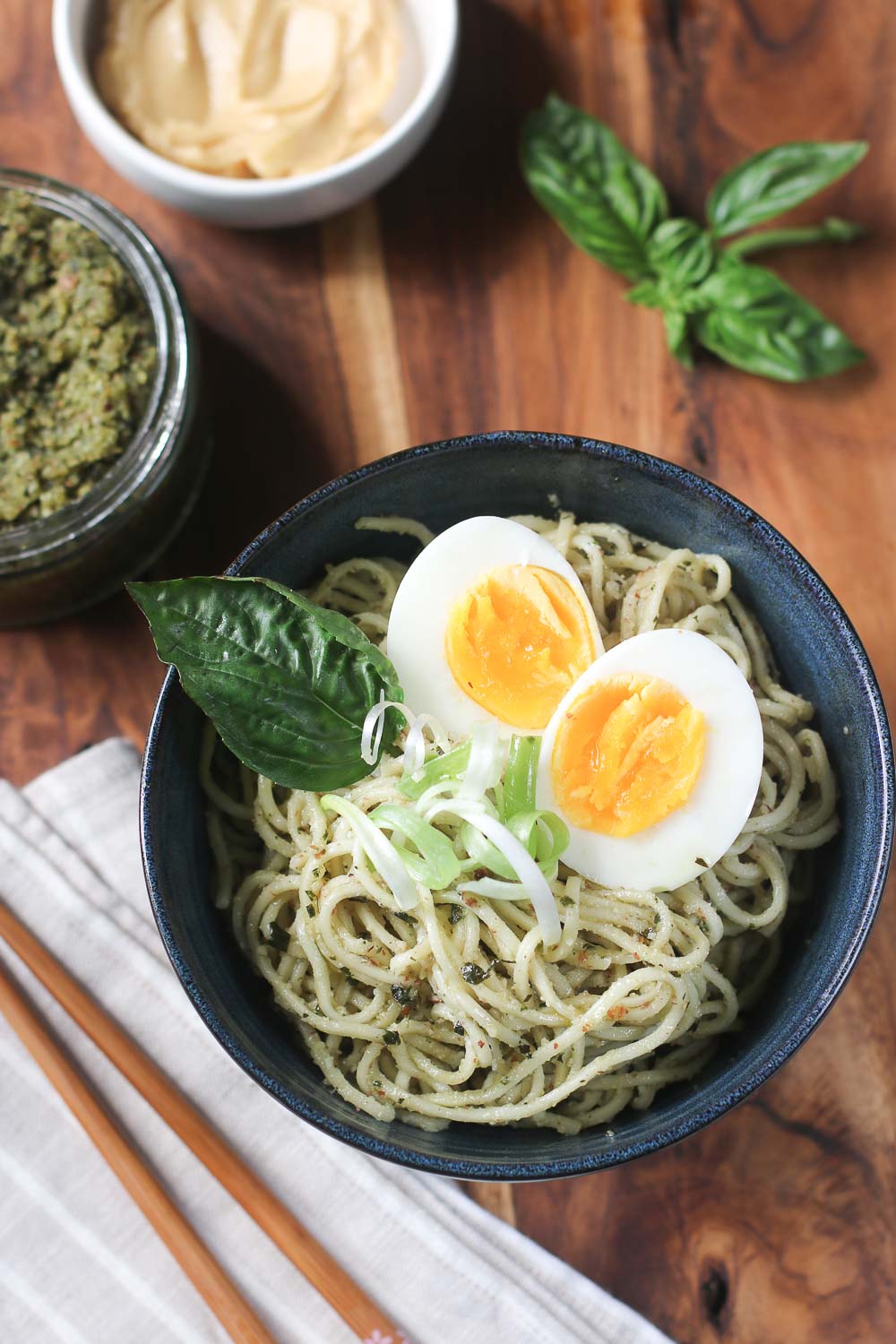 What other ingredients can I add?
You can add grilled asparagus, mushrooms, fried egg, tofu, and so much more. If you like spicy, try adding chili garlic sauce (sambal oelek) or sriracha.
This makes for a great meal stealer. So I suggest doubling up your pesto recipe and store it in the fridge. That's what I call two for the price of one.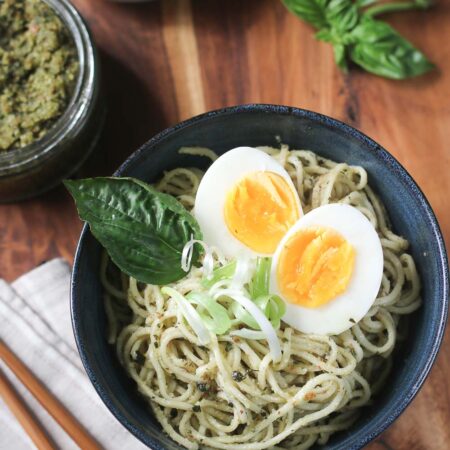 Miso Pesto Ramen
This miso pesto ramen  or Me-so Ramen is the perfect weeknight dinner. Easy to prepare, packed in healthy colorful veggies, and full of umami flavor.
Print
Pin
Rate
Ingredients
1

tablespoon

white miso

2

tablespoons

pesto

5

tablespoons

olive oil

2

packages ramen
Instructions
Combine the white miso, pesto, and olive oil.

Cook ramen according to the packaging direction and combine with 2 tablespoons of miso pesto.