Winter comfort food that is healthy and satisfying – Mushroom Ginger Oatmeal Congee. This recipe requires minimal preparation and can be ready in less than 30 minutes. Perfect for cold & flu season!
Okay kids, how cozy is this? If you enjoy this bubur ayam (chicken congee) recipe, then you will love another congee version. Except for this time, it's savory oatmeal congee with crispy mushrooms, ginger, and chicken broth. It's so comforting and filling, and my go-to meal when the weather is cold.
Why you need to try this recipe
I can give you a long list of why you need to try this savory oatmeal congee, but let me sum it up to these:
Comforting. This Asian-inspired savory porridge is so comforting and will make you feel cozy after a bad day.
Customizable. This recipe is meat-free and perfect for Meatless Monday; however, you can add shredded chicken or minced beef.
Flavorful even with simple ingredients. It has lots of texture from crispy mushrooms, fried egg, to umami sauce.
Not a morning person? Make a slow-cooker oatmeal congee version so you can have it ready when you wake up.
What is congee?
Congee is a rice porridge with a thick or thin consistency. There are many kinds of congee types. Some food hawker places in Indonesia have a thicker consistency congee while you'll see a thinner consistency in food stalls in Hong Kong. They both taste delicious and perfect for breakfast or dinner, or when you're not feeling well.
Today's congee recipe is even better because I'm making cozy savory oats congee using steel-cut oats. And when cozy is the name of the game and healthy-ish is in the mix somewhere, this savory oatmeal congee becomes everything.
The ingredients
It starts with the standard comforts of chicken broth and steel-cut oats but also includes:
Oats. I use steel-cut oats in place of the rice
Ginger to give a pungeant spicy aroma
Mushrooms. I use a combination of oyster and maitake mushrooms
Fish sauce and soy sauce. Note that I use two different types of sauce. They each have slightly different tastes and textures; however, they give a savory depth of flavors when combined
Green onion to give a somewhat peppery flavor
Sesame oil to saute the ginger
Freshly ground white pepper
Optional: fried egg, chili oil
How to make mushroom ginger oatmeal congee?
First, prepare a medium pot and add the ginger to the pot. Cook until fragrant for a few minutes with sesame oil. Then add chicken broth and steel-cut oats; stirring occasionally until the oats are cooked. Add in fish sauce, soy sauce, and white pepper
While the oats are cooking, air fry the mushroom. Sprinkle the chopped mushrooms with garlic salt and toss them in all-purpose flour. Arrange the mushrooms in the air fryer basket. Spray lightly with canned olive oil. Fry for 10 minutes at 350F or until they turn crispy. Note that each air fryer has different setting for heat
Make a sunny side-up egg in a medium nonstick skillet over low heat. Crack an egg and add it to the skillet. Cover with a tight lid and cook, uninterrupted, until the whites are completely set but the yolks are still runny, about 2 1/2 minutes
To serve: transfer oatmeal congee to a bowl, top with green onion, crispy mushroom, fried egg, and drizzle with chili oil
Expert tips
Depending on how you like the consistency, you can add more broth to the pot.
Quick-cooking oats or regular rolled oats won't work for slow-cooker overnight oatmeal congee since it will get mushy. Instead, use only steel-cut oats like these.
Some slow cookers give a setting to switch to "off" or "keep warm" after the cooking time is through to prevent overcooking or burning. If your slow cooker doesn't give that open, I suggest you make the slow cooker oatmeal congee during the day and then reheat it the next morning.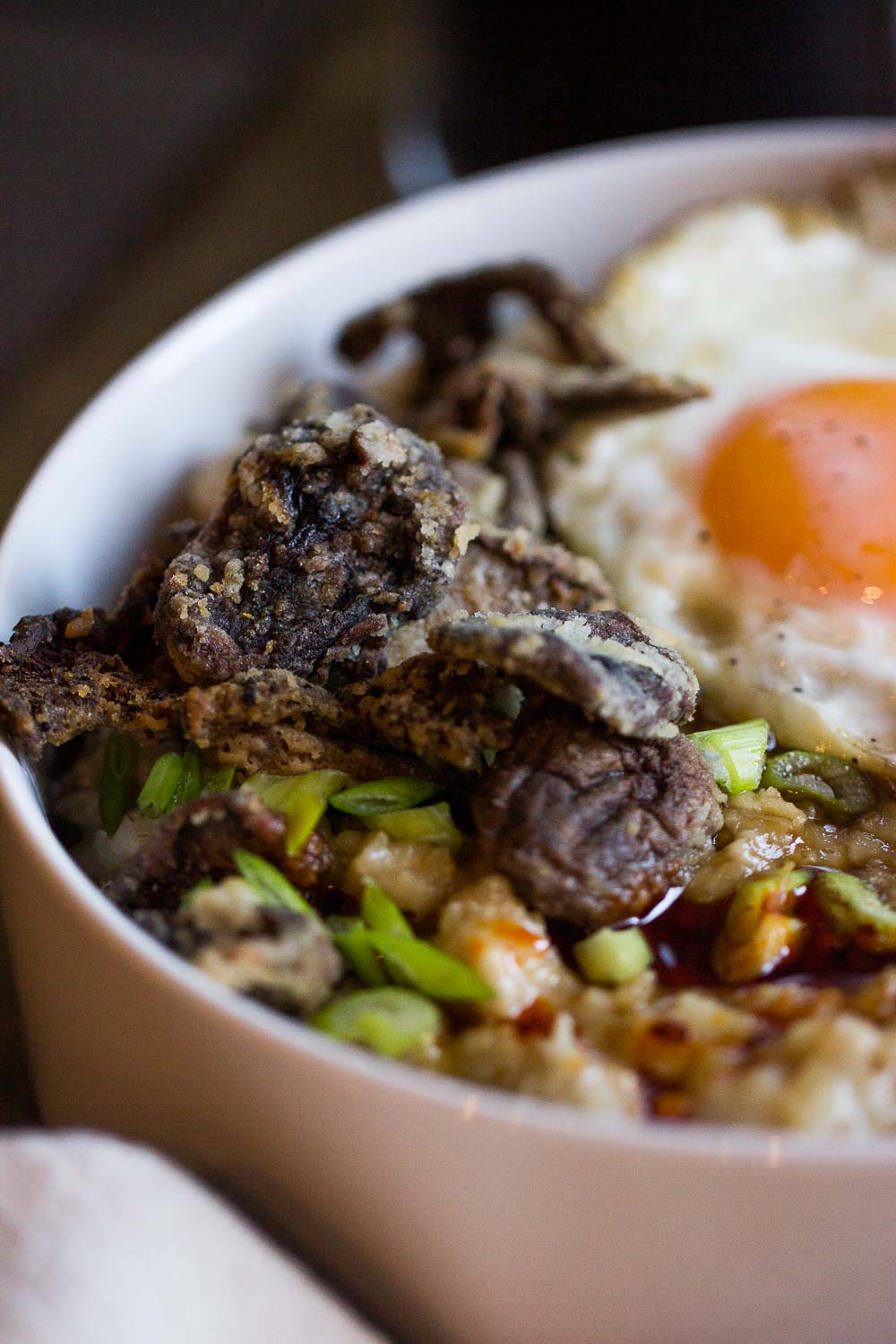 What are some topping options for mushroom oatmeal congee?
Chinese donuts
Leftovers rotisserie chicken, shredded
Hot pepper flakes
Fried tofu
Fresh cilantro
Fried onions
Slow-cooker oatmeal congee
If you're not a morning person, then making overnight oatmeal congee in the slow cooker solves the problem and lets the magic happen in the slow cooker overnight. To make it, double the amount of oats, ginger, sesame oil, chicken broth, fish sauce, and soy sauce.
Combine steel-cut oats with sesame oil, ginger, chicken broth, soy sauce, and fish sauce in the bottom of a 4-to-6-quart slow cooker and stir to combine
Cover and cook on low for 7-8 hours (overnight) or on high for 4 hours, until the oats are soft but maintain a bit of chew. Remove cover and stir to evenly combine the ingredients. Enjoy it warm with desired toppings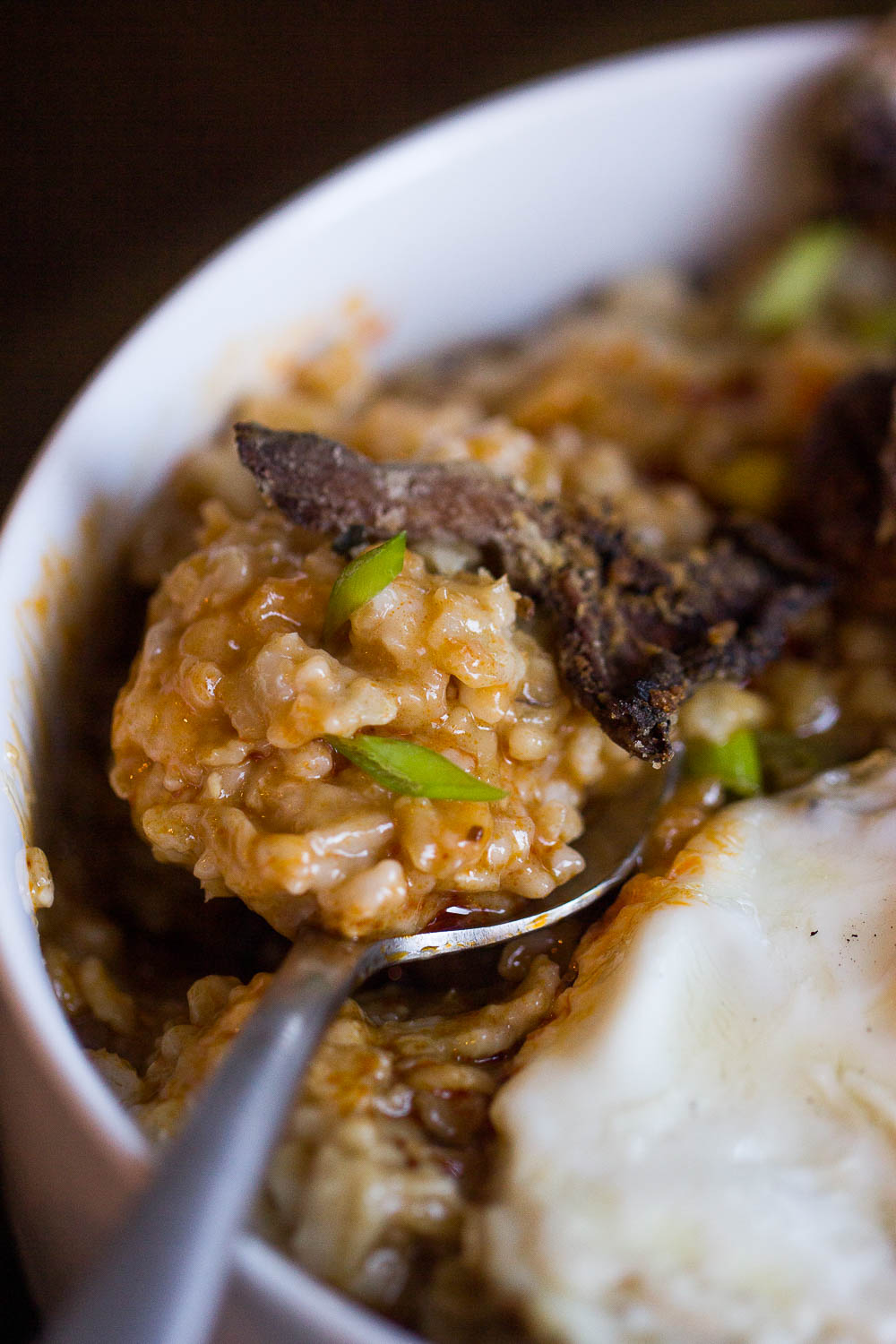 Storing
Stove-top oatmeal congee can be refrigerated for up to 3 days; however, slow-cooker overnight steel-cut oats can be refrigerated for up to 1 week or stay frozen for up to 2 months.
To reheat, top desired amount with a few tablespoons of water or broth. Warm it in the microwave or in a small saucepan until warm enough to eat. Be sure to let it thaw overnight in the refrigerator if the oatmeal is frozen.
Looking for more breakfast ideas?
Savory oatmeal with mushrooms is one of my favorite underrated breakfasts. If you like big flavors. And if you like topping options galore. Plus if you like recipes that come together in a hot second. YOU CAME TO THE RIGHT PARTY.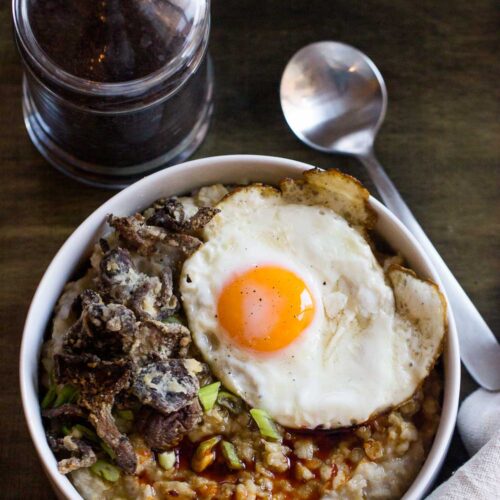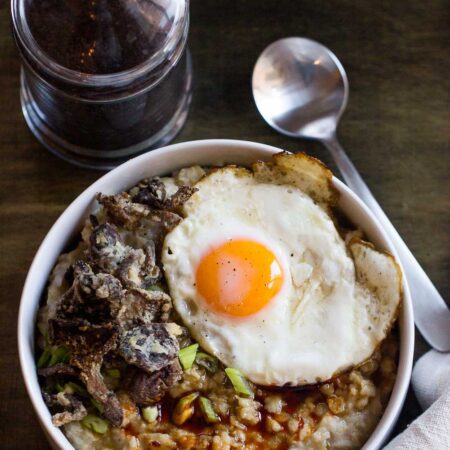 Mushroom Ginger Oatmeal Congee
Winter comfort food that is healthy and satisfying – Mushroom Ginger Oatmeal Congee. This recipe requires minimal preparation and can be ready in less than 30 minutes. Perfect for cold & flu season!
Print
Pin
Rate
Ingredients
Oatmeal congee
1

cup

steel-cut oats

2¼

cups

chicken broth

1

teaspoon

fish sauce

to taste

1

tablespoon

soy sauce

to taste

1

inch

fresh ginger

peeled and minced

1

tablespoon

sesame oil

Dash of

white pepper

Green onions

sliced for garnish
Air fryer mushroom
8

ounces

assorted mushrooms

1

tablespoon

garlic salt

1

can

olive oil
Fried egg
2

eggs

1

teaspoon

olive oil
Instructions
Oatmeal congee
In a small pot, add sesame oil and ginger; then cook for 2-3 minutes

Add rolled oats and chicken broth. Bring to a boil, then lower the heat to a simmer. The oats will be cooked through and begin to thicken. Continue cooking until the oats are cooked or until you reach the consistency you want, about 15 minutes

Add fish sauce, soy sauce, and white pepper. Stir, and garnish with scallions
Air fryer mushroom
Sprinkle chopped mushrooms with garlic salt and toss them in all-purpose flour. Arrange the mushrooms in the air fryer basket. Spray lightly with canned olive oil. Fry for 10 minutes at 350°F or until they turn crispy
Fried egg
Add butter to a medium nonstick skillet over low heat. Crack an egg and add it to the skillet; then add another egg to a skillet. Cover with a tight lid and cook, uninterrupted, until the whites are completely set but the yolks are still runny, about 2½ minutes
To serve
Transfer oatmeal congee to a bowl, top with green onion, crispy mushroom, fried egg, and drizzle with chili oil