Need a quick weeknight meal? Try this easy Tom Yum Fried Rice, that you can make using ingredients from your pantry and freezer. Easy, quick, and yummy!
I've been on a virtual trip to Thailand recently … since March is known as #FrozenFoodMonth. Remember these Pad Thai Spring Rolls I made the other day? Well, I have another amazing Thai recipe today. It started out when my bestie and I had a fun conversation about traveling and endless eating. Then, Thailand popped up!
The hubs and I had a short trip to Bangkok near the end of 2015 (gosh it feels like we just went there yesterday). It was a fun, too short kind of trip. We had some hiccups while we went to Pattaya but overall it was a nice relaxing trip. And the food, oh gosh, I would go back to Thailand just for the food. I remembered we started our culinary journey the minute we landed there and we did not stop until we left Bangkok. In case you missed it, check out my post about Bangkok here. My only regret was not taking my camera with me and relying heavily on my cell phone to take pictures because I knew I would be busy eating … and shopping.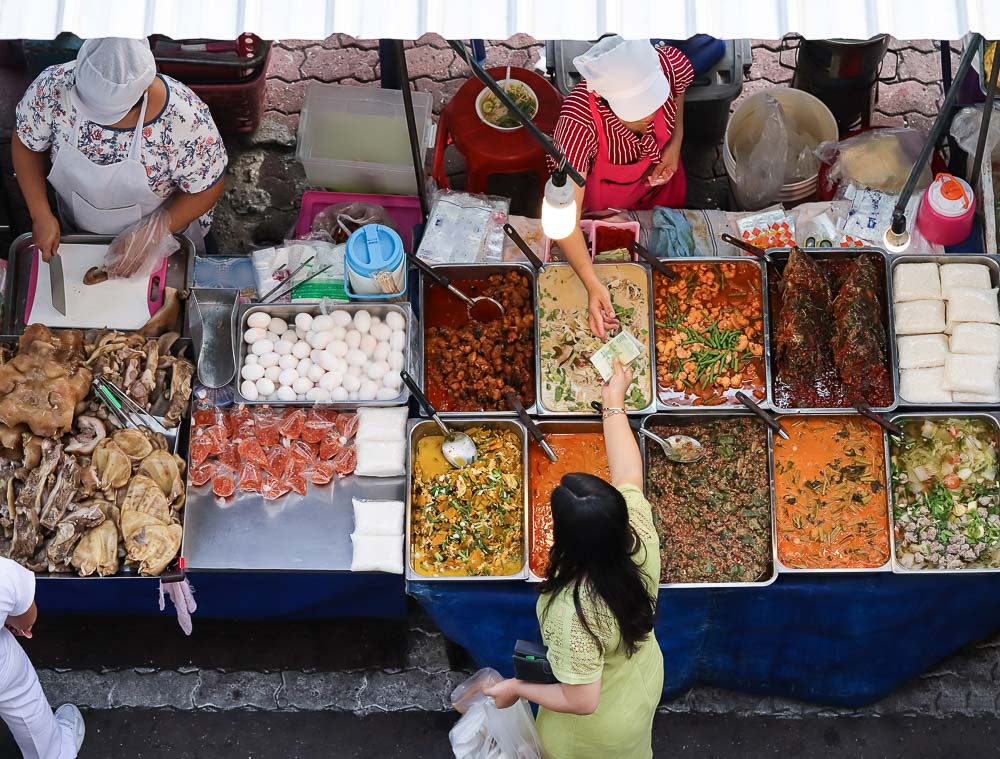 Three things I missed so much about Thailand.
Pomegranate Pressed-Juice. This is a must-have when you visit Thailand. You can spot them after 5 pm in shopping carts along the streets in the Pratunam (shopping) district. The pomegranate juice is so fresh and only costs $1 per bottle.
Durian. This is the King of fruits and I must say Thailand is so fortunate to have this hmmm…aromatic fruits at a very decent price. In short, I'm jealous and I'm now craving it.
Tom Yum. I've tried Tom Yum in so many different places and of course, going to the source is always the best option. They use authentic fresh Thai basil, lime leaves, and tamarind to make Tom Yum extra flavorful.
So to satisfy my craving for some Tom Yum, I made Tom Yum Fried Rice the other day. I love fried rice. It's the easiest dish ever and it's perfect because I had a few frozen ingredients to use up. The secret to making good fried rice is using 2 or 3 days old rice, so be sure to keep some leftovers in the fridge. I have used a combination of prawns, chicken, and veggies because colorful dishes look more appetizing and flavorful. Lucky me, I can get all of these ingredients easily at Smart & Final so I don't need to travel all over. One thing I love about Smart & Final is you can get fresh ingredients at a warehouse price. It's like hitting a jackpot, friends!
I first start with making a paste for my Tom Yum. You can also use a store-bought one in any Asian grocery store. Once you have your paste ready, you can start adding your ingredients in. I used raw shrimp, but you can also use cooked shrimp. They both taste the same, except cooked shrimp is ready faster. As for vegetables, I used a combination of California blend and mixed veggies to make my fried rice more colorful and flavorful. FYI, you can get all these ingredients from the frozen food section. And that's a good excuse to pile up on that frozen food from Smart & Final at home.
So, there you go … a virtual trip to Thailand, ready in 15 minutes (unless you make your own paste). Until then, let's play Frozen is Fresh Sweepstakes and you might win a cruise to Alaska. Check out this link for more information.