Savory, delicious, and healthier, Bulgogi Casserole is an easy dinnertime recipe that everyone will love. It is made with simple ingredients and the ultimate comfort food. Plus, you can enjoy this for brunch, too!
I was asked by Carusele to participate in the #LaurasLean campaign, sponsored by Laura's Lean. Although I have been compensated, all opinions are my own.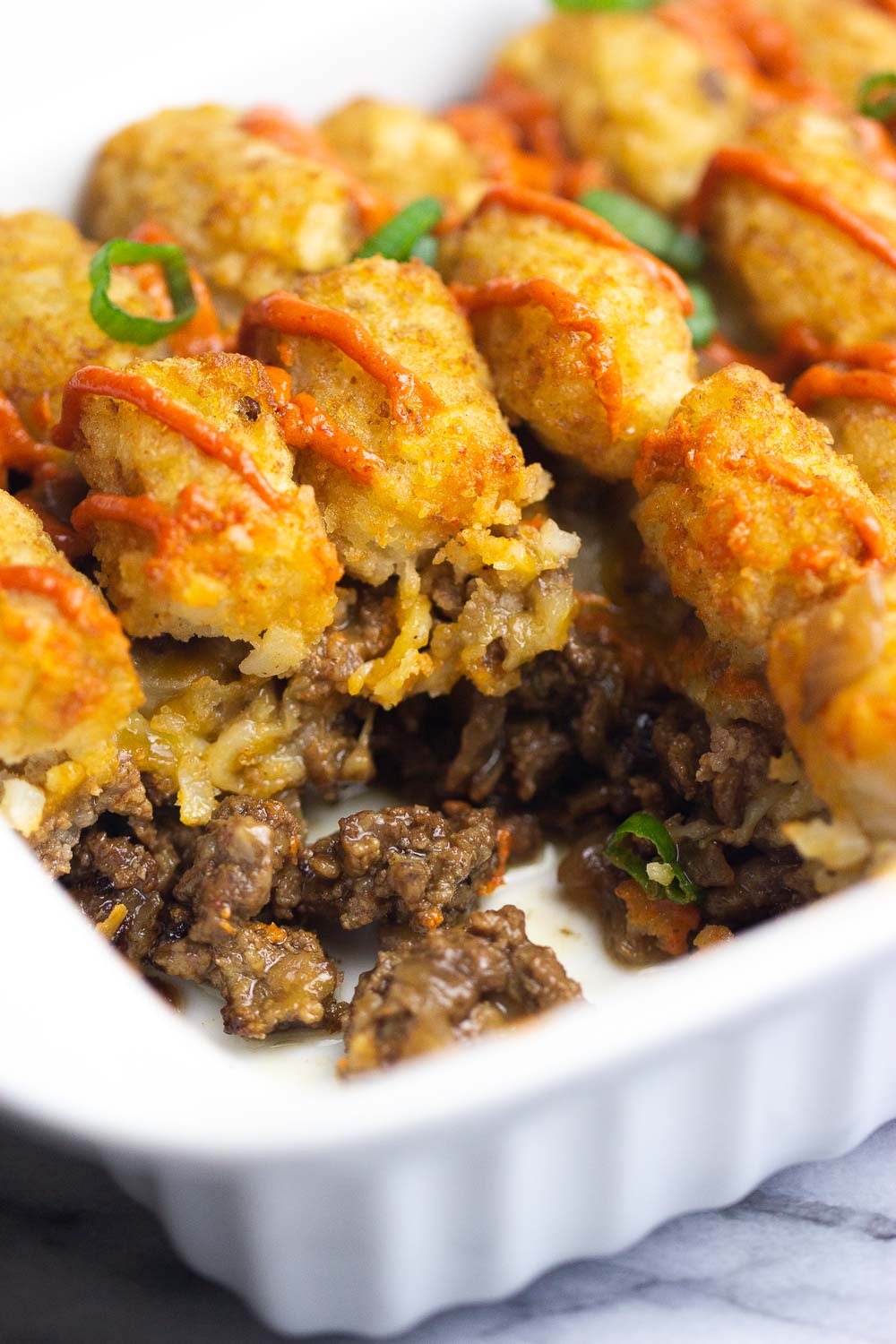 Why This Is an Amazing & Healthier Bulgogi Crispy Potato Round Casserole
In my house, we enjoy having beef as our protein. We love cooking up some Taiwanese Meat Sauce with a side of Tuna Potstickers or freezer-friendly Meatloaf Wellington. Thanks to Laura's Lean because when it comes to beef as my main ingredient, I don't need to look for others.
According to USDA rules, beef can be considered and labeled "natural" as long as it contains no artificial ingredients and is minimally processed. This definition includes most grocery store-bought fresh beef. However, Laura's Lean product is unlike most other "natural beef." It's a "Never Ever" offering, which means that it is sourced from suppliers who do not use added hormones or antibiotics to raise their cattle.
All of Laura's Lean products have to meet the strict USDA standards to qualify as being lean. Every 4oz serving must contain less than 10g fat, 4.5g or less of saturated fats, and less than 95mg of cholesterol. Additionally, Laura's Lean 96% Ground Beef meets the standards set by the American Heart Association's heart-check program and is classified as Extra Lean by the USDA standards.
When you choose Laura's Lean products, you get the best of both worlds of taste and nutrition for your family to enjoy. And that's why this is an amazing bulgogi tater tots casserole you need to try!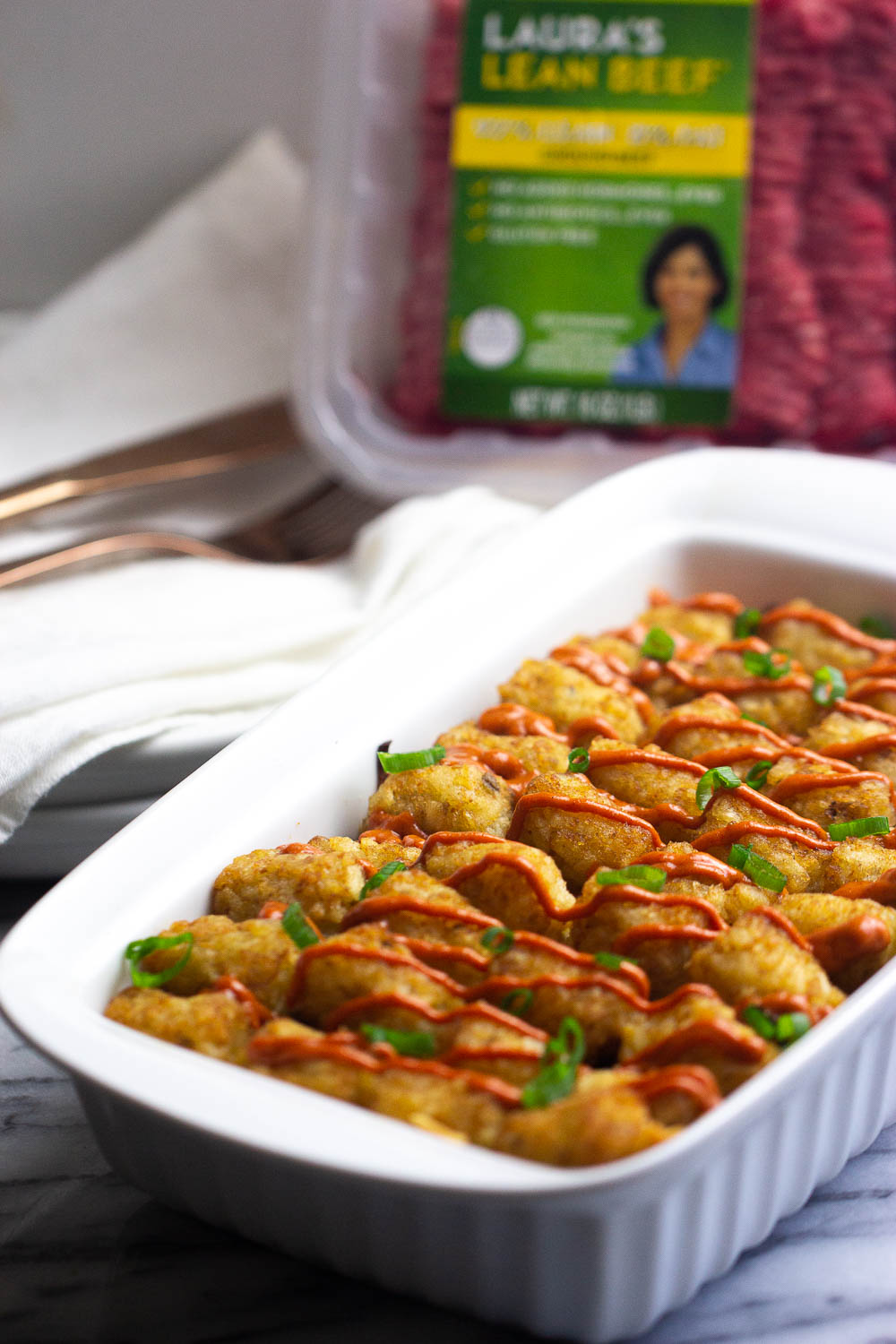 What is Bulgogi Casserole
Life is different after having kids and especially in this current situation where we have limited outdoor exposure. So, between family and work, I need to be more creative when it comes to meal prep.
One of the most amazing things about casseroles is that they are made with easy ingredients, cost inexpensive, fast, convenient, and filling. This bulgogi casserole meets all the requirements! It's the best bulgogi crispy potato rounds casserole recipe you will ever have! It's easy to put together, it's great to serve a crowd, and it's loaded with all that Korean flavor and flair you love! Plus, add a sunny-side-up and you get yourself a bulgogi breakfast casserole.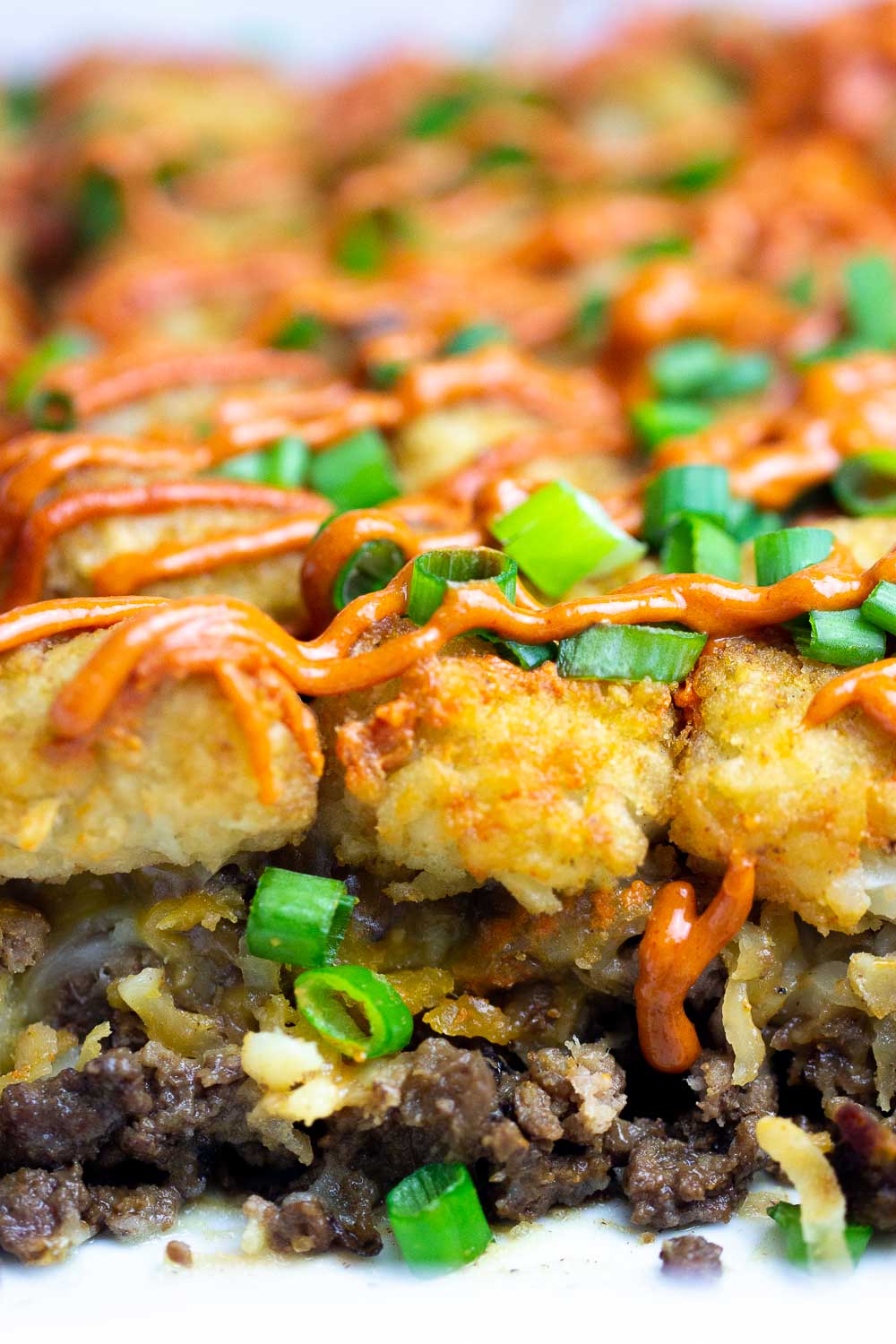 Ingredients Needed
This healthier bulgogi casserole uses ingredients you probably already have in your pantry and fridge. Let's go ahead and round up the main ingredients we will need to get started:
Ground beef. Laura's Lean is my best option when it comes to ground beef. Even my 6 months old baby loves beef oatmeal congee I made with their ground beef
Crispy potato rounds. You can also replace it with veggie tots
Bulgogi sauce. You can either use a store-bought version or create your own which you can find the recipe below
Onion, green onion. Use a yellow onion to add lots of savory depth of flavor to this casserole
Cheese. Use white cheese or Mexican cheese
Gochujang. aka Korean chili paste
A 1qt casserole dish. Feel free to use a larger casserole but keep in mind that you will need to use more quantities of the ingredients
Be sure to add a small amount of water when sauteing onions without oil to help keep onions from sticking.
What is Bulgogi Sauce
Beef bulgogi is probably the most famous Korean meal and the sauce is quite simple. It's similar to this shortcut beef bulgogi recipe here. You will need soy sauce, brown sugar, garlic, ginger, sesame oil, and Asian pear (or apple). Okay, that sounds a lot, but trust me when I say this is a must-try bulgogi sauce. And be sure to make extra because it is also good on a beef burger or treat yourself to bulgogi fries.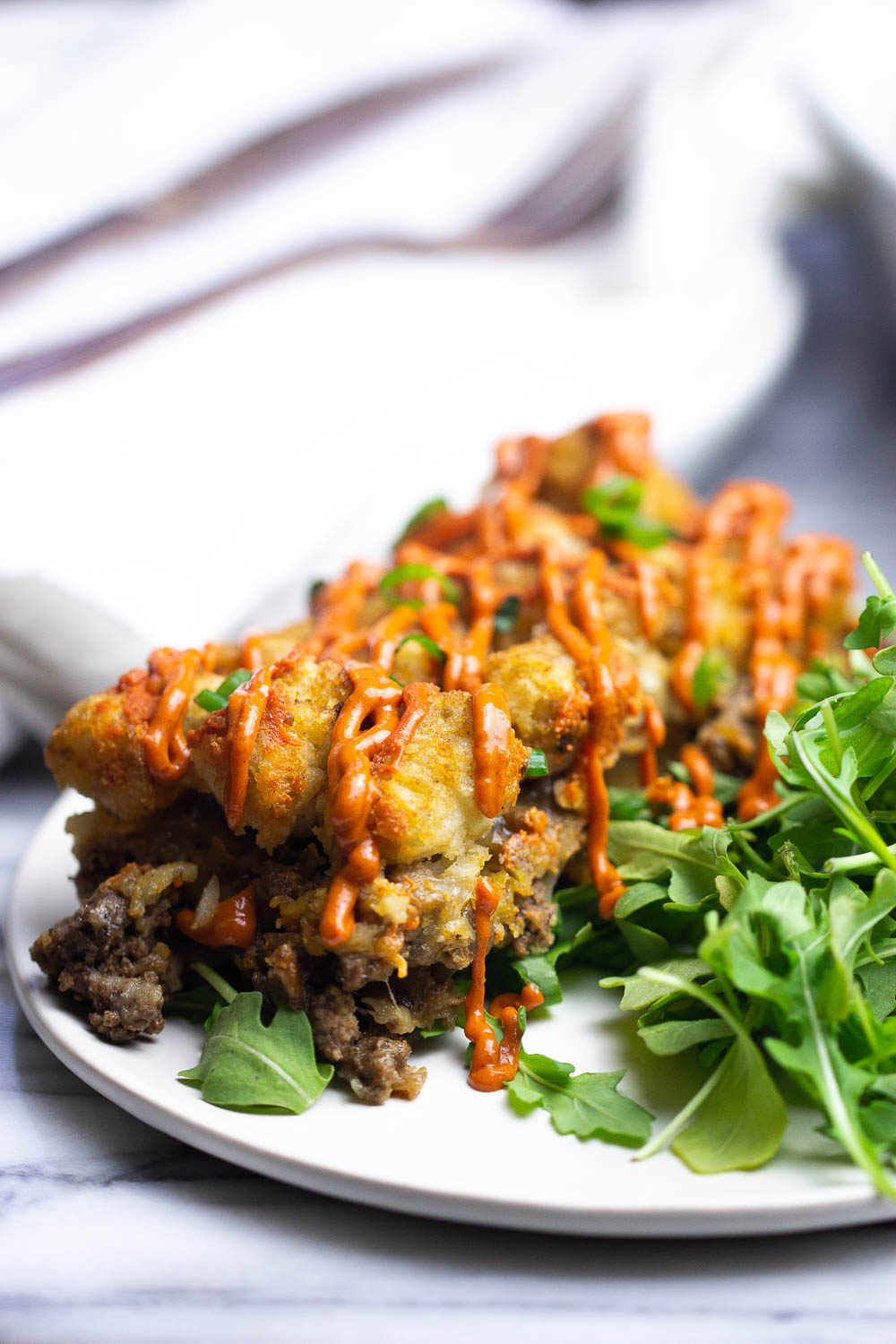 Recipe Variations
Get creative and enjoy this casserole in different ways!
Add colors to this casserole by adding diced carrots, peas, or corn to the mix
Sunny-side-up egg for a breakfast casserole
Replace crispy potato rounds with veggie tots for a healthier version or add a salad on the side
Add more gochujang if you prefer a spicier version
How to Freeze Bulgogi Casserole
If you want to freeze this healthier bulgogi casserole for an easier dinner or brunch on those busy days, you totally can! I suggest slicing the casserole into portion-sized squares, wrap it tightly in a plastic wrap layer, followed by foil. Freeze until solid, and always make sure to label and date everything! When you're ready to eat, take it out from the freezer, thaw it the night before, reheat in the oven and enjoy!
Though there are a few different steps involved in this recipe, the actual cooking part is quite straightforward and not complicated. Hence, this bulgogi casserole needs to be on your weekly dinner rotation.
Print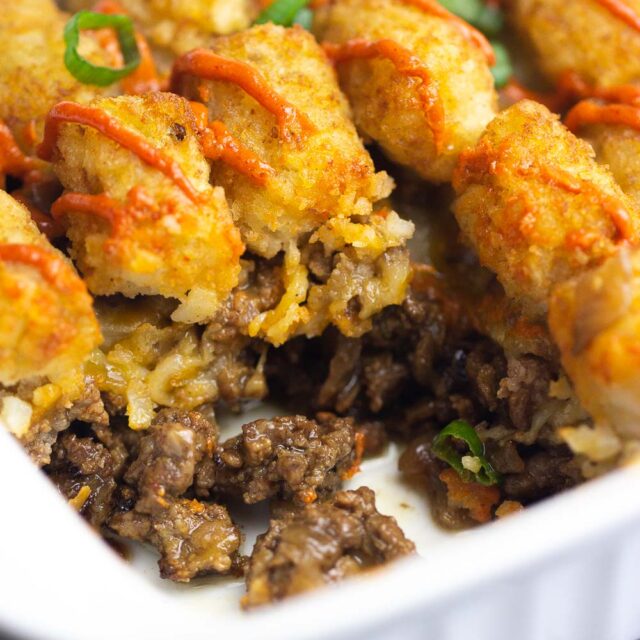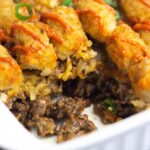 Healthier Bulgogi Casserole
---
Description
Savory, delicious, and healthier, Bulgogi Casserole is an easy dinnertime recipe that everyone will love. It is made with simple ingredients and the ultimate comfort food. Plus, you can enjoy this for brunch, too!
---
1

pound Laura's Lean ground beef

32 oz

frozen crispy potato rounds, potato nuggets, or veggie tots

3

cloves garlic, finely chopped

1 cup

diced onion

2 cups

shredded cheddar cheese

2 tablespoons

oil
Black pepper, to taste
Chopped scallions, for garnish
Bulgogi sauce:
1 cup

soy sauce

3/4 cup

brown sugar

5

cloves garlic, crushed

1

-inch piece of fresh ginger, grated

1 tablespoon

sesame oil

1/2 cup

pear juice
Gochujang aioli:
2 tablespoons

gochujang

1/2 cup

plain Greek yogurt

1/4 teaspoon

garlic powder

1 tablespoon

sesame oil
---
Instructions
Bulgogi sauce: In a small saucepan, whisk together soy sauce, brown sugar, garlic, sesame oil, ginger, and pear juice. Warm over low heat until the sugar melts. allow to cool and keep in a small container in the fridge.
Gochujang aioli: Combine everything in a bowl and set it aside.
Preheat the oven to 375F. Lightly grease an 8×6-inch baking dish with cooking spray. Set aside.
In a large skillet, heat oil over medium-high heat until hot. Add onion and cook for 5 to 7 minutes or until tender, stirring frequently. You can also cook onions a little bit longer to bring more sweetness. Add garlic, and cook for another 2 minutes.
Brown the ground beef, drain excess fat if any, and add 1.5 cups of bulgogi sauce. Season with black pepper to taste.
Transfer ground beef mixture to the prepared baking dish and spread evenly, then the cheese, and finally, line up the crispy potato rounds. Bake for 45 minutes or until the potatoes are golden brown and cheese is melted. 
Sprinkle with scallions and serve with gochujang aioli.