A quick and easy 30-minute salmon tacos that make a perfect weeknight dinner option. A little prep with everyday ingredients and then ready in 30 minutes. These salmon tacos are delicious with smoky jalapeno poppers or spicy cheesy corn dip.
Uhm, okay…
These salmon tacos are deeeelicious!
And the best part is, they're so easy to make and can be done in 30 minutes or less.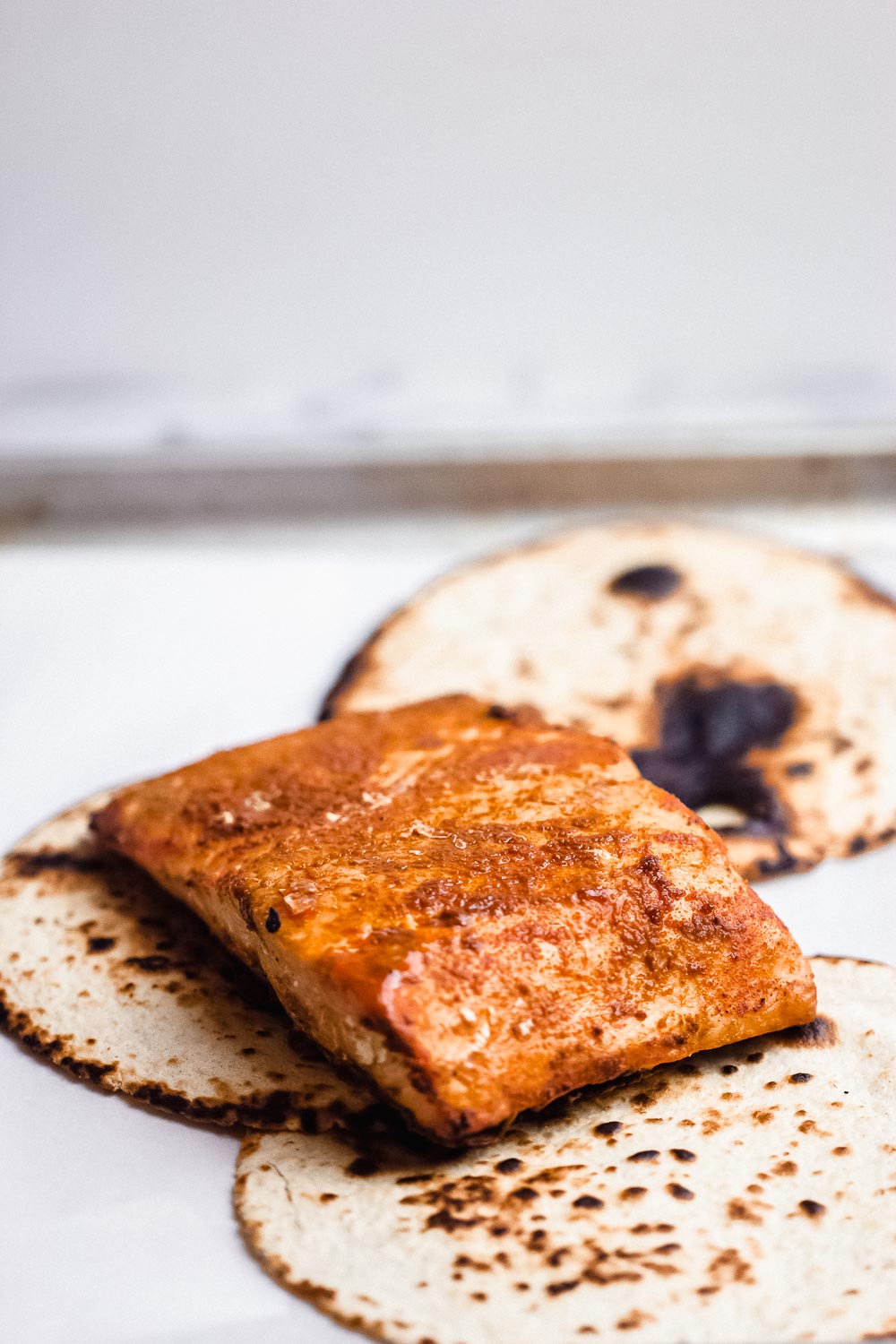 What is Sitka Salmon Shares
So, I'm excited when another box of Sitka Salmon Shares arrived the other day. In case you're wondering what Sitka Salmon Shares is, it is a community-supported fishery that offers monthly shares of wild-caught seafood from their collective of 20+ Alaskan fishing families. Those wild-caught fish are harvested seasonally so they have the best taste compared to fish at the grocery store that could have been frozen for well over a year. So, think about wild Alaskan king salmon, sockeye salmon, coho salmon, keta salmon, lingcod, black bass, sablefish (black cod), Pacific cod, yelloweye, rockfish, spot shrimp, Dungeness crab, albacore tuna, and halibut hand-delivered right to your door! Learn more about their subscription information here and be sure to use KetchupFish for your discount code, and learn about their shares here.
30-Minute Salmon Tacos
So today, I'm going to share another salmon recipe. This salmon tacos recipe is proof that it doesn't take a lot of time or effort to produce a delicious meal that is packed with flavor and texture. But first, salmon – one of my favorite sources of protein that I mentioned in this air fryer salmon BLT salad recipe.
30-Minute Salmon Tacos Ingredients
Here is everything you'll need to make these salmon tacos:
Salmon. I choose Wild Alaskan Coho Salmon from Sitka Salmon Shares
Tortillas. Use flour tortillas or use butter lettuce if you prefer something light and fewer carbs
Vegetables. You can use a combination of your favorite salad, such as arugula, lettuce, or purple cabbage. However, you can also use a short-cut version and bought a store-bought salad instead. Corn is optional, but I love the addition of roasted corn in these tacos
Avocado, lime, jalapeno. Because this combo will make your tacos extra spicy, smooth, and creamy!
Margaritas. To make your tacos party extra awesome! You're welcome!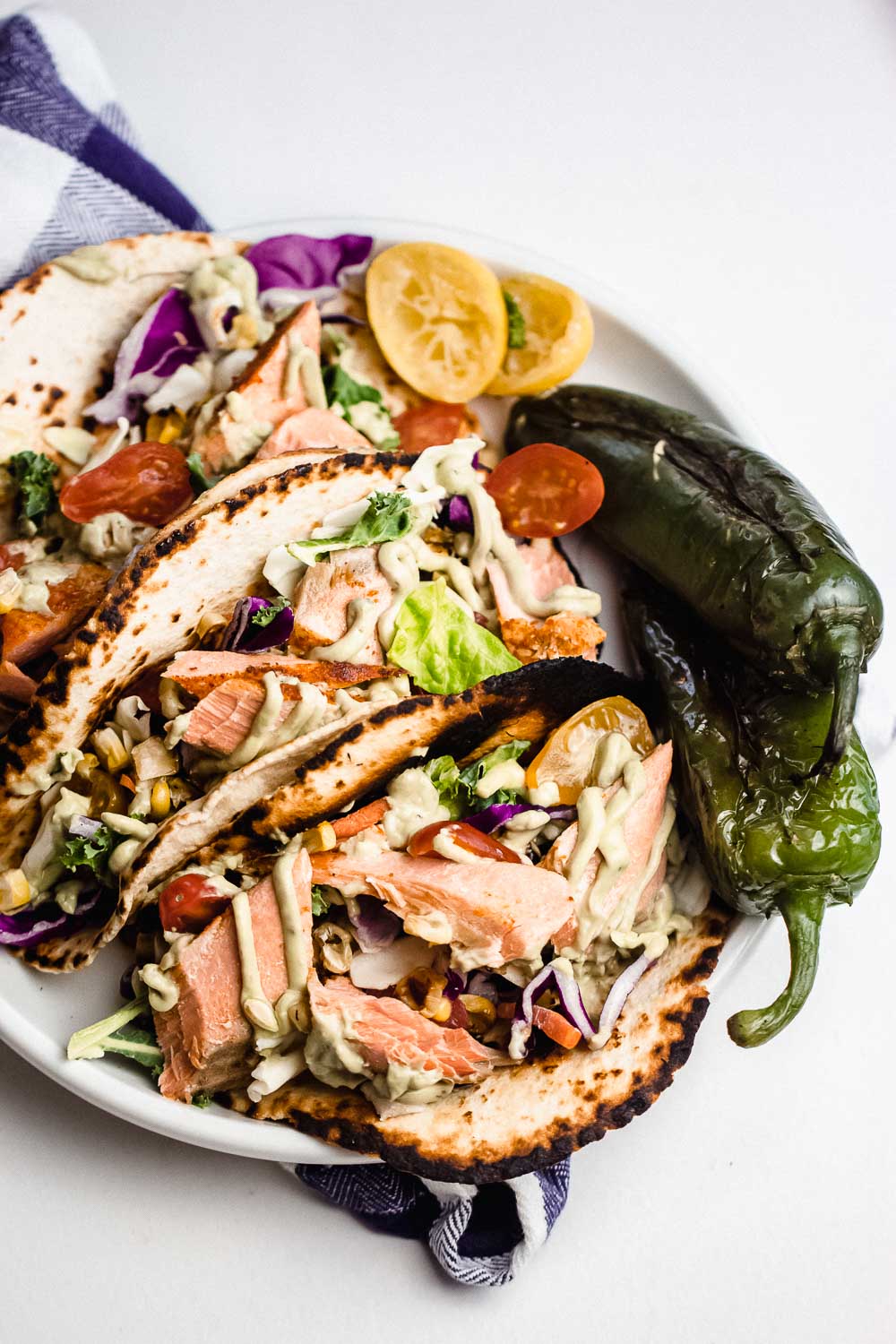 How to Make Salmon Tacos in 30 Minutes
Chop. Once done cooking in the air-fryer, chop your cooked salmon. Learn how to cook salmon in an air fryer here
Veggies. Combine the chopped vegetables in a bowl and set them aside. Heat a grill to medium heat and grill the whole ears of corn until charred on all sides, then slice the kernels off the corn
Dressing. You can make the avocado cilantro dressing in advance
Tortillas. Warm the tortillas before serving
BYOT aka Build Your Own Tacos. It's time to assemble the tacos
Serve, enjoy, and don't forget your margaritas!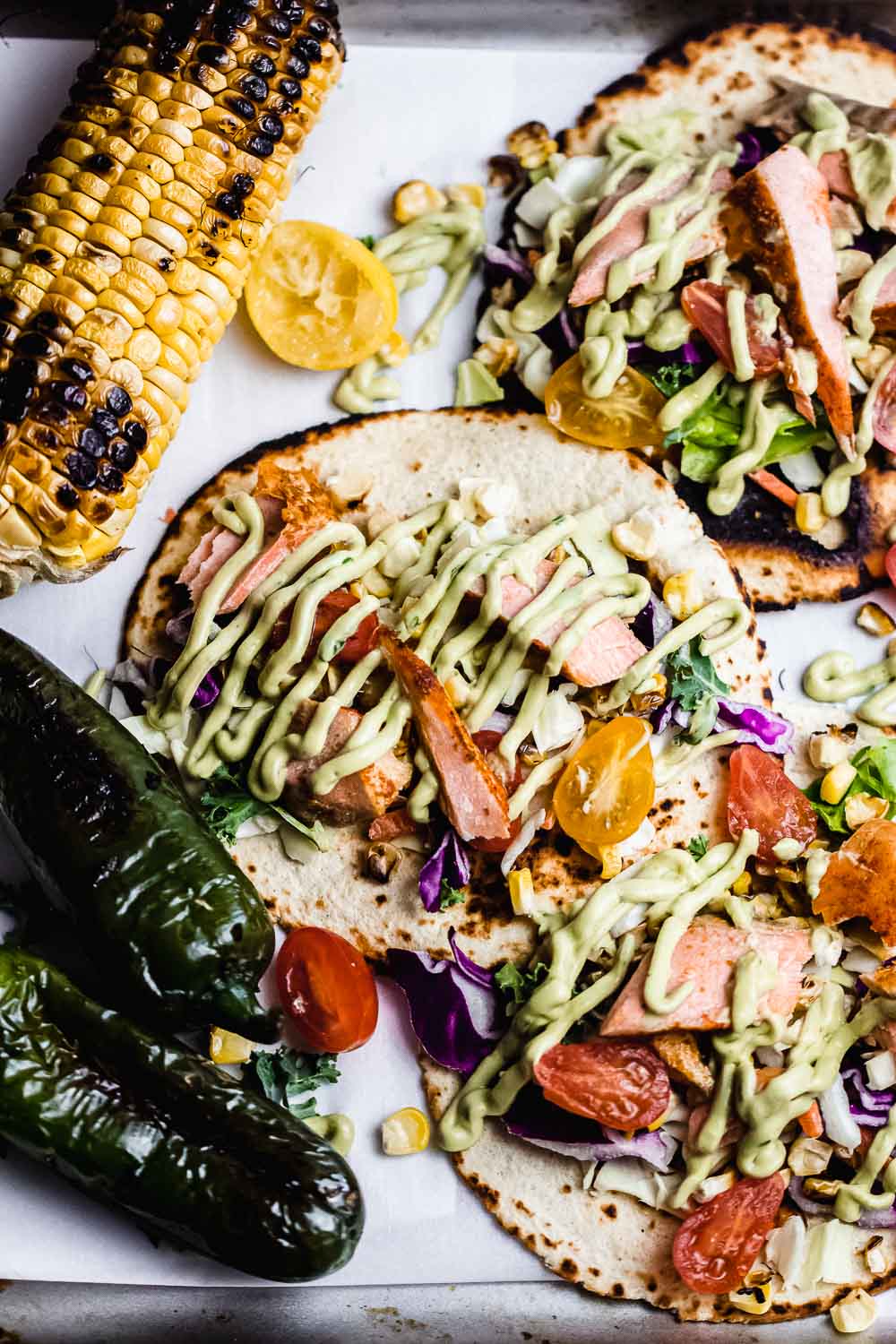 Salmon Tacos Variations
Try adding any of these variations to the mix: tomatoes, salsa, chopped mango, or diced red onion.
If you are looking for quick and easy weeknight dinners to make at home, you'll love these salmon tacos. It only takes 30 minutes, so you'll have plenty of time to relax and spend time with your family.
Print